[115] 1,000,000 Hits (01/31/2007) (Apple Daily)


Here is the chronology of events:

January 28
19:37: Popular actress Beatrice Hsu Wei-lun (許瑋倫) passed away after being involved in an traffic accident

22:20: A 24-year-old female citizen named Hsueh posted at the Yahoo! blog <The Little Pink Princess' Blog> in a post title <What Many People Want To Say> that included comments such as "Who is she anyway? She is not the wife of some famous person. She is just a slut who goes from one man to another" and so on. When netizens found out, they rushed there to protest in the comment section.

January 29
17:58: Netizens discover that Hsueh has another Yahoo! blog <American Super Handsome Guy> in which she criticized the parents of Beatrice Hsu in a post titled <The Death of Hsu Wei-lun represents Victory for Hsu Chun-mei>, and they rushed there to protest as well.

19:22: The Yahoo! administrator deleted Hsueh's post attacking Beatrice Hsu at <The little pink princess' blog>. Hsueh posted to express her regrets.

20:00-21:00: By now more than 300,000 persons have visited <The Little Pink Princess' Blog>. Some netizens published the name and work location of Hsueh. The Pumuya Hotel (Tainan) where Hsueh used to work had its telephone bank flooded by complaint calls against her.

21:02: Hsueh posted at <The Little Pink Princess' Blog> to say that "words that have been spoken are like spilled water. I don't regret them and I am not apologizing. Netizens began to form <Anti-Little Pink Princess> forums in which very aggressive language was used.

23:52: Hsueh deleted her photographs and essays on <The Little Pink Princess' Blog> and left one essay <I know that I was wrong> in which she wrote "I'm sorry" thirteen times.

January 30
11:00: Yahoo received more than 500 letters of complaint. The administrator shuts down the <American Super Handsome Guy> blog.

16:00: The visitor count at <The Little Pink Princess' Blog> was reset from 740,000 to zero. There are many photographs denigrating Hsueh in the comment section.

21:00: The visitor count showed more than 260,000. This meant that the cumulative count was over 1,000,000. This made the blog become the second most popular Yahoo! blog. The top spot belongs to Beatrice Hsu's own blog.

Lawyers note that the comments by Hsueh and other netizens violate the criminal code with respect to public insults and can be penalized by imprisonment, detention and/or fines.
The Broadcasting Authority demanded the castration of the "vulgar and extremely upsetting" dialogue in "An Autumn's Tale" and the resulting debate has been going on for more than one week without the senior Broadcasting Authority persons coming forth to explain. The Broadcasting Authority chairman is the principal actor, but it is as if he had been vaporized. Meanwhile civil discontent has been getting bigger and bigger.

As a result, the event has turned from a simple "argument over judgment" to a deeper and more serious issue of "accountability within the system."

... the controversial decisions by the Broadcasting Authority generated such a huge civilian response and reaction because there is a connection to the banning of the eight books by the Beijing authorities. The more the Beijing bureaucrats suppress freedom of publication, the more the Hong Kong residents treasure their own freedom. This is obvious from listening to the radio call-in programs. The people of Hong Kong are fortunate because the citizens and the media respond immediately to the ridiculous actions of the bureaucrats. They will not indulge and they will not suffer in silence ...

When Zhang Yihe protested about the banning of her book, the General Administration of Press and Publications deputy director responsible for the ban has declined to comment so far. When the Hong Kong citizens protested, the Broadcasting Authority chairman has declined to comment so far. So this Special Administration Region is "special" in the sense that the citizens are "special," but unfortunately the senior officials are not so different from the mainland counterparts.
[113] .hk Domain Registration (01/30/2007) (Apple Daily) For the registration of Internet domain names for .hk, here is what is allowed and what is not.

Allowed:
Personal names (e.g. 劉 德 華 .hk 、 李 嘉 誠 .hk) (such as AndyLau.hk and LiKashing.hk) are acceptable. But if you want to register at the individual level (e.g. 劉 德 華 . 個 人 .hk or AndyLau.individual.hk), then you must register using personal identification documents to prove that your name is indeed AndyLau.
Political terms (e.g. 法 輪 功 .hk 、 董 建 華 下 台 .hk 、 六 四 事 件 .hk, etc) (FalunGong.hk, DownWithTungCheehwa.hk, June4Incident.hk, etc).
Obscene terms (many Cantonese obscenties cannot be typed in directly, but it is acceptable to use 門 小 你 .hk (note: this is take the F word and breaking it up into two parts).

Not allowed:
Family names (e.g. 陳 .hk or Chen.hk).
Bank names (reserved for the registered banks themselves only)
Government departments and schools (reserved already for the relevant organizations)
[112] The Case of Sally Wu (01/30/2007) (Southern Metropolis Daily)

On January 26, it was announced that Phoenix TV anchorwoman Sally Wu Xiaoli (吴小莉) has been added to the Guangdong province Chinese People's Political Consultative Conference (CPPCC). This news created a shockwave in Taiwan -- Sally Wu has resident status in Taiwan and therefore this action is contrary to the regulations in Taiwan.

Sally Wu was born in Taiwan and had been a television anchorperson in Taiwan. Later she moved to Hong Kong where she was first an anchorperson on Star TV before joining Phoenix TV. She is presently the deputy director at Phoenix TV. Since she has lived in Hong Kong for fourteen years, she has Hong Kong residency while still keeping her Taiwan passport.

With this CPPCC appointment, there are a number of possibilities should Sally Wu decide to visit Taiwan. If she applied to return to Taiwan as a Hong Kong resident, then the application will be rejected because of the CPPCC connection. If she returned to Taiwan using her Taiwan passport, she cannot be prevented from entering by law. The regulations in Taiwan do not permit Taiwan residents to serve as officials in mainland; the penalty is a fine between NT$100,000 and NT$500,000. However, Sally Wu's case is that "she is a Taiwan citizen, a Hong Kong resident and a CPPCC member." Sally Wu has stated that she became a CPPCC member on the basis of her Hong Kong residency and when she goes back and forth to mainland China, she uses her Hong Kong return permit. There is no precedent in Taiwan for this situation. It is not clear what could happen to her when she goes back to Taiwan.
At 7pm on January 27, 2007, a Sichuan Internet forum claimed: a criminal suspect was arrested in Dazhu county on January 26, 2007 for manufacturing rumors.

According to the information, the public security bureau determined the suspect was a 24-year-old male named Zhang who has a university degree and owns a business at a Dazhu county computer mall. The public security bureau determined that when a female employee died at the Nest Business Hotel, Zhang who had no personal knowledge about the truth of her death, began on January 15 to falsely claim to be a Nest Business Hotel employee who knew that the truth to be "three senior government officials spiked the drink of the female and gang-raped her to death." Zhang kept distributing the information on the Internet, as well as following up on other posts about the incident. He kept making up content, maliciously hyping up the event and instigating people who did not know the truth to gather and cause trouble. In so doing, he defamed the image of the party and the government and he misled people so as to create chaos and disorder.

The information also stated the public security bureau found the clues and quickly moved to arrested the suspect Zhang and seized the electronic evidence on his computer. Zhang has admitted to having manufactured and distributed the rumors that resulted in disturbance and social disorder. The criminal suspect Zhang has violated Article 291 of the Code of Law of the People's Republic of China concerning the assembly of persons to disrupt the social order. ...

Previously, the "64 Tianwang" website had also received some video material from multiple channels about the Dazhu incident. After examining the information closely, we determined that the authorities can deduce who provided the information. Thus, "64 Tianwang" will adhere to the principle of protecting our friends first and above all and therefore has not yet posted the relevant information and videos.

Related Link: The Mass Incident in Dazhu County
[110] The Business of Banned Books (01/29/2007) What happens when books are banned in China? In History books get the axe; another Zhang Yihe title falls (Danwei) it was noted that eight books were 'banned' by the General Administration of Press and Publications.

In How to Buy Banned Books in Beijing? (Letters from China), it was noted that some of these banned books are still prominently displayed in Beijing bookstores. What is a ban then? It means the publisher could not print any more after the existing copies sold out.

So I went down to the local Sino-Books shop, which is a second-floor bookstore in Mongkok (Kowloon, Hong Kong). They have displayed four of the books (Past Stories of Peking Opera Stars; I Object: The Road to Politics by a People's Congress Member; This Is How It Goes@sars.com; The Press) in the featured section. However, there is probably not a big local market for these books. Here is a business idea where you make sure that the supply meets the demand.

Who wants to buy these books? Mainland Chinese citizens. Where can they be found? The Hong Kong International Airport and the Lowu train station. So if I were operating bookstores at those locations, I would go and buy as many copies as I can on the mainland while they are still available, ship them down to Hong Kong, set up a display stand with the title "The Big Eight Books Banned on Mainland," and sell them at a mark-up price (package discount if all eight copies are purchased). I'll bet that this will move faster than anything else. You have to thank the General Administration of Press and Publications for providing the free advertising.
[in translation]

As of the first of this month, the Chinese government has adopted an open policy for non-mainland and foreign correspondents to gather news freely in conjunction with the needs of the 2008 Beijing Olympics. This action has resulted in good international opinion feedback. Certain mainland media people think that besides making life easier for the foreign media, this action has two effects on the Chinese media. On one hand, it lets the mainland media break away from the yoke of "not being allowed to report outside your own coverage area" and really go at it. On the other hand, this has also made the mainland media feel some competitive pressure. But there are still insiders who do not believe that this will change the condition of Chinese opinion-making, because the right of the media to speak out does not lie in the hands of the reporters -- the Chinese Communist doctrine of "politics leads news" will continue to rule in Chinese media.

China Youth Daily veteran reporter Lu Yuegang said that it is inevitable that when the Chinese government permits non-mainland (Hong Kong, Macau, Taiwan) and foreign correspondents to gather news freely, there will be an impact and influence on the mainland media. When they cover overlapping stories, the foreign media reports will serve as a reference point for the mainland audience and readers to understand the mainland media. Therefore, the mainland media workers working on the same story will be forced to consider their viewpoints, reporting methods and even writing styles in addition to the political positions. "You cannot let the reader see that your report is as vastly different from what the others are saying as heaven is from earth."

Lu Yuegang said that the reform of Chinese press will be impelled by internal needs and external pressure. The relaxation of restraints on foreign correspondents is one of those external factors. This action will impact those mainland media that are working under the market model more than the radio/television stations or "mouthpieces" such as party newspapers and periodicals. This is because the "mouthpiece" media do not worry about news competition and are not concerned about income or livelihood.

But he believed that certain media which want to break away from being "mouthpieces" would actively accept the challenge. "For example, I think China Youth Daily should have a sense of crisis and confront the competition directly."

Southern Weekend's Beijing-based reporter Ma Changbo said that the the relaxation of regulations for outside correspondents has given them an unexpected gift. Previously, the mainland authorities had emphasized that the press must not have "watchdog journalism from the outside" (that is, the media in place A cannot monitor the local government in place B). This 'bad regulation' is now defunct with the opening to the non-mainland media. "If the non-mainland media can do whatever you please and gather news wherever you want, then how could mainland reporters be given any less?" Ma Changbo said that his colleagues are very enthusiastic. "At the very least, the invisible yoke around our necks are gone. No one will dare to stop us by saying that watchdog journalism from the outside is not allowed."

According to information, many media outlets known for "watchdog reporting" are taking advantage of this policy and sending their people to "problem areas" to begin "watchdog journalism from the outside." Those local governments and departments that are being criticized do not dare to dissent. A few years ago, Hunan province complained to the Central Publicity Department that the Guangzhou-based Southern Weekend intruded into its territory and the newspaper was punished as a result. But recently, the city of Chenzhou in Hunan province publicly announced that it was setting up a prize for watchdog journalism and encouraged media supervision from the outside. That became a topic in the mainland media circle.

CCTV Economic Channel reporter Zeng Xiaoling said that even though the relaxation of rules for foreign correspondents has a smaller impact on official media such as theirs, it should be clear that their advantages in resources will be weakened. "For certain complaints about problems, the people will now have a choice. They may be more willing to complain to the non-mainland and foreign reporters. This may become a problem for us." She said that the mainland media (especially the official media) tend to be relatively cautious about critical reporting. Now that they have to share the same platform with non-mainland and foreign correspondents, there will be a definite impact.

But some media workers are cool towards the new policy. Communist Party Beijing municipal party organ Beijing Daily political news reporter Geng Nuo said that she did not feel that the relaxation of rules for non-mainland and foreign reporters is giving her colleagues any pressure. "Our reporting takes a different route from yours and our resources do not overlap with yours," she said. "We are not worried that you outside reporters will gain any advantage after this opening. We will do whatever we have to do."

A reporter with the official Xinhua agency who wishes to remain anonymous said tht the opening will not have a large impact on mainland media. Mainland media were always free to gather news without any restrictions. "But the mainland reporters do not have the right to publish. That is the most important thing. Particularly at the party and government mouthpieces, the right to publish is in the hands of the politicians. There is no need to worry." He believes that the increased freedom for foreign correspondents does not pose a big threat to mainland reporters. The big challenge will come only after non-mainland and foreign media are allowed to enter the mainland market.
[108] The Chain of Events (01/28/2007)

(HKGolden Forum) [認真] 岩岩九龍塘火車站有非禮事件 January 25, 2007, 09:13
有個 懷疑係鳩登毒男 既死肥仔
非禮金毛妹...比人喪屌 訓地求饒
笑撚死我
[in translation:
[True] An incident of molestation just occurred at the Kowloon Tong KCR stop.
A fat young man suspected to be a HKGolden Forum single man molested a 'dyed-blonde' girl ... he was cursed out, harassed and got down on his knees to beg for mercy ... I was f*cking laughing so hard I could die.]

無人信
[nobody will believe that (@09:16)]

屌...堅料呀
[F*ck ... this is solid information ... (@9:18)]

聽日報紙一定有..同埋好多人用手機影..睇下今晚有無人放上youtube
[It'll be in the newspapers tomorrow ... many people filmed it with their mobile camera phones. Let's see if it will show up on YouTube tonight]

=====

[HKGolden Forum] 火車色狼非禮被擒 January 27, 2007 12:37
Train molestor caught]
香港痴漢被捕 (Hong Kong sexual pervert arrested) http://www.youtube.com/watch?v=PftDUK2vXDY (note: the girl in the blue coat was the victim)

=====

(Apple Daily) January 28, 2007

[in translation]
Sisters, there is good news! The notorious "Fat Wolf of KCR East" was molesting the same woman when she heroically called him out. The other passengers combined to arrest the "Fat Wolf" to turn over to the police. The whole process was filmed and placed on YouTube. Citizens saw how the "Fat Wolf" begged in his last moments: "Don't film me!" The police confirmed that a 26-year-old man has been charged with molestation.
[in translation]

On the afternoon of January 24, 2007, McClatchy Newspapers Beijing bureau chief Tim Johnson and researcher Fan Linjun flew from Beijing to Chongqing. On the morning of January 25, they traveled by car from Chongqing to Zigong to conduct in-depth investigation about the peasants who lost their land in Hongqi town. As soon as Mr. Johnson and Ms. Fan stepped into my home, the Zigong city public security bureau Huidong branch National Security division telephoned me to invite me to have a cup of tea this afternoon. I said: "I won't have time over the next few days, because I am preparing petition materials -- against the Zigong city public security bureau for illegally preventing me from attending an international human rights conference and refusing to renew my passport."

I am old friends with Mr. Johnson and Ms. Fan. Mr. Johnson used to be the Beijing bureau chief of Knight-Ridder News. In 2004, Mr. Johnson sent three reporters to Zigong to spend three days investigating the situation of peasants who lost their land. When the American reporter attempted to verify the investigative results, the Zigong city government officials declined to answer. From there on, McClatchy Newspapers has kept its attention on the livelihood and human rights conditions in Zigong.

Mr. Johnson and Ms. Fan came to Zigong this time mainly to conduct a full investigation of the situation of the peasants who lost their land, including the implementation of central government policies, protection of farm land, livelihood conditions, medical care, social security and other issues. Mr. Johnson and Ms. Fan did not even bother with lunch, and they immediately started to question me fully. At around 3pm in the afternoon, I accompanied the American reporter to visit the homes of peasants who had lost their land. We also spoke to the peasants on the roadside who also lost their land. Apart from me accompanying the American reporter, there was another small Audi car with four people following us. They were protecting the American reporter as well as us. But we did not have an entourage of large numbers of police cars and various levels of officials when the senior government leaders come to inspect the citizenry.
[106] The Internet Police of China (01/28/2007) (Wen Wei Po) Today, the Shenzhen Public Security Bureau presented its group of 160 "Internet police" who are an average of under 30 years old.

... Many of them are recent university graduates who underwent three months of police training. Some people say they are as technically proficient as the Chinese hackers with respect to hacker attacks, viruses, trojan horses and other conventional computer crimes. They are also effective against harmful information such as superstition, pornograhy, gambling, terrorism, and so on. Let me say that I am in agreement (absent any other contradictory information).

In April 2006, a Shenzhen female named Zhu found that her mobile telephone number and MSN account were publicly adverstised by another netizen for prostitution services at sites such as the Tianya forum. The female began to receive annoying telephone calls as a result, and she called the public security bureau. The Internet police quickly determined the individual who spread the information through the ID and placed the person under adminstration detention in accordance with the law.

On May 31, 2006, the Internet police officer on duty received a report about a bomb threat against a hospital. Immediately, several technically savvy police officers locked onto the mailbox and IP number and forwarded the information to the police, so that the case was quickly solved.

According to information, the Shenzhen police claimed to have recieve 6,564 complaints from March to Decmeber 2006, but only 4,335 became formal police complaints.

Blogger's comment: What is the net outcome? I don't know. Should we be reassured that we are in good hand? I don't know.
[105] The 'Summation' On The Death of Yang Daili (01/28/2007) Here is the official investigative report on The Mass Incident in Dazhu County, in which a hotel KTV hostess was found dead without adequate explanation. Her family, friends and schoolmates began a series of daily demonstrations until things escalated to the point that the hotel was torched. The official statement has been translated at the bottom of the aforementioned post in the interest of continuity, but here are some highlights from that report for the purpose of explaining my personal reactions:
... In order to solve the puzzle about the death of Yang Daili pursuant to the requests of the provincial party and government units, the provincial and Dazhou city public security bureau formed a joint case squad and mobilized police resources to work day and night to obtain detailed evidence. The special case squad visited Guangzhou, Chengdu and Dazhou many times, accumulating more than 10,000 kilometers in travel distance. They spoke to the relatives, friends, schoolmates and co-workers of Yang Daili for a total of 235 times. They wrote 690 pages of investigative materials, and collected almost 2,000 pages of combined evidentiary material. They collected 36 pieces of documents and physical evidence. The provincial public security bureau evidence examination center, the Sichuan University Huaxi Medical Center Basic Medical and Legal Science Academy, the Chengdu branch of the Chinese Academy of Sciences and the Dazhou City Central Hospital participated in testing and verifying the information along with 12 nationally and provincially eminent expert pathologists and toxicologists and 8 expert instrumental analysts who visited the crime scene 5 times and conducted 3 autopsies with 9 detailed test reports. A total of 24 meetings were held to discuss the analytical results. After these repeated examinations and analyses, the cause of death of Yang Daili has been confirmed.

Through the examination of the crime scene, autopsies, tests, investigations and joint diagnoses, the special case squad reconstructed the activities of Yang over the 33 hours prior to her death. The squad excluded the possibility that Yang Daili died from physical struggle, violence, strangulation, poisoning and so on. It also excluded the possibility that Yang had consumed alcohol or went outside of the hotel. The pathology analyses showed that the cause of death was chronic pancreatic acute bleeding. The laboratory reports showed that her amylase index was clearly too high and her heart exhibited spots of bleeding. Combined with the crime scene analysis and other material evidence, it was concluded that Yang Daili's death was: chronic pancreatic acute bleeding.

According to the DNA analyses of the body fluids on Yang Daili as well as residues on her underwear, the DNA elements were identical to those of bartender Liu Chikun. It was then confirmed that at around 230am on December 30, 2006, Liu Chikun and two other employees (Ou and Li) were checking the rooms after the KTV had closed. They found Yang lying on the floor unconscious. They took Yang back into the suite and left her there. At 3am, Liu went back there and saw that Yang was still unconscious with no one else around. So he raped her. Afterwards, Liu found that Yang was pale in color and her lips were purplish. So he called the hotel leader. At 340am, the hotel sent someone over to help Liu to take Yang over to the Dazhu county People's Hospital. Yang was found to have no vital signs. The hospital attempted to revive Yang but they had to pronounce her dead at 4:35am. The suspect Liu Chikun has confessed to his crime. ...

Who should they hire for PR crisis management? How dare they devote that first paragraph to all the arduous work! For one, I was filled with resentment at reading this claptrap. I don't need to know that. I only want the answer. I find myself reading this self-congratulatory content-free filler until I reached the next paragraph and learned that the cause of death was: chronic pancreatic acute bleeding. I have no idea what that means. I read on. Bartender Liu and two other colleagues found hostess Yang unconscious on the floor and all they did was to move her into a suite. Half an hour later, Liu went back into the suite and raped Yang. Hello!!!??? Why didn't Liu and others call for medical help immediately upon seeing the unconscious Yang? Is this rocket science!!!??? You find a co-worker lying unconscious on the floor. What will you do? I know that I am a focus group of size one. But do you share my doubt?
[104] Clinical Trial Shown on TVB (01/27/2007) (Apple Daily) The oilfish in the news in Hong Kong contains indigestible wax ester and can induce diarrhea within some (but not all) individuals. The TVB current program 新聞透視 invited three district councilors and five staff members (including the show host) to participate in a clinical trial. On television, each person ate half an oilfish steak. For comparison, each also ate one-quarter of a codfish steak. They were instructed to call the production unit if they should experience any discomfort, so that the process of "oil-induced defecation" can be covered. It is unknown what happened, because the program will be shown on Saturday night at 7pm.

(Apple Daily) Here is the score: out of eight persons, seven did fine but one district councilor had four bouts of diarrhea within the next 24 hours.

Black Holes Susan Jakes, The China Blog (TIME)
China's Fantasy of Freedom Hannah Beech, TIME

Yes, in some sense, we are aggieived that the western media could not be everywhere all of the time in order to render maximum assistance. But why should we demand that of them anyway?

Ultimately, this is the tristesse of Chinese media. It will show up as the The China Economic Times Report on the Lan Chengzhang Case (at ESWN). Or as Top officials order "swift" investigation into the murder of Reporter Lan Chengzhang (China Media Project). Instead, we are befuddled with technical issues of apparent questions of right/wrong. The issues raised by Beech/Jakes ought to be straight right/wrong issues. So why aren't they treated as such, and have to take such extra-judicial paths instead?

P.S. By the way, this blogger receives petitiion messages on all sort of issues but has never felt adequate to address them in an effective manner. The fact is that ESWN is only a personal blog and it cannot send out 50 people to follow up on all sort os leads.

P.S.S. Under the current format of ESWN, I am supposed to maintain a finite number of links and eliminate others. In the pipeline of China-related recommended reading, I have: Lik Go Daisann McLane, Learning Catonese.

Which old links should I eliminate?

Real Scoop On Fraud Journos: Q&A W/ Wang Keqin Jonathan Ansfield, China Digital Times
Black Holes Susan Jakes, The China Blog (TIME)
Blackmailing By Journalists In China Seen As 'Frequent' Edward Cody, Washington Post

With due respect, I want as many people as possible to read these. So I'll keep all of them as long as I can ...
[101] A Brand New Term In Front Page Headlines (01/27/2007) In the front page to Hong Kong Daily News, the title of the article at the bottom of the page is "Political Party Lawyer Group Aids 'Defecating Citizens' To Demand Compensation."

While the terms "defecate" (屙) and "citizen" (民) have always been there, the use of the combination into "defecating citizens" (屙民). In previous incidents of food poisoning, only several, or several dozens, or at most several hundred citizens are involved in isolated outbreaks (e.g. a banquet). This time, the codfish/oilfish had been sold for several months and 10,000 people have shown up for refunds. How to describe this class of citizens? They are united by having diarrhea after eating the codfish/oilfish. Ergo, "defecating citizens."
[100] The Cute Panda (01/27/2007) (Southcn.com) Now isn't this joss-stick burning panda so very cute?



Here are a lot more variations:


But in practice, you wouldn't want to see one of these pandas flashing on your computer monitor screen. If you see it, it means that your computer has been hit by the "Joss-stick burning panda" virus (some variant of the worm known as Nimaya). This is not an easy virus to eliminate because any attempt to run any kind of .exe file will only bring up the cute panda on your computer screen. If you see the graphic, it is too late already!
[099] The Score Is Now 3-0 (01/26/2007) With respect to the banning of Zhang Yihe's book <Past Histories of Peking Opera Stars>, Ming Pao had obtained comments of two individuals who opposed the ban and one individual (Kong Qingdong) who supported the ban (see Comment 200701#079).

Here is the latest statement from Kong Qingdong's blog:
As a scholar, I do not completely like Zhang Yihe's writings and works. I have my personal doubts and criticisms of her writings. But I firmly support her freedom to publish. I believe that Zhang Yihe's writings did not violate state laws or social morality. There was no proper legal basis for restricting her publications. Everyone has the right the express his/her own political position and cultural thoughts, and criticise the positions and thoughts of others. On this matter, all intellectuals share the same idea as Zhang Yihe. I hope that everyone will hard to bring China more open and wider space for writing and criticising!
[098] Andy Lau Is Now A Chinese Traitor (01/26/2007) (Tianya) While on a promotional tour for the movie <A Battle of Wits>, Hong Kong actor Andy Lau put on a Japanese garb and tried to make Japanese rice noodle.

Once again the sensitive nationalistic nerves of certain Chinese netizens have been pricked. Many of them are expressing their disappointment and chagrin. For exampe, "Andy Lau puts on a little Japanese kimono just once but that could hurt the feelings of many of his fans! It is not worth it!" Instead, they prefer to dwell on the past "heroic acts" of Andy Lau, such as refusing to speak in Japanese and never singing Japanese songs. Of course, there are those who refuse to believe this -- it must have been a PhotoShop job!

For the sake of nostalgia, here is a Japanese traitor at the 2001 APEC meeting in Shanghai (based upon the same dress-code criterion):

[097] Jay Zhou Song Used In High School Exam (01/26/2007) (Apple Daily) In Taipei, a Chinese language teacher used a song sung by Jay Zhou as the test question. Out of the more than 120 students, only 5 received passing grades.

請以你對中國文學的鑑賞眼光、鑑賞功力,及對詩詞意象的判斷,回答以下問題
.歌詞
《七里香》詞╱方文山、曲╱周杰倫
窗外的麻雀,在電線桿上多嘴,妳說這一句,很有夏天的感覺,
手中的鉛筆,在紙上來來回回,我用幾行字形容妳是我的誰;
秋刀魚的滋味,貓跟妳都想了解,初戀的香味就這樣被我們尋回,
那溫暖的陽光,像剛採(摘)的鮮豔草莓,
妳說妳捨不得吃掉這一種感覺……
.考題一
《七里香》中,作者營造「夏天」的意象,來表達對女子的愛情,這有何象徵意義?
.考題二
在《七里香》中「秋刀魚的滋味」是日本電影大師小津安二郎的文學大作,為什麼方文山要有「秋刀魚的滋味,貓跟妳都想了解」這樣的句子?他用什麼技巧來表達男子對女子的熱情?

There is a blowback now, as this test was alleged to be unfavorable to those students who detest Jay Zhou. One of them said: "一向對屌蛋輪很幹的我一看,心想完了!".
[096] Yunnan Forum Cancelled (01/26/2007) (Asia Weekly (YZZK) via ChineseNewsNet) <21st Century World Economic Report> and the Yunnan Tobacco Qingyun Investment Company Ltd had jointly planned a series of forum talks titled <21st Century Qingyun Forum>. The guests were supposed to appear on a monthly basis. On January 12, the talk was <The Development of the Reforms: Anticipating the Next 28 Years> by Zhou Ruijin (aka Huangfu Ping). On February 9, the scheduled speaker was Peking University Academy of Law professor He Weifang with the topic <The Prospects for Judicial Administration in China>. On March 9, Shanghai University History Department professor Zhu Xueqin with the topic <From the French Revolution to the Cultural Revolution>. On April 6, former Hong Kong University professor Stephen N.S. Cheung was scheduled. Three other Nobel Prize winners (Joseph Stiglitz (for Economics in 2001), Muhammad Yunus (for Peace in 2006) and C.N. Yang (for Physics in 1957)) had tentatively accepted the invitation to speak.

The problem began and ended with the first speaker Zhou Ruijin (see Ming Pao Interviews Huangfu Ping for an interview). In his speech, Zhou offered a view on the "three 28-years" of the history of the Chinese Communist Party, with respect to the three ideological/economic battles. From 1921-1949, it was the era of "new democracy" whereby the independence and unification were achieved. From 1950-1978, it was a era of "exploration of socialist revolution and construction" with many mistakes such as the Great Leap Forward, the People's Commune, the Great Famine, the Anti-Rightist campaign, the Four Clean-ups movement and the Cultural Revolution. From 1978 to now, this is the era of "reform, opening and modernization." He believes that the first two 28-year periods had been damaged by "leftist" dogmatism. He believes that many of the current problems are due to the advances in the economic reforms are inconsistent with a political system that is still stuck with a planned economy system. Specifically, "banning books, newspapers and websites" does not favor the liberation of ideas and is behind the times.

Zhou spoke in a moderate, rational, scientific, logical and factual manner, with optimism and confidence about the political reforms in the Chinese Communist Party. Nevertheless, a certain division chief in the Yunnan provincial publicity department wrote a personal letter to Central Publicity Department deputy director Ouyang Jian to report on the matter. Ouyang immediately wrote these annotations: "Did they ever apply? Was it ever approved?" On the basis of these words, the Yunnan provincial publicity department told <21st Century World Economic Reports> and the Yunnan Tobacco Qingyun Investment Company that the forum must stop.
[095] Codfish and Oilfish (01/26/2007) (Apple Daily) The front page headline is: "10,000 People Demand Compensation from ParknShop."


This PR disaster continues to roll on. This all began six months ago when ParknShop began selling codfish. The information provided by the supplier did not indicate that the codfish was really oilfish. Two months ago, ParknShop learned from the supplier that the codfish was really oilfish. Thereafter, ParknShop revised the product label and description (Apple Daily)


(in translation)
Codfish (Oilfish/Ruvettus pretiosus)
This type of fish product contains rich natural fish oil. A small fraction of customers may find their stomachs unable to cope. Therefore ParknShop makes the following recommendations:
1. If this is the first time that you purchase it, we recommend that you eat only a small amount.
2. If you find stomach problems after eating this fish product, please stop eating it. If necessary, please seek the opinion of a doctor.
3. Pregnant women and customers with stomach problems should avoid eating this fish product.

On the day before yesterday, PanknShop's general manager displayed the associated product and health documents. As signed by the Indoensian Marine and Fishing Affairs Department, the product was called codfish and the type was Ruvettus pretiosus.

Yesterday, the Indonesian consul in Hong Kong was interviewed and pointed out a simple fact. Indonesia is situated in the tropics and there are no codfish in that zone. There are oilfish in Indonesia, but nobody eats them there.


Why are people outraged? Ming Pao (via Duke of Aberdeen) interviewed a Mrs. Wong of Tung Chung and drew this comment: "Is it alright with labels that say 'shark fin (cellophane noodles)' or 'bird's nest (white fungus)'? A big supermarket chain like ParknShop was obviously misleading people."

P.S. There is a media-related research project here: Compare the advertising expenditure of a certain supermarket chain (and its parent corporation as well as subsdiaries) in the various newspapers with the depth and tone of the coverage in those newspapers.
[translated in summary]

During a visit of the Forbidden City, the reporter observed that there were two other foreign coffee shops. Compared to Starbucks, they occupied more area and their signs were more obvious.

Following the directions, the reporter came to a row of small red houses which used to be the waiting rooms for government officials waiting to the emperor. From the outside, the green Starbucks logo cannot be seen. Entering inside, there are all sorts of gift shops and Starbucks only occur a corner with less than 20 square metrs of area.

From the map, the reporter found an indication that there is another French coffee shop in the Imperial Garden. Following the direction, the reporter went that way and saw a row of foreign language letters that indicate a beverage shop. The reporter walked in and found a small red house most of which were occupied by girls. There are three tables in the middle of the room, with six 3-person milk-white-colored sofas around a coffee machine. In a large outside courtyard, there were several dozen dark-green chairs and ten tables. "Do you sell French coffee?" "We sell Italian coffee."

From the map, this location did not seem to the one. So the reporter continued heading towards the Imperical Garden. Indeed, the reporter found another coffee shop, slightly smaller than Italian coffee shop. This one had the sign "French Jazz Island Coffee." Compared to the Starbucks shop, the other two were more spacious.

According to information on the website of French Jazz Island Coffee, it was the second coffee brand name that entered the Forbidden City, after Starbucks. The date of entry was April 27, 2006. According to workers at the Italian coffee shop, it opened six months ago.

So: Why pick on Starbucks and not the others?
[in translation]

This reminds me of <The Past Is Not Like Smoke>. According to information, Mr. Li Changchun chaired a meeting. At the meeting, the former leader of the Information Office of the State Council said (more or less): "My department can only control publishing houses, not individual authors." So the matter was referred to the Ministry of Culture, from which a deputy minister said (more or less): "Zhang Yihe is already tired. Besides her writing is a leisure activity. It is not easy to control." Since the matter was originally brought up by the United Work Front Department of the CPC Central Committee (at the time, it was a deputy director of that department who defined <The Past Is Not Like Smoke> as an "anti-Party declaration"), Mr. Li Changchun therefore decided thta the United Work Front Department had better clean up the mess. Ultimately, the United Work Front Department asked somone to speak to my elder brother (who was a vice-chairman in the central committee of the China Peasants and Workers Democratic Party at the time) and requested that he forward the message to his younger sister (me): "Please don't write any more in the future." That was how <The Past Is Not Like Smoke>.

In spite of the vast attention drawn to Zhang Yihe's Statement and Position, there has been no official reaction. The person in the hot seat is Wu Shulin of the General Administration of Press and Publications.
Once against, Zhang Ziyi has betrayed the men of China. She appeared with a foreign boyfriend in a high-profiled manner at a basketball game. The two hugged, kissed and whispered to each other. She even touched her boyfriend's face with her hand while looking content! Therefore, the Internet patriotism (with respect to the sleeping bed) has been mobilized in roaring fashion once again. Various obsenities mixed with personal and national hatred have been thrown at Zhang Ziyi.

Meanwhile Gong Li (who was also discovered by Zhang Yimou) had also been reported earlier to be strolling in the streets with a foreign boyfriend. But there was no such similar effect. Was this because Zhang Ziyi participate in movies in in which she writhes her body passionate under the foreign men? But Gong Li's passion play with the foreigner in <Miami Vice> was said to be even more dubious. So it seems that the netizens are spending a lot of effort to watch over Zhang Ziyi. Whenever she strays, they condemn her angrily. They must really love her.

Here is a spoof from 163.com (via ChineseNewsNet)


"Come on. Give me a kiss!"
"You want a kiss? Pay up first!"


"Wow! Three hundred! Is this Japanese yen?"
"What is wrong with your eyes? They are Vietnamese Dong!"


"Hmm ... you didn't brush your teeth?
Your mouth tastes a lot fouler than Kai-shan."
"I did brush my teeth. I used Colgate toothpaste!"


"You're really obedient. Be a good boy and brush often.
But remember to use Chinese toothpaste next time.
Must suport Chinese goods!"
"Hmm ... I'll remember!"
[091] The Banned Photographs from the Liaoning People's Congress (01/25/2007) (Apple Daily) If you use Baidu to search for "庄严的人代会上,代表酣然入睡", you will get thousands of listings. If you click on them, most of them will have been deleted by now. The event was the tenth People's Congress of Liaoning province in which some representatives were filmed in various stages of deep sleep. The author's comments were: "The loud applauses at the Congress could not rouse them from their slumber. If the People's Congress representatives sleep at the Congress, then how can they express the wishes of the people, how can they speak out on behalf of the people and how can the people not have to be concerned?"


(Source: Baidu)

Here are more photographs from the Hainan People's Congress meeting (Apple Daily):


And for the sake of nostalgia:

[090] East versus West about Lan Chengzhang (01/25/2007) I just spent seven hours translating this massive (13,000+ words in Chinese) investigative report by Wang Keqin of China Economic Times at The China Economic Times Report on the Lan Chengzhang Case. This is the most extensive review of the case. Although some of the materials had already been collected in this previous post The Death of a Shanxi Journalist, Wang's report puts everything into perspective. But as conclusive as Wang's report is, I am informed otherwise. The actual case is a lot more uglier than even as presented here. You should expect more details to be revealed in time, by Wang Keqin or other Chinese investigative reporters.

If you have the patience, you can track the same case as reported in the western media. Here are some links:
- China mine probe reporter killed BBC News, January 16, 2007.
- In China, reporter beaten to death at illegal mine Committee To Protect Journalists, January 16, 2007.
- Journalism Watchdog Condemns Killing of Chinese Reporter AP via Editor & Publisher, January 17, 2007.
- China outcry grows over beating death of reporter Chris Buckley, Reuters via Washington Post, January 17, 2007
- Chinese reporter's murder sparks public debate Jonathan Watts, The Guardian, January 17, 2007
- Beating Death Chills Chinese Media Peter Ford, Christian Science Monitor, January 19, 2007
- China's Hu takes up case of dead reporter Reuters via Washington Post, January 24, 2007
- Hu enters journalist murder case BBC News, January 24, 2007
- Chinese president urges swift probe into murder of newspaper employee AP via International Herald Tribune, January 24, 2007
- In Unusual Move, Hu Demands Inquiry After Journalist's Death New York Times, January 25, 2007

How much of the long and complicated story in the China Economic Times is being represented in the western media reports? With due respect, one has to walk away with the impression that they cannot be covering the same story (see especially the January 25 story in the New York Times). My belief is that such a story is in fact not ever presentable because it is too long, complicated and nuanced for the western audience to read, absorb, comprehend and appreciate.

When the China Economic Times article was first pointed out to me, I said "Phew" when I saw the length. Indeed, I could have summarized the major new points, while leaving alone those points that had been previously covered already. But I went through the whole exercise of translation because this is an illustration that it is very difficult for transnational mainstream media to handle.

Presently, the western media are interested in the fact that Hu Jintao had written an annotation to ask that this case be solved with full resources as soon as possible. Technically, this specific case has already been solved. The mine owner Hou Si will be sentenced to death (or life in prison) and the other accomplices will receive varying sentences. But the general issues about government-business collusion in the Shanxi coal mining industry (which is the root cause of the proliferation of fake reporters) is not so readily resolved.

P.S. Real Scoop On Fraud Journos: Q&A w/ Wang Keqin Jonathan Ansfield, China Digital Times
[089] The Piledriver in Central (HK) (01/24/2007) No, this is not about yet another skyscraper being built in the central business district. The 'piledriver' is a particularly dangerous move in wrestling (see Wikipedia) that is best illustrated by this graphic:

(Apple Daily) In Hong Kong Central, at 12:30pm yesterday, a 36-year-old restaurant take-out delivery man named Leung took twenty bowls of soup to go to Jardine House. At the corner of Pedder Street amd Des Voeux Road, he bumped into two foreign males. There was an argument and then a physical altercation. At first, Leung had the upper hand as the foreign male was hit in the left eye, cheek and forehead. The irate foreign male then applied a piledriver move on Leung, who immediately passed out. The foreign male then left the scene quickly. Leung was sent to the hospital for treatment.


But a 52-year-old foreign woman saw the fight and tailed the foreign male into the subway system. The foreign woman then notified a patrol police officer and an arrest was effected at the MTR Wanchai stop. The foreign male is a 21-year-old British citizen named Munro. He is out on a HK$500 bail. He had minor injuries on his face.

[088] Update on the Case of Lan Chengzhang (01/24/2007) In the case of The Death of a Shanxi Journalist:

[in translation]

At a press conference in Datong city yesterday, more details about the Lan Chengzhang case was reported. According to the report, on the morning of January 10, Lan Chengzhang asked his colleague Sheng Hanwen to go with him in a rented car to a Hunyuan county coal mine with incomplete paperwork to gather news. On the way, they encountered two men and one woman. One of those was Huang Yanxin (according to China Trade News Shanxi bureau chief Sheng Xuri, Huang Yanxin is a worker at <China Forum>) and they all went to the coal mine office. Lan Chengzhang obtained from the watchman Zhang Gangan the telephone number of the coal mine owner Hou Zhenrun (also known as Hou Si). Sheng Hanwen and Huang Yanxin called Hou separately for meetings. Hou subsequently called the Datong resident worker Meng Er of <Legal Daily>'s Shanxi office to ask about how to distinguish between real and fake reporters. Meng told Hou to ask to examine the press cards and then give him a call.

After the telephone call, Huang and his people left while Lan and Sheng stayed to wait for Hou. Hou Zhenrun brought along seven persons including Wu Qiang, Zheng Wenping and Ma Li in two cars. On the way to Hunyuan, Hou called Wu Qiang and said: "If these are real reporters, we will treat them nicely and give them some money. If these are fake reporters, we will punish them."

At around 4pm, Hou Zhenrun and company arrived at the coal mine. At the office, Hou met Sheng Hanwen and asked what this was about. Sheng Hanwen said, "We are <China Trade News> reporters and we are looking for raw story material. Your mine does not have the paperwork. How can you be operating?" Hou said: "What's the point? You take some money and forget it." Sheng Hanwen said, "You tell me." Hou asked Sheng Hanwen to show him the press card. Then he took the press card outside the office and called Meng Er. Meng said, "It is fake if it does not have the seal of the General Administration of Press and Publications." Hou looked and did not see the seal. He returned to the office and told Sheng Hanwen: "Your press cards do not have the seal of the General Administration of Press and Publications. You just go around all day extorting people? Are you blind?" Hou then instructed Wu Qiang, Zheng Wenping, Ma Li and others to assault Lan Chengzhang and Sheng Hanwen. Afterwards, Hou left Lan and Sheng with 1,000 RMB apiece and then left with the others.
[in translation]

The program segment <Comrade, Lover> of RTHK programme <Hong Kong Connection> only interviewed three gays. The Broadcasting Authority believes that "it is insufficient to have the opinions of three gay persons on same-sex marriage" and therefore the program was "advocating same-sex marriage." As a result, the program was determined to be "unfair," "incomplete" and "biased." According to this reasoning, the Broadcasting Authority thinks that the program should have interviewed opposite-sex lovers about same-sex marriage.

In this decision, there is an erroneous presumption: opposite-sex believers must necessarily oppose same-sex marriage.

Suppose the program interviewed five opposite-sex-love believers, and it finds that 3 finds nothing wrong with opposite-sex marriage and offers support, 1 offers no opinion and 1 offers vehement objection. If <Hong Kong Connection> presented these results, the program would not be considered "unfair," "incomplete" and "biased" but it will still be considered to have the "effect of advocating same-sex marriage."

Although the Broadcasting Authority seems to think that "impartiality" means the program must represent "agree" and "disagree" simultaneously, the result might be as follows: three homosexuals strongly approve same-sex marriage, while one opposite-sex marriage advocate strongly disapproves. Is this deliberate selection concealing the fact that "most opposite-sex practioners do not object"? Is this impartial?

Proceeding further on, should the program attempt to locate a homosexual who opposes same-sex marriage for the sake of impartiality? If this was impossible, then is the program 'partial'? No matter what, should this program which was only able to find homosexuals who approve of same-sex marriage be considered to have "the effect of advocating same-sex marriage"?

Simply put, there is no causal relationship between whether a program is impartial and whether it can produce the effect of advocating same-sex marriage. Suppose we accept the irrational logic of the Broadcasting Authority and think that "impartiality" equals "including the opinions of opposite-sex lovers." If most of the opposite-sex marriage lovers actually accept same-sex marriage, then there would still be "the effect of advocacy of same-sex marriage"? If "impartiality" means "equal representation of opposite-sex lovers" including "the opinion of opposite-sex lovers against same-sex marriage," then this becomes a selective filtering of opinions in which the "effect of advocacy of same-sex marriage" has been lightened (assuming that this can even be achieved.). But this is definitely not impartial.

Therefore, the Broadcasting Authority is actually prejudiced against homosexuals. It set up the premise of "advocacy" and then framed "impartiality" as the end goal. "Lack of fairness," "incompleteness' and "bias" are werel hypocritical excuses.

This is the tranlsation of one particular blog post. But the overall impact of this seemingly trivial event (with respect to mainstream media) is actually tremendous. Simply put, this seemed to have been a thoroughly one-sided battle in which the Internet opinion (through forums and blogs) thoroughly trashed the official press release. The reality is this: there is no significant blog/forum force out there defending the position of the Broadcasting Authority. Think about the implications ...
Journalists make a lot of mistakes when they start writing for a blog type thing which allows for comments (thus making them aware of their mistakes). First, don't talk down to your readers. Many of them are probably smarter than you, and literally all of them certainly know some things you don't. Second, blogging isn't just about throwing random thoughts out there without bothering to check them first. Sure, it's a bit more shoot from the hip than careful writing is, but the internets have this thing called "the google" that makes basic factchecking fairly simple. Third, don't have contempt for the readers who care enough to read what you write and respond. In case you didn't realize, these are the people who actually give a shit enough about current events to maybe occasionally buy a newspaper or magazine, or at the very least click through your website and watch news on the teevee. In other words, they pay the bills. Being actively hostile to them is certainly odd behavior. And, yes, discourse on the internet can be rude and caustic, some people may make you cry by telling you to go Cheney yourself, and you certainly don't have to engage people who are rude, but really who cares? People are mean, wah.

There is one final deep injustice. Even though it's "just a blog," people may hold "Time's Washington bureau chief" to a slightly higher standard than they do "some random person with a blog." The reasons for this should be obvious.
[085] More Internet Crackdown in China (01/23/2007) (Beijing News) In Beijing, the Internet security administration command center discovered that a number of people had been using the email, QQ instant messaging, chat rooms and personal blogs to flood the Internet with information about illicit services. Upon analysis, it was determined that the people belong to the same group. Furthermore, an analysis of their IP addresses showed that there are over twenty people who were working continuously from 8am to 10pm from an Internet cafe in the Fengtai district. On January 16, more than 300 police officers moved out to arrest a total of 151 persons at the Internet bar plus 16 other business locations.

The police determined that the group members were at least 90% from Gong'an county, Hubei province. The group leaders were recruiting females from their hometown to come to work as prostitutes in Beijing. They also hired people to publicize the services over the Internet. The sixteen girls were required to turn ten sessions per day at 300 RMB apiece (50% going to the organization). The youngest female was 15 years old.

This was also a management problem. In this case, the entire publicity department was located in one Internet cafe with the leaders and therefore arrested together. Why were they all there in one place? Because the workers had to be supervised. If the workers were left to work on their own, they might just be watching adult videos or playing online games instead.
[084] Market Economy for English-language Education (01/23/2007) The idea is that the free market economy would take care of everything. You have a free market economy in which everyone can offer their English-language educational services. In the end, the best services will service. But how do you know which service is good? One indicator would be advertisement. Here is Winki Chan (http://www.englishqueen.com.hk):

The "English Queen" Winki Can is offering "Instensive" lessons in English! If it appears on the Internet, it must be true?
Why can "news publicity" be swapped for "compensation"? How can "fake reporters" use "news" to conduct "extortion" and get money? The direct answer can only be: "Fake reporters" can take a "real problem" to trade with criminals. Otherwise, the extorted party is sure to call the police. Therefore, we should not imagine the "fake reporters" to be ogres. Sometimes, they can uncover problems that real reporters do not dare touch.

For example, suppose "illegal sub-standard steel reinforcement bars" have become an industry in support of shoddy construction; then there will be "fake reporters" who specialize in extorting the producers of those bars. As another example, if it becomes common for pig-breeders to inject water into their animals to increase bodyweight, then there will be "fake reporters" who specialize in extorting those breeders. There are many coal mines in Datong Shanxi), and the "fake reporters" are obviously watching the coal mines carefully. This is a food chain relationship.

The degree of proliferation of "fake reporters" can be used to determine the form and size of the illegal products. To a certain degree, " fake reporters" become a restraining force on the criminal elements. This is game-theoretic play. As the game intensifies, one party loses its patience and cool and then tragedy occurs. According to the reports, before Lan Chengzhang arrived, the illegal mine owner had already received eight groups of "reporters."

When the local government conducts a campaign against "fake newspapers, fake periodicals and fake reporters," it is only plugging up one end of the problem. But if you only plug one end of the problem, the criminal elements on the other end will have an easier time. But if you also stop the criminal elements, it would also be a lot easier stopping the fake newspapers, fake periodicals and fake reporters. Furthermore, if the local legal environment permits any citizen to safely report illegal activities, then there would not be any use for "fake reporters."
[082] The Little Old Lady with the Box-cutter (01/22/2007) (The Sun) Last Frieday, Ms. Luk was walking down Nelson Street in Mong Kok after shopping. She walked past a little old lady and the handle on her plastic bag was snapped upon touching the little old lady. As a result, the computer games that Ms. Luk fell all over the street. Ms. Luk yelled, "What are you doing?" The little old lady was unafraid and said that it was because the bag hit her. Then the little old later left.

But Ms. Luk remembered that encounter. Half an hour later, Ms. Luk saw the little old lady again on Sneaker Street. She got curious and decided to follow the little old lady to see what she was up to. She observed that the little old lady had her hands behind her back. In one hand was a box-cutter; in the other hand was an empty plastic bag for cover. Ms. Luk took the following photograph.

According to the police there has been several cases over the past few months in Mongkok in which the victims reported that their shopping bags suddenly broke in the street, spilling all their goods onto the ground. When they picked everything up, they found that something was missing. The police does not preclude that this was done by the same person.

The little old lady that Ms. Luk followed was more than 70 years old, full of white hair, less than 5 feet tall, back hunched over and dressed in casual clothes.

If Ms. Luk has these photographs, could she have issued an Internet warrant? Not in Hong Kong. Since Ms. Luk had not witnessed any crime, that would have been invasion of privacy, defamation, etc.
[081] Dazhu 'Murderer' Confesses On Television (01/22/2007) Further details can be found at the bottom of The Mass Incident in Dazhu County.

If it is so simple, then why are netizens still skeptical? The reasoning is this: The murder occurred on December 30, 2006. Nothing was happening in the investigation of this suspicious death and the public was told nothing. On January 15, the family and friends of the deceased began to show up at the Nest Business Hotel to demand answers. A full-scale mass incident occurred on January 17. Then suddenly the bartender Liu Chikun was produced as a rape suspect (but not a murder suspect). There are lots and lots of questions left. When did Liu Chikun become a suspect? Was that before or after the cause of death was attributed to alcohol poisoning (as announced at the press conference of January 16)? When was Liu detained? Why didn't he just run away? Why is a videotape of the interview between a suspect and his lawyer being shown on television? Whatever happend to client-attorney privilege? ...
[080] Taiwan By The Numbers (01/22/2007) (China Times) (1,067 persons interviewed January 17-19, 2007)

Q1. On the whole, do you feel that 2006 is more cheerful or painful compared to 2005 for you?
45%: The same
22%: More cheerful
33%: More painful

Q2. Did your income increased in 2006 compared to 2005?
45%: The same
15%: Increased
39%: Decreased
1%: No opinion

Q3. Do you expect the economy of Taiwan to become better or worse in 2007 than 2006?
16%: The same
25%: Better
52%: Worse
7%: No opinion

Q4. Do you expect the political situation in Taiwan to become more or less stable in 2007 than 2006?
17%: The same
19%: More stable
53%: More unstable
11%: No opinion

Q5. On the whole, do you expect that 2007 will be more cheerful or painful compared to 2006 for you?
29%: The same
39%: More cheerful
29%: More painful
3%: No opinion
[in translation]

... Famous Peking University professor Kong Qingdong publicly rebuked Zhang Yihe in a speech yesterday. He pointed out the Zhang family enjoyed special treatment from the Chinese Communists during the 1950's, when many Chinese people were living under starvation. In her book, Zhang Yihe described that "to eat tofu, you must eat more than 20 kinds," "towels are replaced every day," "the bedsheets are changed every day, and they have to be washed very clean." Kong Qingdong said that "her class was the enemy of our government," "the Communist Party was magnanimous towards them, but they keep dreaming about changing the facts and saying that the anti-rightist campaign was wrong."

Kong Qingdong said: "You (the rightists) think that you are proper heroes, so why are you asking the Communist Party for vindication?" "Your cases have been overturned after the reforms began, but why do the big rightists want to demand hundreds more times in compensation from the people. This is ten times worse than back the?" "Who is going to write the histories of our common people? More than 60 people perished in a mine well. Who is going to write a The Past Is Not Like Smoke for each of them? How much be paid for each death? All lives have value. Do the lives of upper-class people have different values than those of lower-class people? The revolution was intended to change this." "We must used our shoulder to hold up this gate, in order that the sun can shine into here."

Relevant Link: 孔庆东:章诒和家庭所属的阶级是政权的敌人 KDNet
[078] What Happened At The Nest Business Hotel (01/22/2007) (SCMP; Zhuang Pinghui, January 22, 2007)
... the officer said ... that only several hundred people "gathered peacefully" outside the government offices. "There was no confrontation during the gathering. Nobody was injured and no property damaged. The gathering was very peaceful and the crowd left after 7pm," the officer said. He added that authorities had not mobilised riot police even though several roads near the government buildings had been blocked during the protest.

From The Mass Incident in Dazhu County, here are some photographs related to these statements:


"Authorities had not mobilised riot police"


"There was no confrontation during the gathering"


"The gathering was peaceful"


"The crowd left after 7pm"


"No property damaged"

Why did the police officer make these assertions? Does he not know that about these photographs? Actually, he probably does not know that these photographs are present because he could not find them after the order to remove them. He probably believes that they are all gone. But they can only remove some, but not all. The surivivors will come back to bite them.
[077] A Postmodernist Drink (01/21/2007) Here is the photo at 懷念水 (倉海君). What is this drink? Alas, there cannot be a definition because it is a postmodernist drink.


What is postmodernism?

(PBS) "Postmodernism is largely a reaction to the assumed certainty of scientific, or objective, efforts to explain reality. In essence, it stems from a recognition that reality is not simply mirrored in human understanding of it, but rather, is constructed as the mind tries to understand its own particular and personal reality. For this reason, postmodernism is highly skeptical of explanations which claim to be valid for all groups, cultures, traditions, or races, and instead focuses on the relative truths of each person. In the postmodern understanding, interpretation is everything; reality only comes into being through our interpretations of what the world means to us individually. Postmodernism relies on concrete experience over abstract principles, knowing always that the outcome of one's own experience will necessarily be fallible and relative, rather than certain and universal. Postmodernism is "post" because it is denies the existence of any ultimate principles, and it lacks the optimism of there being a scientific, philosophical, or religious truth which will explain everything for everybody - a characterisitic of the so-called 'modern' mind."

There were eight persons at the dinner table and thus there were eight different notions concerning that drink according to the particular and personal realities of those persons. Since the eight persons could not agree even on an elementary definition of 'postmodernism,' there was no hope about reaching consensus on the nature of the incident. Now that this photograph has appeared on this blog, there will be several tens of thousands of persons who will get to see it and form their own definitions about this drink. This sort of cultural relativism may be bewildering and disorienting, but you surely don't need a supreme leader to tell you what it is (or is not).

P.S. The above was posted and the complaints come in quickly: "WTF are you talking about?" That is fair enough. Here is the debriefing: at this dinner with eight people, one of them was drinking 7-Up (see the can in the background of the photograph). At the end of the meal, sweet desserts were served (see the plate in the photograph). The person picked up one dessert item and accidentally dropped it into his glass. As Vladimir Lenin stated the existential question: "What is to be done?" Something happened (and never mind what). The eight people obviously had different descriptions and interpretations of what happened. Who is to say which is the correct version (such that all other versions are heresies)? That is postmodernism in a nutshell. But, of course, the true essence is that this simple consensus about the impossibility of a consensus was reached only after a seemingly interminable discussion of the definition of postmodernism. (The most often repeated refrain was: "Yes, you say that Donna knows but she is not here tonight. So please tell me what your definition is.") There is a remaining open question: What is the meaning of the collective memory of these eight people? Any one person cannot represent the others, and it is impossible to come up with any meaningful composite. Alas, all of this is irrelevant because the glass has been taken away by the waitress who was only interested in getting off work as quickly as possible ...

P.P.S. Two of the eight persons have come forth so far. Please continue to check the other 'so-called' Hong Kong A-list jorno-bloggers for the others ...
[076] The Autumn Fairy Tale (01/21/2007) (Apple Daily) In 1987, Chow Yun-fat and Cherie Chung made the movie <The Autumn Fairy Tale>. Last October, the movie was shown on a Sunday afternoon on broadcast television station TVB in Hong Kong. Subsequently, the Broadcasting Authority received a citizen's complaint about a particular scene in which some hand gestures were made and some not-very-nice words were used (× 你 ! and X 鏟) (see link).

While it is true that the movie had been shown in the movie houses in 1987 and won multiple film festival awards without criticisms along this line, the televised movie was shown at a time when children may be present. When interviewed the director of the movie said that there was no such dialogue in the movie, so "I'm sorry if some viewer felt hurt." She also said that parents nowadays are usually over-protective about their children. "They want to put their children under a bell jar so that they don't come into contact with the more vulgar things. The children will not know about the other truths of society, and this just makes them easier to be hurt in the real world."
Informed sources told Boxun that several tens of people have been isolated in Guangzhou's Number 8 People's Hospital because of suspicion of the avian flu! Also, many more persons have been placed isoloation at a certain Guangzhou military hospital!!

With due respect, should we invoke a social panic on account of a report such as this? It may well be true (or it may not be). Would you go screaming out into the streets as a result of reading this? Where is the proof beyond a vague allegation?

Follow-up: Many Hong Kong media showed up at the Number 8 People's Hospital but did not find anything unusual. (Sing Tao) The Sing Tao reporter called the Number 8 People's Hospital yesterday. A man on the general line said that they have suspected SARS patient(s) at the hospital, but the details must be obtained from the outpatient department. The outpatient department had no comment. The duty room at the inpatient department said that they have not heard of any SARS patients. An inpatient department nurse said that they have not been informed to keep a high alert. According to the revelant procedures, the hospital has to go into high alert if there are SARS patients.
[Administrative Note] New Recommendations (01/21/2007) Due to the popular demand, Section 1 (Recommended Photos/Videos/Reedings) will be sub-divided into three sections: Global (in English), Greater China (in English) and Greater China (in Chinese). There will be approximately ten entries per sub-division. The old entries will be replaced by new entries. No historical record will be kept because I insist on making you come here every day or so. If you don't come, you'll miss whatever was on there.
Dozens of lawmakers kicked, shoved, punched, and threw shoes at each other, stalling passage of the government's new annual budget and a long-beleaguered military procurement bill. The fighting was attributed to the ruling Democratic Progressive Party's (DPP) opposition to a proposal by the main opposition Kuomintang (KMT) to adjust the make-up of the Central Election Commission (CEC).

Chaos erupted in the afternoon when dozens of lawmakers from the ruling Democratic Progressive Party (DPP) stormed the speaker's dais to prevent the third and final reading of a proposal to revise the composition of the CEC. Voting was called after in the afternoon representatives from major parties failed to reach consensus during the last-ditch inter-party coordination meeting on the issue in the morning.

Lawmakers of the opposition KMT and those without party affiliations responded to the DPP's move to block the voting by rushing forward to protect speaker Wang Jin-pyng, one of the KMT's senior members. DPP lawmaker Lee Ming-hsien picked Chen Chao-jung of the KMT and grabbed him by the collar of his jacket and tried to pin him down against a desk.

Dozens of other legislators shouted, pushed, shoved and pulled the ties of each other. A couple of them were hurled onto the floor and several others engaged in wild chases during the melee. Some climbed on a table and others hurled objects as they fought over the microphone and tried to prevent the other side from controlling the podium. When the men were busily hitting each other, their female colleagues did not just watch. DPP woman Legislator Wang Shu-huei flung a shoe at speaker Wang Jin-pyng, but it struck precisely at the face of independent lawmaker Tsai Hao standing next to protect him like a bodyguard.

Another legislator, the politically unaffiliated Yen Ching-piao, picked up the shoe and threw back at Wang Shu-huei and ripped up a DPP political placard. Wang then hurled the shoe back at the speaker a couple more times again, though all missed. Yen then yelled at her with a stern warning. He was only withheld by other lawmakers when he attempted to charge to Wang.

Throwing his arms up, speaker Wang went back into his office under heavy protection. But an unidentified lawmaker locked his door from the outside.

There is a Chinese saying: Good news never get out of the door; bad news propagate one thousand miles away. Whereas Taiwan practically never gets mentioned in American news, this is the sort of item that makes it onto CNN (see video at Taiwan parliament ends as fists fly). The CNN anchorperson said: "This is not the first time, and it won't be the last time."

But this event is unique because of the pair of shoes.

(TVBS, ETToday) DPP woman Legislator Wang Shu-huei had purchased this pair of leisure shoes for NT$1,800 in a street market. Overnight, this has become the most famous pair of shoes in all of Taiwan. Wang Shu-huei said: "I did not intend this to happen. Actually, this is not a good thing for our international image. But if the same situation were to recur, I would exactly the same because this is my duty to do so."

Wang Shu-huei intends to hold a public auction. There is currently someone offering NT$68,000 already, and NT$100,000 is definitely within reach. Wang Shu-huei said, "Our party needs money. I'll donate it to the party." P.S. (Apple Daily) There is an alleged bid of US$10,000 (~NT$320,000).

(United Daily News) As for the other collector's item -- the motorcycle chain/padlock that prevented the speaker from exiting, there is presently no known auction market for it, even though this was also unprecedented.
[073] The Media Food Chain in China (01/20/2007) (Ma Erli in RedNet) In The Death of a Shanxi Journalist, a friend of Lan Chengzhang said that Lan had told him that the China Trade News Shanxi bureau had given Lan a quota of 180,000 RMB for the year. As a result, Lan felt very pressured. The recently retired Shanxi bureau chief confirmed that her quota had been 50,000 RMB for 2005 and 100,000 RMB for 2006. If true, then there is a food chain: (newspaper)<->(bureau)<->(reporter)<->(illegal coal mine). Of the links in the chain, the reporter is the weakest. China Trade News has denied that such quotas existed.

But there are some mysterious aspects about China Trade News. The Shanxi bureau of a national newspaper usually have 2 or 3 people only, sometimes it is even a one-person shop. It is unheard of for a bureau to have finely defined positions such as special topic center director (for Lan) or English-language news center director (for Sheng). How did a warehouse keeper from a coal mine become a news worker who holds a "Media Worker Card" and a letter of introduction to gather news? According to a China Trade News vice-president, Lan is only a "news tip/hint/clue collector." That position is also unheard of. After Lan's death, the newspaper claimed that it is negotiating with the local government and therefore hopes the family would maintain silence -- otherwise the family would be responsible for the consequences. Silence for what? This is perplexing?

Actually, in spite of the prohibitions by General Administration of Press and Publications against paid news and reporters engaging in business sales, some media go ahead with the practice anyway. The known methods are allocating a revenue quota for a bureau, or dividing the revenue between the newspaper and the bureau, or assigning all amounts over the quota to the bureau. The bureau in turn slaps a mark-up on the quota and distributes quotas among individual reporters. The bureau may also set up branch offices and liaison offices and ask for license fees. They also sell logo signs and identification cards. In some places, a logo sign for a branch office costs 3,000 RMB; an identification card costs 2,000 RMB. The big fish feeds on the little fish, the little fish feeds on the shrimps and the little shrimps had no choice but to eat dirt -- they find those enterprise owners who are running shady businesses that do not want media exposure. Thus the first choice is the coal mines that have incomplete or no licenses and that have safety problems.

In this food chain, the reporter is the weakest and most vulnerable. When something goes wrong, the newspaper will be the first to sacrifice the reporter because it does not want to be penalized by the supervisory agency. They will claim that the reporter was not a formal employee and that the reporter did something on his own without the knowledge of the newspaper, etc. While the newspaper usually criticizes other people for evading responsibility, it is just as good when it does the same.
[072] English in Hong Kong (01/20/2007) (Apple Daily)

Do you big me ?( 你 大 我 呀 ? )
Do you think me didn't arrive? ( 你 當 我 無 到 ? )
Eight woman, you are good! ( 八 婆 , 你 好 ! )
I give you some colour to see. ( 我 畀 顏 色 你 睇 ! )
Laugh die me. ( 笑 死 我 。 )
Peter piano piano green go to school. ( 彼 得 「 擒 擒 青 」 返 學 。 )
Today I was very black son. ( 今 日 我 好 黑 仔 。 )
What the ghost are you talk? ( 你 講 乜 鬼 ? )
What water are you? ( 你 係 乜 水 ? )
I saw a pork chop. ( 我 見 到 件 豬 扒 呀 ! )

Note: To be fair, I ought to make at least one personal contribution:
I was beaten five colors six hues (我被人打到五颜六色)
[071] An Internet Crime in Taiwan (01/20/2007) (Apple Daily) At around 7pm on September 19, 2005, a 27-year-old male Hsin Chu resident named Hsu entered the "Northern gay comrades 237 chat room" of the UThome website using the nickname "Hsin Chu in need of money." Therefore, he encountered an Internet police officer on patrol. The two then invoked the "private chat" function to restrict the conversation between themselves. Hsu sent out messages such as "You know what I need," "1069 are all acceptable," "are you 0 or 1?" and the amount for the transaction. Hsu also left a telephone number and arranged to meet in Taipei city. When Hsu arrived at the location, he was arrested and subsequently charged with dissemination of information about sex-related transactions.

During the first trial, the judge determined that the "private chat" function restricted the content of the converation between the two individuals. Hence, there was no public dissemination of information as such. Therefore, the judge found Hsu not guilty. The prosecutor believed that the nickname "Hsin Chu in need of money" obviously implied an intent to have a sex-related transaction and appealed on that basis.

In the re-trial, the police produced print-outs of the chat session for the judge to read. Thus, the determination was that the conversation can still be seen by others, and therefore Hsu was guilty of disseminating information that will tempt others to engage in a sex-related transaction. When the judge in the initial trial heard about it, he was astonished: "Even the police admitted that no one else can view that conversation. How can the appeal court judge make this kind of faulty decision?" The appeal court judge said that his decision was based upon the print-out provided by the police. He admitted that he has never been to an online chatroom.

Hsu has been sentenced to 4 months in jail (suspended for two years) and fined NT$108,000.
[070] "I don't care" (01/20/2007) Right on the front page of Apple Daily (Taiwan) is the English-language sentence "I don't care."

The person who said those words is presidential secretary-general Mark Chen. He had been summoned by the Taipei District Court to testify in the state affairs fund trial of the First Lady and others. Mark Chen did not show up in court. Four other presidential office officials also received summons, but Mark Chen ordered them not to show either. The five have been fined NT$30,000 each by the court.

So what was the circumstances that generated the "I don't care" comment. (United Daily News) Yesterday, Mark Chen did not show up in court. Instead he was in Kaohsiung harbor keeping Palau president Remengesau. The entourage went to the art museum to view an exhibit, and they went on a boat to enjoy the river view. Throughout the whole trip, there was a large group of reporters keeping him company. The The reporters kept asking him: "Why are you not in court?" Mark Chen did not answer, but kept walking fast while looking serious.

There were some short replies. In reponse to "Do you have to testify in court this afternoon?", March Chen answered: "I'm keeping company with the Palau president." To a television reporter who told him that a fine of NT$30,000 has just been assessed, he said: "I don't know. I don't know. I can only say that all the presidential office officials are good law-abiding civil servants." But the memorable saying of the day was right before he got into the car to leave Kaohsiung: "I don't care" (in English).
Satiric SMS or libel? Writing political poetry in Chongqing Joel Martinsen, Danwei
As Grip of Censors Endures in China, A Satirical Poem Leads to Jail Time Edward Cody, Washington Post
The Pengshui SMS Case ESWN

So here is the eventual outcome with respect to the responsible parties.

At noon on August 15, 2006, Qin Zhongfei sent out a poem via SMS about corruption and ineptitude in Pengshui county. This poem apparently touched some nerves. According to Observation magainze, the Pengshui party secretary Lan Qinghua has been at his post for six years and county mayor Zhou Wei has been at his post for five years. As such, they were due for transfer/promotion and they didn't want to hear about any negative news when the higher-ups come around to evaluate their performances in order to determine their next assignments.

According to information, on the morning of September 1, 2006, leaders from the Pengshui public security bureau, procuratorate and court met to discuss the case along with other department not related to political law. The decision was to charge Qin Zhongfei with libel.

This was an obvious mistake, because if the subjects of the case (Lan Qinghua, Zhou Wei and others) felt that they were libeled, they should have filed a complaint directly with the People's Court. Instead, Qin Zhongfei was detained by the public security bureau.

The case received national exposure and gained the attention of the superiors in Chongqing city. On September 29, the Pengshui public security bureau permitted Qin Zhongfei to go out on bail after 29 days of detention. The bail request did not come from Qin, but from the public security bureau itself. This meant that the bureau indirectly admitted fault. According to information, public security bureau director Zhou Mingguang admitted fault.

More media joined in the reporting of this case and even the central government issued directives because of the impact on the whole nation. On October 24, Qin Zhongfei was pronounced innocent and all charges were withdrawn. On October 25, Qin Zhongfei was compensated by the state with 2,125.7 RMB in lost wages.

Here is the most important part: Pengshui party secretary Lan Qinghua has been relieved of his post due to his role in the affair.

What does it mean? It means that it is okay to send those SMS's!
On the evening of December 29, she was asked by three government officials to keep them company. At around 2am on December 30, she was found unconscious in the suite room, with massive bleeding from her vagina. According to information, Yang was believed to have been drugged and then gang-raped and tortured to death. "There were many needle marks on her body, several teeth were broken, her tongue was bitten off, her breasts were cut off, her vagina was ripped, etc."

The mainstream media (Southern Metropolis Daily) interview with the victim's father:

At the hosptial, I examined her body carefully. There was no sign of injury. There was just some blood inside the mouth. Later on, after the examination in the mortuary, they said that there were many bruise marks on her neck and back, her vagina was bleeding and there were four needle marks on her arm ... Yesterday, the country government found a report from who knows where that said my daughter had been raped. But I have yet to see this report ... Today, the provincinal judicial department came to do two autopsies. They said that the four needlemarks were fake. We are totally befuddled ... I have not seen the [Internet rumors]. I cannot make irresponsible talk."

The Chinese problem is that when mainstream media go missing in action by fiat, then Internet rumors rule.
[067] The Octopus Spy (01/19/2007) (The Sun) On January 10 at around 1pm, a 35-year-old female worker boarded a bus on Cheung Sha Wan road in order to go to Wanchai to deliver a document. During the period, another individual also got on the top deck of the bus. There was no other passenger on the bus. When the bus reached Tai Nan Street, she was suddenly attacked from behind on the ear by an electric stun gun. Fortunately, the electric power was not strong and she was able to scream for help. The perpetrator went down to the lower level of the bus and told the driver to stop and let him off. When the driver refused, the perpetrator attacked him with the stun gun on the face. Finally, the bus stopped and the perpetrator fled.


How did the police find the perpetrator? He had used an Octopus card to pay the fare. That card was not personalized and it was not on an automatic add-value plan. So there was not information about the owner of the card. However, that card had an identification number and therefore its usage can be tracked. The police obtained the times and locations where the card had been used. From there, they went to the locations (such as supermarkets and convenience stores) and asked for any surveillance video tapes at the specified times. In all, more than 100 tapes were obtained and reviewed. They now had a target person who appeared on film.

During the review, the police found that the suspect appeared to be more casually dressed when he showed up in the Kwai Hing locations. The police then asked for additional surveillance films from nearby housing estates in order to track the movement of the suspect after he left the stores. Thus, they were able to find the particular estate building in which he lived. Yesterday afternoon, the police went to his apartment and arrested him. Through the suspect, the police went to the apartment of his girlfriend and found the stun gun.

The police believed that the man had wanted to commit crimes but was unsure whether the stun gun would work. Therefore, he needed to test it out on a human guinea pig. The suspect owed several hundred thousand HK dollars to loansharks and was desperate to make some money.
[066] The Nest Business Hotel (01/19/2007) In The Mass Incident in Dazhu County, I was at first scrounging around for what remains in the search engine caches after the keywords became 'sensitive.' Not to worry, because the traditional mainstream media have stepped into the fray today: Apple Daily (HK), Apple Daily (Taiwan), Ming Pao (Hong Kong), Southern Metropolis Daily (Guangzhou), Radio Free Asia (note: they even have a YouTube video of the disturbance). That previous post has been updated to reflect the additional information.


P.S. To be more precise about the 'sensitivity,' if you Baidu/Google on 'Nest Business Hotel' or 'Dazhu county' in Chinese, you will find a number of blog/forum posts related to the incident of the murder of the 16-year-old girl. If you click through on those results at Sichuan forums or national portals (Sina.com, Sohu.com, Tianya, etc), you will hit the proverbial 'post not found' message. If you use the Baidu/Google cache instead, you can retrieve the text but not the photographs. That is the general pattern. But if you are a master-class data retriever, you will find everything that you need. I can't tell you what the tricks are, because the whole point is that they cannot be disclosed publicly.
[065] Griping About The Departed (01/19/2007) Associated Press announces that "Chinese state-run movie company refuses to import Hollywood film 'The Departed'". With due respect, the date of this announcement via International Herald Tribune was January 18, 2007. Previously, the same information was announced in Apple Daily (translated through ESWN) on December 28, 2006 (Comment 200612#102). When is news really news (in English)?
[064] Malaysia Calls (01/18/2007) In the email inbox: "I'm a daily reader of your interesting blog even though it doesn't touch on my country of Malaysia . Your boldness and swift writing are excellent. But I do hope that I could draw your attention to the case of 2 socio-political bloggers, just like you, that have been issued Writs of Summon by one of the national newspaper. This national newspaper, www.nst.com.my is controlled by the main ruling party, UMNO. The 2 bloggers are known throughout Malaysia , even to non-bloggers. They are Mr. Jeff Ooi, www.jeffooi.com and Mr. Ahiruddin Atan, www.rockybru.blogspot.com. Both of them have stated in their respective blog that they have been sued. Hearing will be at the end of this month, which was surprisingly fast."

The relevant posts are Bloggers sued in Malaysia and Bloggers sued in Malaysia... ( 2 ) (Screenshots) and Bloggers sued in Malaysia (rocky's bru).
[063] Why They March (01/18/2007) (See Comment 200701#024) When the 101 triad members were arrested earlier this month, they were on the way for a show of force on behalf of a candidate in a village election in Hong Kong. If the going rate was HK$500 per head, then 101 persons would have cost HK$50,500. What is so valuable about becoming a village mayor? It turns out that the answer is related to parking lots. Yes, some very big parking lots.

(Next Weekly) Although the 101 triad members were stopped at Tsim Sha Tsui, other groups made it to the festival. First, a hundred men dressed in black waving the banner of "Tang" entered with another hundred more men behind them doing the lion and dragon dances. Next, another group of dancers entered, waving the banner of "Wong" and followed by two hundred men dressed in black. As the two sides glared at each other, the anti-organized-crime unit from the New Territories North police district stood between them and made sure that there was no clash.

So why are Tang and Wong so interested in becoming the mayor of Ping Shan village? There is a great deal of private and public farm land, for which it no longer makes sense to devote for purposes of agriculture and fishery. In order to convert the land for other use, it is necessary to apply to urban planning department, which would first consult the village affairs committee. The committee chairman wields a great deal of power to approve certain applications. The applications then goes back to the urban planning department, which is loathe to reject anything approved by the village affairs committee. The initial applciation is valid for three years. Thereafter, an extension has to be applied for each year; the extension will be granted subject to the approval of the village affairs committee.

Mr. Wong is the current village affairs committee chairman. He is presently holding 200,000 square feet of private land (although others have estimated that he controls somewhere between 800,000 to 1,000,000 square feet of land) which is used to park cargo containers at HK$80 per day. Ping Shan is close to the Hong Kong-China border, and it is efficient for truckers to park their containers there. There is about 8 million square feet of containing parking space in Ping Shan, which generates as much as HK$2 billion in revenue. When a villager rents his private land to Wong, he gets about 2 to 3 cents per square foot per month; in turn, Wong rents it out to operators for 1 to 3 dollars per square foot for a huge mark-up.

Now you understand why the village mayor position is so important. Oh, yes, this is a direct election in which registered villagers vote. Gee, I thought that they promised us that direct elections will solve all the problems. So how shall the voters choose between "Wong" and "Tang"? If you were a registered villager, whom would you vote for? Of course, it doesn't matter because you cast your vote and you will then be told that you are stuck with the winner and you should shut up because you have had your vote. Are you happy, though?
At the CRHK Hit Song Awards, Joey Yung wore a ballet tutu that was very similar to the 2007 spring/summer clothes by Viktor & Rolf. This drew criticisms from netizens. In an appearance on a television show on January 5, Joey replied: "It depends on your personal view. The important thing about clothes is that that they should be comfortable ... one day, I was worried about what to wear. The designer said, 'Don't worry about it. I'll take care it for you.' I liked that particular dress. So next time, I'll be more careful. I'll might have to make some minor modifications. But I'll keep the cutting ..."

Once she said that, the netizens went beyond the copying but they also criticized Joey for disrespecting intellectual property rights. They called for everybody one to complain to the Broadcasting Authority that Joey was misleading young people with her speech. The netizens were particularly displeased and upset by her saying "I'll be a bit smarter when I copy the next time." Some netizens even want to complain together to the copied brand and even the Customs Department. As of January 16, the Broadcasting Authority has received 108 complaints against Joey over the copying.

Everybody knows that a public figure has tremendous influence in front of the camera lens. But the citizens have used the Internet channel to form a pressure force through expressing their opinions. When Joey Yung made another public appearance on January 9, she apologized for her mistake. From this, we can see that society treats Internet opinion as important. The artiste had to make a hurried response through the traditional media. This shows the power of Internet public opinion.

Related Link: Roast Swan Lake.
[061] The Lan Chengzhang Case (01/18/2007) There are new Southern Metropolis Daily and Southern Weekend udpates translated near the bottom of the page in The Death of a Shanxi Journalist. There is some ambiguous reference to a publication known as Safety Education Weekly at which Lan Chengzhang used to work before he "left" as a result of a 're-organization.'

Here is the background of the 'earthquake' at Safety Education Weekly (via Xici Hutong's Shanxi Newspaper Industry forum):
There once was a man named Wang Fulong. He used to be a worker/foreman and he only had an elementary school education. Then he got someone to spend some money to purchase the survey that the State Administration for Safe Production Supervision which referred to bringing the culture of safe production to the grassroots. He then asked Modern Consumer Guide to let him publish a Safety Education Weekly periodical. He hired 40 to 50 employees who were mostly unemployed people in society.

Wang did not actually pay the employees; instead, they had to pay him 3,000 RMB per month. These employees were supposed to spread out across Shanxi province. They investigated the coal mines and if they found anything, they would extort money by threatening to expose the problems. Whenever there were any mine accidents, these people can be counted on being there to get paid off. When an employee made some money, he had to give 60% to Wang while only keeping 40% for himself. Wang also sells bronze plaques at 40,000 RMB apiece to indicate that a place has passed the Safety Cultural examination. Wang was grossing over 2 million RMB from this racket.

The downfall of Safety Education Weekly came when three employees were caught red-handed by the police during an extortion attempt in Linfen county. The most eye-catching aspect was that the three people could not even write down anything simple. That is, they did not even have elementary school language skills. This made it abundantly clear that Safety Education Weekly did not employ these people either as investigators or reporters. That was how the pressure came down from above to 're-organize.' After examining the situation, the only logical way to 're-organize' was to dismiss everybody.
(Liu Taifu) It does not matter who the deceased was and it does not matter what his status is. The life of any citizen should be equally protected under the law. Anyone who illegally take the lives of others should be punished by the law. Yet it is strange that after Lan Chengzhang was beaten to death, the locals seem to care more about the identity of the deceased. Even an official at the Datong city News Center said that there was only an ordinary crime but no case of a reporter being killed, as if the nature of the case changes if the deceased were a reporter or not. So it is that important whether the deceased is a real or fake reporter?

In my view, after the killing, the local authorities ought to investigate the coal mine where the incident occurred and find the murderers. They needed to figure out even more just what is it about these coal mines that draw fake reporters to extort money from them. Reportedly, fake reporters have become an occupation. There is a common saying: a fly cannot enter into an egg without a crack. So what sort of ugliness is being hidden in these coal mines? Yet, it is surprising that the local authorities immediately released the <Notice of the special Datong project to combat fake newspapers, fake magazines and fake reporters> to take action against 'fake reporters.' Of course, it is necessary to take such action . But rooting out the cause of these fake reporters is the most important thing. If you only take action against the fake reporters without paying any attention to the root cause of the fake reporters, then no matter whether it is real or fake reporters, incidents like the Lan Chengzhang case will recur.

(Cheng Huaiqiang) A man was brutally beaten until he was seriously injured and subsequently died. This would be alright if the related departments followed the process of a criminal case. But when a reporter investigating a coal mine was murdered by the people there, then this has a different background because it involves the issue of watchdog journalism. The death of a reporter meant that the murderers must be punished. The authorities must also deal with questions from the news media, the public sympathy for the reporter and the anger of their superiors. Worse yet, they must be afraid that if one follows the lead, they may be held accountable for production safety issues.

Therefore, the most urgent task was to deny the identity of the deceased. This will minimize public attention while diverting attention from the safety issue at coal mines. When the incident loses its news value, its impact will be smaller and the superiors are less likely to intervene. So the relevant Datong city departments kept emphasizing that this was just a 'fight' and an ordinary crime. They insisted that the deceased was not a reporter, because the conditions of the relevant regulations about reporters have not been met, etc. Thus, Lan Chengzhang died at the hands of thugs, but the principal reason was that the local news environment was disorderly and the reporters were a mixed lot. As to why the local news environment is disorderly and why there are so many fake reporters, the relevant departments will probably dodge the answer. After a few more evasions, the potentially key question of supervising mine safety will probably disappear. Furthermore, it is possible to clamp down on the various news media so that there will be fewer worries in the future. At this point, I have to say, "Brilliant! That is really brilliant!"
[059] How Well Do You Know Martian? (01/17/2007) (Apple Daily) On the Internet, the Chinese actually use a different language known as Martian. There are also local dialects (e.g. Hong Kong Martian is different from Taiwan Martian, etc). How well do you know Martian? You can take a Taiwan Martian language quiz at http://www.silkbook.com.tw/activity/kk0140852/flash/intro.htm

The quiz works on the basis of multiple choice questions, with two attempts per question. If you get it right the first time, you get 10 points; if you get it right the second time, you get five points; if you get it wrong, you get five points deducted.

Why is this thing called Martian anyway? One of the questions deals with the cause:

Q10. Why is this known as the Martian language as opposed to the language of Venus, Saturn or Neptune?
A. Because the Martian language is red hot
B. Because Mars is the closest planet to earth
C. Because Stephen Chow said that he is a Martian
D. Because Stephen Chow told Vicky Zhao to scram back to Mars (in the movie Shaolin Kung Fu)
[in translation]

The exclusive game offered by Sung Hon-sang (see Comment 200701#042) is about the non-obvious design at Hong Kong Chief Executive candidate Alan Leong's website at www.alanleong.net. When I went there, I was also astonished by the pop-up with the slogan of "Gender equality begins with the toilet." ...

It is not hard to market politics, but it is absolutely not simple. When a voter casts a vote, he does not spend much time and definitely not any money. Anyway, everybody knows that the one vote will make no difference, but it is only an expression of attitude. This is not just my own pessimism, but it is the viewpoint in the very popular public choice theory. Since voters don't care about policy platforms, the candidates concentrate on their images and one cannot blame them for that. The only social discontent will come from young intellectuals such as Sung Hong-sang.

Yesterday, I spoke to Sung Hong-sang. It turned out that the "offline office" of barrister Alan Leong has replied quickly and asked Apple Pie to publish the correct URL address of Alan Leong's campaign. Why didn't Leong seize this opportunity to push his policy platofrm? Isn't this a chance to use Apple Pie to provide some free promotion? What is the point of just publishing a URL? Active communication seems to be more critical; this embarrassing sitaution would not have emerged otherwise?

... I have gone to Alan Leong's campaign site, and I find it lacking in focus. No wonder Donald Tsang counter-attacked Alan Leong at last week's Legislative Council meeting that Leong is all style and no substance. That is a crucial point that differentiates the two camps. The vulnerable points of the opponent is quite often your best opening. This applies to political propaganda as well as business operatons.

Here, I will have to refer you to Alan Leong's campaign website at: http://www.competitionforce.hk/.
[in translation]

According to a China Youth Daily report, 226 doctoral, masters and undergraduate students at a certain Nanjing university signed a joint petition to ask for lenient sentencing for a graduate student named Zuo Fan. The defendant Zuo Fan had been involved in a dispute over a girl in which the other party planned to assault him, but he retaliated and used his knife to stab three persons. The court has taken measures against the possibility of student opinion pressures in the event that Zuo Fan is found guilty. It should be noted that in the Internet debate, the pro-Zuo Fan faction that regards him as a "great hero" and "a man with guts" has an overwhelming majority voice.

If asked how I look at this matter, I would like to tell you about my personal experience. On an evening more than ten years ago, I was attending university. Suddenly, the news came that a fellow university student was out drinking, got into a fight with some local hooligans and was killed. The campus exploded. Within minutes, the march to demand "severe punishment of the perpetrators" had gone out into the streets, including myself. This was a sensational event at the time, and we thought that it was obvious. In retrospect, I have to think about whether we knew what were the precedents and consequences? Did we pressure he judicial system? But nobody cared at the time, because we only knew that a fellow student had been killed and we must take revenge on his behalf. Here, emotions trumped rationality. Our sense of collective identity trumped our respect for universal law. It went without say that the hooligan was punished by the law very quickly. How dare he offend university students? In that era, university students were untouchable!

In bringing up this past event, I want to reveal the typical mindset of university students. I believe that this is applicable to those young people who were gathering signatures for Zuo Fan. This is a group which has a collective consciousness without caring about the details. This is about "us" and "them." The particular psychological characteristic is that it becomes more apparent the younger, the less knowledgeable and the less socially experienced. What can be done? When one is not ready to become psychologically independent, one needs a sense of group membership, even to the point of disregarding the right and wrong. In our case, it was blood for blood. But we did not pay any attention to the details, for we only wanted the blood debt to be repaid. We felt offended and trampled upon as a group, so we must each do our own part. There was an impulse to show our strength. We realized that we were powerful, due to our identity as the group known as university students ... The power of youth creates the impulse to intervene with society. We cannot intervene in the major issues of our times, but we can demand justice for our fellow student. Besides we knew who we were -- university students do not have economic positions, but our political positions were not bad. When we spoke out, who would dare to ignore us? They would be drowned out by the saliva from society.

Although the students who signed on behalf of Zuo Fan may not realized all this, I believe that this is what they must think sub-consciously. The judge believed that the students did not understand the truth and therefore ignored their petition. He upheld the independence of the verdict. From the previous case of Liu Yong in which Internet opinion influenced the juridical decision, the judicial community is aware of interference of public opinion and even formed a psychological resistance. Without this background, the judge in the Zuo Fan case would not have definitively rejected the student petition, even though he was confronting the university student group that held the opinion advantage.

The "leftists" in the opinion battle are mostly those who "do not understand the truth" or "have no interest in learning about the truth." They only want to fight the powers, but they don't care about legal decisions. Ultimately, they don't believe in the law, they don't trust the existing legal system, they don't believe that the law is just and they don't believe that judges will rule fairly. If one says that "the law is an act of faith," then the case of Zuo Fan showed that faith is a long way from being established in China, and that includes public perception as well as the perfection of law and justice -- ultimately, those are the causes and effects.
On January 9, China Trade News' Shanxi bureau reporter Lang Chengzhang was beaten to death at a Datong city coal mine. The newspaper and the Shanxi authorities differed in their opinions about whether Lang Chengzhang was a reporter. The following is an interview with Datong city General Administration of Press and Publications division director Liu Dongyue.

Q: How is the case about Lan Chengzhang's death coming along?
A: The suspects have not been apprehended. The purpose and goal of Lan's visit to the coal mine are still unclear. The police are investigating.

Q: Datong city published a notice to strike against fake reporters on January 10. Has anyone telephoned to denounce fake reporters?
A: Not yet.

Q: When Luliang city (Shanxi province) began its own campaign against fake journalism, they found 80 fake reporters within 100 days. Are there a lot of fake reporters in Datong city?
A: There are many coal mines in Shanxi. There are fake reporters in Datong city. We have heard about it, but there are very few crime reports and testimonies. Many of the extorted units would rather "pay them off." This has emboldened the fake reporters to the point where they are now a public menace.

Q: Is anyone without a <Reporter's Identification> a fake reporter?
A: Strictly speaking, that is a fake reporter because the General Administration of Press and Publications has its regulations.

Q: Do the Datong media often hire temporary reporters?
A: Quite a lot. This happens across China, not just in Datong. Therefore, our anti-fakery campaign is intended to regulate this. Whenever Datong city holds an event, there is a publicity committee formed by the city party committee's publicity department, the General Administration Press and Publication and other relevant departments to greet the reporters and verify their legal status as reporters.

Q: Has Datong city conducted any anti-fakery campaign previously?
A: Yes. Certain media forge reporter passes. Certain units are not even media units. But in order to hold events easier or avoid the toll charges, they forge reporter passes. Last year, we confiscated many fake reporter passes.

Q: Are there any steps taken beyond confiscating fake ID's?
A: We have an idea right now, but it has not been solidified. We want to publish the names, photographs and circumstances of those people with fake identification. We want to publish the information and describe the facts, so that the various units can be alerted and not have to receive those fake reporters. The various departments will still have to consider whether this is a violation of the image rights of the fake reporters. When we act against illegal activities, we must make sure that what we do is legal.
[055] The Old Female Beggars in Hong Kong (01/16/2007) Here is the preamble. Suppose you are a first-time solo traveler and you have no idea what you want to see, except you know that you don't want to see the usual shopping spots. You look up the standard tourist guides and you find them repellent. So you get on Google and you try to find something unorthodox. Well, the EastSouthWestNorth blog has a high Google rank and it may pop up high on your list. So you email the blogger and explain that you want to know the real Hong Kong. That blogger is a sucker and will actually provide a free (all meals-paid-for) guided tour.

On the latest round of guide tour, the blogger took the tourist to Causeway Bay. The tourist is astonished at the sight of the FLG stand, but even more so at the sight of a little old lady begging for alms while Hong Kong citizens pass by with cold indifference. When the tourist was going to open her purse, her blogger/guide said: "Don't bother! She is a hired help! You are not helping her! You are just giving money to her exploiters!" What does that mean?

(Apple Daily; Apple Daily) As the Chinese New Year comes around, there are many more beggars in the street. They are actually people who are controlled by a gang of beggars with a leadership group of three females and one male. This time, they recruited ten old women from Hunan province to come to Hong Kong with three month visas. The women were brought to a Yaumati apartment and then they are sent out every day to beg in the street with the standard equipment: a mattress, a cap, a bottle of water and some dried food.


The Apple Daily reporters conducted surveillance on the beggars. In the morning, they would go out to the housing estates for guerilla actions; at noon, they go to Mongkok and then spread out to their respective advantageous slots and work for more than 10 hours. Of particular importance was the Sai Yeung Choi Street pedestrian mall and the Grand Century Place pedestrian walkway. While the old women mumbled pleas mechanically, their bosses observe from afar. The reporter observed that when one beggar seemed to fall asleep, the supervisor came over to warn her and she immediately woke up and kept working.

According to the estimates, each beggar should make about HK$300 per day. At the end of the day, they return to the dormitory and hand over their day's receipts. The boss takes HK$20 for rent, and then gives 30% to the workers and 70% for themselves. On the average, the little old ladies make HK$2,000 per month. After three months, they return to China and another batch comes to Hong Kong.

The problem here is that Hong Kong goes by the rule of law. If the law is inadequate, then people get away with it. First of all, nobody who comes in on a temporary visitor visa can work. Thus, if the old ladies came here to work, they are subject to a maximum penalty of HK$50,000 and 2 years in jail. As for the organizers, they may have violated the statue on <Assisting or persuading others to overstay the conditions of their visitor permit> and be subjected to a maximum penalty of 5 years in prison. However, that would be hard to establish unless the beggars testify.
[054] Starbucks Gets More Pressure (01/16/2007) Comment 200701#043 was about a blogger named Rui Chenggang who objected to the presence of a Starbucks coffee shop inside the Forbidden Palace in Beijing. So what? Who cares about what a blogger thinks?



But bloggers usually have other real-life identities (e.g. taxi driver, newspaper reporter, etc). In the case of Rui Chenggang, he happens to be a prominent English-language anchor person on CCTV. Oooops! As the saying goes, Rui Chenggang cannot be ignored. Since posting the Starbucks item on the blog, traffic has soared by 500,000 visits. Yes, that's 500,000 and most of it is supportive.

As a result, this story was featured in Beijing News. According to Rui Chenggang, Starbucks coffee costs about US$4 in the United States, which is equivalent to "a drink that costs 4 RMB in a Chinese store." In western opinion, Starbucks is a cultural food symbol that is unrefined and unpresentable. Rui Chenggang said that the Forbidden Palace is the symbol and embodiment of several thousands of years of the best of Chinese culture. It is an insult to insert a Starbucks shop inside the Forbidden Palace. This is equivalent to visiting the Washington monument in the District of Columbia (USA) and finding a Chinese fast food joint offering roast pork fried rice for US$2.75.

Rui Chenggang also disclosed that he had just received a response from Starbucks CEO Jim Donald. The letter declared that Starbucks had entered the Forbidden City at the request of the Forbidden Palace. Jim Donald said that Starbucks will try hard to harmonize itself with the environment of the Forbidden Palace in order to protect Chinese culture. According to reports, Starbucks has removed the big exterior signage outside its coffee shop in the Forbidden City.
[053] The 12-year-old Triad Member (01/15/2007) (The Sun; The Sun) In Comment 200701#024, it was noted that 101 triad members were picked up by police and charged with illegal triad assembly. The youngest person there was 12 years old. Yes, so what about that 12-year-old? How did he get there?

Now The Sun newspaper has located the boy and reports as follows:

- On that day, he was just going with schoolmates at attend a barbeque outing
- He smokes one pack of cigarettes per day
- His parents are divorced. Up to age 7, he lived with this father; he now lives with his mother who is unemployed and collects welfare. Both parents are said to have "complicated" backgrounds.
- He does not like staying home because there is nobody there.
- He hangs around the food stalls and shopping mall plazas in the neighborhood. The reporter followed him around for one full day and observed the following:

In the afternoon, the boy hung around with some classmates at the food stall in the housing estate. He was cursed out the middle-school students present. A Form Four female student took out a lighter and wanted to set his overcoat on fire. He had to bow his head and apologize, including calling the female student "Big Sister-in-Law." He said that it is a 'complicated' neighborhood and unless he joins a gang, he will be subjected to bullying from the bigger kids. About his father, he said: "My dad does not know that I got into trouble. He told me once that if I want to join a gang, I ought to work for him. If he knows what I did this time, he is going to kill me."

The reporter also interviewed the mother. She said: "Frankly speaking, my son is better of hanging about the boys in the neighborhood rather than going to Tsim Sha Tsui like he did." Is she concerned that her son might be forced to join a triad? "I won't let anyone mess around with my son? Who is going to recruit him? I know all the bosses of the group of kids downstairs!" She said that his son is going through a rebellious phase. "What do you expect me to do? Lock him inside the apartment?" As for her son's assertion that there is usually no one home, she said: "I stay home during the day. I only go out at nights. Usually, he stays home and play games while I watch television. Occasionally we chat. I don't understand why he says this is not enough! There is nothing that I can do."
[052] The Top Ten Most Popular Terms (01/15/2007) (YCWB; Southern Metropolis Daily) Even though the National Language Resources Monitoring and Research Center heads the list of sponsors, there is no scientific basis to determine which are the most popular terms in Chinese newspapers, radio and television. Nevertheless, the selections will give some sense of the Zeitgeist. In 2002, there were terms such as
短信 (SMS), 降息 (interest rate reduction), 十六大 (Sixteenth Congress of the Chinese Communist Party); in 2003, there was 非典 (SARS), 隔离 (isolation), 三峡工程 (The Three Gorges Project); in 2004, there was 科学发展观 (the scientific development approach), 执政能力 (ability of governance), 审计风暴 (audit storm); in 2005, there was 保持共产党员先进性教育 (sustain the progressive education of Communist Party members), 十一五规划 (The Eleventh Five-year plan), 神舟六号 (Shenzhou 6).

In 2006, the top ten terms were 和谐社会 (harmonious society), 社会主义新农村 (new socialist rural villages), 青藏铁路 (Qinghai-Tibet Railroad), 自主创新 (autonomous innovation), 社会主义荣辱观 (socialist definitions of honor and shame), 中非合作论坛 (Sino-African Cooperative Forum), 消费税 (consumption tax), 长征精神 (the spirit of the Long March), 非物质文化遗产 (non-materialistic cultural heritage).

The commentary about this list is that it tends to be 'too harmonious.' But even a healthy body can sometimes experience pain. So here are some popular terms that were not mentioned: 流氓软件 (spyware), 潜规则 (hidden rules), 假药 (fake medicine), 食品安全 (food safety), 多宝鱼 (turbot fish), 平价医院 (cheap hospital), 福寿螺 (Amazonian snail), 狂犬病 (rabies), 红心鸭蛋 (red-cored duck egg), 汉芯 (Hanxin microchips), 恶搞 (spoof), 福利腐败 (welfare corruption).

In the sports category, the listed top ten terms are Liu Xiang, Bird Nest, Water Cube, etc. Missing was 冠军搓澡工 (champion bathing assistant), in reference to the former champion weightlifter Zhou Chunlan who is presently working in a bathhouse as a rubbing assistant. Zhou had said: "When I was first selected to become a weightlifter, the coach started giving me medicine that he said would make me stronger and deliver better results. My present educational level is third grade, elementary school. I don't even know how to do pinyin. It is a lot more difficult to earn a living than training."
[051] An Internet Manhunt in Hefei (01/15/2007) (Chongqing Evening News via Sohu.com) On January 7, a university student was riding the route 3 bus in Hefei and heard a small girl speaking to her mother: "Mom, look, why does that uncle have his hand in someone else's pocket?" When the bus arrived at the stop, the mother and daughter got off. A male passenger patted the girl on the face and said, "Oh, this little girl is so lovely!" The girl then started crying aloud. The mother then discovered that there was a long gash on the girl's face. Meanwhile, the man had disappeared.

When a foreign language instructor at the Anhui University heard about this from the university student, he was incensed and immediately put up a post at the Hefei BBS titled: "Seeking the little girl on the route 3 bus who spoke out innocently but got her face slashed by a thief while getting off."

While the response was big, there are also netizens who doubt the veracity of the incident. The poster is presently checking the hospitals and police stations in the area for verification.
Red Sparowes - Every Red Heart Shines Towards the Red Sun - There is a good reason why I've never picked up a Red Sparowes disc. It is a side project of guys from Isis and Neurosis, doing what Pelican does. Well, I thought it was a good reason until I actually sat down and listened to this: a sharp turning opera of post-metal. It's one of the strengths of metal that it is unself-conscious enough to take something like The Great Chinese Sparrow War of 1958 and turn it into an album. One of the benefits of the post-metal construction is that when it comes to grinding on power cords, the album usually has earned it with studied contemplation up to that point. There is nothing shallow, cheap and masturbatory about this release. Instead it builds up a huge vision of a thing that never sells itself out with schlock.
[049] Courier Delivery of Body Parts (01/15/2007) (Southern Metroplis Daily) Here is what allegedly happened. A woman engaged in the prostitution trade had cohabitated with a man. Recently, she found another lover. The woman and her new lover decided to rid themselves of the annoyance from the former lover by killing him and chopping up his corpse. As the new lover was an employee at a courier service, the decision was to send the body parts to Beijing, Qingdao (Shandong province) and Jiangyin (Jiansu province) under the name
送得远 ("send as far away as possible"). The sender had counted on the fact that courier services do not require personal identification (such as presentation of ID cards), but he forgot that that the offices have close circuit television monitoring.



The ruse was quickly uncovered when the box shipped to Qingdao began to leak blood; when opened, the head and arms of the victim were found; subsequently, the other body parts sent to Beijing and Jiangyin were also discovered. The police in Guanzhou quickly got onto the individual who sent the packages out through the videotapes, along with the female accomplice.

So: Do you object to the ubiquitous presence of close-circuit television in your life?
[048] Nanfang Daily Reporter Assaulted (01/14/2007) (Nanfang Daily) Yesterday evening at around 7pm, Southern Daily reporter Liang Wenxiang was returning home after filming at the scene of a traffic accident. About 100 meters away from the gate to his housing estate, he was suddenly attacked by three to five men. "They probably had weapons. I can't remember. I was just hugging onto my camera bag and using my body to shield it. It was very strange. All the street lamps were off. The security guard who was supposed to be standing at the gate was missing. The entire attack took less than five minutes. I lied on the ground for about 20 minutes. No security guard passed by. I had to call the police myself."

When another reporter arrived at the scene less than an hour later, the street lamps were back on again. There was a security guard who explained that he had gone down a side road to chase away a private vehicle who was impeding the movement of residents.
[in translation]

Since the 1970's, when I taught contemporary Chinese literature in the United States, I always use Eileen Chang's own translation of "The Golden Cangue" as one of the texts. Therefore, I know from personal experience about the reception of Eileen Chang's works in the English-language world. In the foreword to my <Re-reading Eileen Chang>, I wrote:

American youth are bold and daring and there is seldom any awkward silence during class discussions. They have opinions about Lu Xun, Ba Jin, Mao Dun and others. No matter what their viewpoints are, they are usually reasonable. The sole exception is Eileen Chang. The students seldom spontaneously join the discussion. If named, they would frequently explain that they do not understand the human relationships in the story, and therefore they found it hard to figure what the author was trying to say.

Although they claimed that they "didn't understand" the story, they still reacted strongly towards the character of Ch'i-ch'iao during exam time. Even though this is many years later, I still remember that one female student who never said a thing in class wrote these words about Ch'i-ch'iao: "This woman is an absolute horror, so sick, so godless."

The undergraduate class uses English-language texts and they speak English in class. It is difficult to appreciate the literary enchantment of Eileen Chang's stories unless you read them in the original language. The story of Ch'i-ch'iao in translation only reveals her loathsome aspects. No wonder there were so few fans of "The Golden Cangue" in my class. How many twenty-year-old American students can standing this "monstrous" daughter-in-law of the family?

...

<Crouching Tiger, Hidden Dragon> director Ang Lee wrote in the blurb ... "She is the fallen angel of Chinese literature, and now, with these excellent new translations, English readers can discover why she is so revered by Chinese readers everywhere." ... Ang Lee probably wanted to say that Eileen Chang has been ignored by English-language readers. The young readers in my class who had difficulty with "The Golden Cangue" will surely be delighted by romances such as "Love In A Fallen City" and "Red Rose, White Rose."
雷生春), Then and Now (01/14/2007) The following is an example of the 'preservation' of a Hong Kong historical site as documented by blogger Yip Yatchi.

(Hong Kong Old Town) From Yip Yatchi on May, 26, 2006:
I love this fasinating old building at 119 Lai Chi Kok Road, Mong Kok (
旺角荔枝角度119號). In my childhood, the ghosts there had haunted me for a period of time but certainly it was imaginary, just like many other ghost stories in historial buildings - a vintage construction is often reputable with some imaginary ghost stories. Lui Seng Chun (雷生春), a Grade I historical building and one of the few remaining "tong lau", or Chinese tenement, buildings in the city, was officially donated to the people of Hong Kong on October 7, 2003.

[... there's more on that page ...]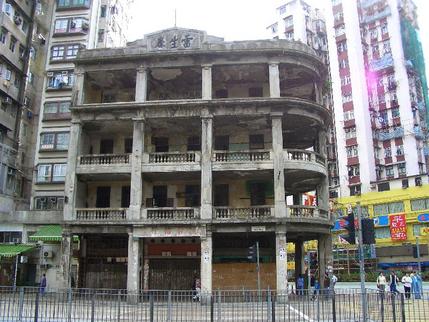 (Diuman Park) From Yip Yatchi on January 13, 2007:
(in translation from Chinese) When a historical site is renovated too modern, it erases the distance of time; once it looks too modern, it is impossible to invoke the imagination. All the legendary ghost stories have vanished, and the historical site becomes uninterested. Only if "Lui Seng Chun" is allowed to age will you see that female ghost leaning against the pillar and longing for her husband.
(SCMP) Tsang acknowledges challenge of the blogger. By Felix Chan. January 14, 2007.
The government faces a tough task handling public opinion that is increasingly being expressed on the internet, Chief Executive Donald Tsang Yam-kuen said yesterday, referring to lessons learned from the recent failed campaign to save the old Star Ferry pier in Central.

Speaking at the Hong Kong News Executives' Association's 20th anniversary dinner, Mr Tsang acknowledged that more people were using the internet to become their own reporters or editors, setting the agenda of the day through weblogs, or blogs, and mobilising public support for their causes. "Although I am not qualified to give my opinion in this area, the government will have to do some thinking, such as how to handle the new, rapidly expanding public opinion platform on the internet."

He said the Star Ferry pier campaign was a good example of a movement born out of the internet. "How to listen to these opinions in an organised manner is a type of challenge for us, as well as finding a new means for it, since we don't have any specialised formula to process this type of opinion. However, I still believe that sincerity [in listening to others] is most important."
What does it mean to "handle" the Internet public opinion platform? This is a two-stage process. In the first stage, you have to locate and listen to these opinions. This can be achieved with sufficient manpower. The second stage is much more critical -- it is not enough to listen, because the point is to respond to public opinions and change them through interaction (see Theses on Feuerbach). Now this is an apparently intractable problem because traditional PR methods do not work on bloggers; if anything, any crude attempt to do so will only result in blowbacks. As an exercise, take a look at the issue of "Lui Seng Chun" as presented by the blogger Yip Yatchi with some simple but powerful pictures. How will you interact with this blogger? How can you influence his opinion? Yes, Yip Yatchi is waiting out there for the response ... To put it simply, he thinks that the renovations may have preserved the form, but not the spirit of "Lui Seng Chun." You can change his opinion by offering a compelling argument either about (1) form always trumps spirit or (2) the new and improved "Lui Seng Chun" preserves the true spirit of the place. If you do an adequate job, you own the new media PR market! The government departments and the mega-corporations will be pounding on your door for your service. This is truly the multi-million dollar answer!
[045] Watchdog Journalism (01/14/2007) (UDN) Yesterday, a CTV TV reporter went to the Kaohsiung high-speed train station to investigate an alleged problem with the signage on firefighting equipment. He found a fire hydrant and saw an iron box on which were the English-language words "Push in" and "Pull down." There was no explanation in Chinese whatsoever. He thought that this was just the button to open the box but when he pressed it, the fire alarm went off all over the place. As a result, even the elevators inside the station stopped to function. The reporter was taken down to the police station. Five hours later, the reporter signed a promissory note not to repeat the action, although the Kaohsiung railroad reserves the right to pursue legal options.

(UDN) After the inauguration of the Kaohsiung high-speed train service, television reporters have repeated "tested" the use of outdated tickets to gain entry, "mistakenly pressed" fire alarms, and so on. Communication scholars believe that these repeated attempts at improperly filming news events highlight the disinterest of the electronic media in dealing with genuine core problems because they seem to be more interested in manufacturing insignificant reports to please the audience.

Ku Ling-ling, associated professor at the Graduate School of Journalism at the National Taiwan University said that the electronic media reports on the Kaohsiung express train are too frivolous and are designed to "manufacture" problems that result in news reports that "the audience think is fun to watch." This approach not only mis-estimates the intelligence of the audience, it also highlights the idiocy of the media. These reporters are rarely interested in the truly important safety issues about the Kaohsiung express train as they seemed to have "automatically surrendered."

Wei Ti, assistant professor at the Department of Mass Communication at the Tamkang University, said that there is too much competition among the media and the television stations need to have visuals. This is why the news reports are too fancy and shallow.
[044] People's Television Stations in Anhui (China) (01/14/2007) (KDnet)

In many localities in Anhui province, the people reflected that they are unable to receive the normal programming due to the presence of pirate television stations which overwhelm the regular services. They complained that their screens are filled with mayhem, violence, eroticism and other inappropriate content. According to the investigation, these illegal television stations have persisted in spite of official suppression due to the following reasons: the majority of the rural people like the programming, local protectionism and the maladministration of the administrative departments.

At Huoqiu county (Liu'an city), the reporter watched the "Huoqiu county television" station showing a martial arts movie who signal overwhelmed the other broadcast signals. According to the local villagers, "Huoqiu county television" concentrates on violent videos about mayhem, as well as show tunes related to rural advertisements and private announcements (about marriages, funerals, etc). One local villager said: "Since we don't have cable television here, we watch 'Huoqiu county television' frequently because it is a waste to watch the other channels anyway."

Illegal television stations exist because of financial motives. The investment required for an illegal television station is under 10,000 RMB for transmission equipment; the total equipment costs including the switchers and broadcasting equipment is at most 30,000 or 40,000 RMB with no further investments. The costs can be recouped in two or three months, and everything else afterwards will be pure profit. According to information, Huoqiu county television was formed when some villagers put together several tens of thousands of RMB and then the station made more than a hundred thousand RMB within a year.
[043] Starbucks in the Forbidden Palace (01/14/2007) This is a long-festering brand image problem that has been gnawing at Starbucks in China, but here is blogger Rui Chenggang about his close encounter with Starbucks' top management:
[in translation]

The Forbidden Palace is vast. If you get tired walking around, you need to get something to drink or eat. Although the food and drinks in the Forbidden Palace stalls are not necessarily better than Starbucks and their service is definitely worse, those problems are solvable and they would not have created the strong feelings of incongruity and absurdity that tourists feel when they see a Starbucks inside the Forbidden Palace ... This is not about globalization; this is only about trashing Chinese culture.

I googled "Starbucks in the Forbidden City" and I found 289,000 results with plenty of photographs. I read some of these essays, which are mostly about westerners' humurous observations on China. A large number of westerners were disgusted by what happened and felt that this was a disrespect towards China.

... At the Yale CEO summit conference, I met the new Starbucks CEO Jim Donald and I used my chance to speak as a half joke to ask him to get rid of the Starbucks in side the Forbidden Palace. Here is what I said:

"The Chinese people did not have the taste or tradition for drinking coffee, but Starbucks has turned China into its second largest global market. This is an admirable commercial success. But there is something that is disappointing: there is a Starbucks inside the Forbidden City. I and numerous Chinese and foreign friends believe that it is incongruous to have a Starbucks inside the Forbidden City, because it is 'obscene.' I don't know if Starbucks has any plans to be present at the Taj Mahal Palace in India, or the Pyramids of Egypt, the Buckingham Palace in England and other world cultural treasure and miracle sites, but I ask you to get out of the Forbidden City."

When I delivered this speech in English ... there was laughter among the audience and Jim Donald was somewhat embarrassed. But most of the American CEO's agreed with my viewpoint. During the break, Jim Donald told me that he is new at this job and he does not agree with Starbucks being in the Forbidden City. He promised that he will discuss with colleagues when he gets back to the office, in particular with the Chinese partner. Frankly, I have a good impression of Jim Donald and we had a nice chat. If the idea had really come from the Chinese partners, then we have to really work on how those Chinese people are thinking.

It has been four months since I returned from the Yale conference. Starbucks is still in the Forbidden Palace ...

Perhaps you feel that it is unimportant whether Starbucks is in the Forbidden Palace or not. In my humble opinion, this is one of the many things can be said or left unsaid, done or left undone, but these are the things that areunconsciously leading to the misreading of China and the rest of the world by each other.

... I hope that Starbucks will continue to succeed in China, but they must get out of the Forbidden Palace soon.

Relevant Links:
Starbucks in the Forbidden City Ask Edgeworth (July 13, 2004)
Starbucks in the Forbidden City: some Chinese views Jeremy Goldkorn, Danwei
How Blogging Can Galvanize China Geoffrey Fowler, Pittsburgh Post-Gazette
China's Starbucks-blogger-gate: Hype and reality Rebecca MacKinnon, RConversation
China's growing blogosphere turns on US coffee icon Peter Ford, Christian Science Monitor
[in translation]

It's the weekend again, so how about getting on the Internet to play a game for relaxation?

Here it goes. A few days ago, legislator Alan Leong challenged Chief Executive Donald Tsang to quickly announce his candidacy in the election in order to debate their respective policy platforms. A friend asked, "So what is Leong's policy platform?" Good question. Previously, someone had complained that the policy platform exists, but the media do not report on it. No problem. If the media won't report on it, we can always go to Alan Leong's personal website to find out.

From Google, I found Leong's website (www.alanleong.net). I opened the page and a box popped out with the words: "Gender equality begins with the toilet." My instant reaction was just like yours right now. But I followed it through and then I found out what it was about. Leong's legislator office is "presently conducting a series of studeis in order to determine the proper ratio of male and female restroom cubicles." I have to admire Leong's progressiveness for public justice.

While it is easy to find restroom justice, it was harder to find the policy platform. So I recommend a game -- try to find Leong's policy platform as quickly as possible. So, grab a timer and take the challenge!

How about it? How much time did you spend? Don't despair. Ten people in our company tried it. The quickest person had to press 57 links; the slowest person took ten minutes; two people actually gave up. It was really not easy. Some people struggled with the menu on the left hand side; some people used the search function; some people started clicking on the photographs, including even Leong's leather waist belt, the left and right breasts of the blind goddess on top of the legislature buildings and so on without success.

Do not click on the "public speeches" page because it is blank; do not click on "blog" because the date is still stuck around August of last year and it is also blank. You still haven't found it? Fine, let me give you a hint: press the item titled "other links concerning Alan Leong" near the bottom right; press the first link and that will bring you to the home base of Alan Leong's campaign for Chief Executive. Quite unexpected! Could the website have been hacked, such that the link was so ambiguously titled and concealed?

...

How are you doing? You still haven't found it? You must not be distracted by the pagewide advertisement about the Alan Leong's CE Election Campaign Fundraising Walkathon! You should look at the top of the page. Yes, there is a link about "policy platform" in small letters near the top left corner. Congratulations! Was it difficult? It was hard work. It seems that someone else other than the media does not think Leong's policy platform is important. You can't blame them because the policy platform was not just four points or three paragraphs, but a grand total of 2,632 words ... a normal peson could not remember what it was after reading it in full. Wait, what was Leong's policy platform?

These days, a website is a fundamental way to communicate with citizens. In this Chief Executive election, Leong cannot win in the actual voting. The principal goal is to win public opinion support, and use the discrepancy between the voting result and public opinion result to expose the inadequacy of the small circle election. If Leong claims that he "values communication," then it is time to ask his campaign team to fix up the fundamentals of communication.
[041] What Do The Censors Actually Do? (01/13/2007) (Metropolitan Express (Zhejiang) via Apple Daily) In Hangzhou city, when the militia police find people selling compact discs, they have to determine whether the discs contain pornographic films in order to file the relevant charges. There are two (and only two) militia police officers who are authorized to view these discs.

The two militia police officers are in the their 40's and have been at the same job for 12 or 13 years. On an annual basis, they review more than 100,000 discs. To be efficient, they know the quickest way of searching through the contents of a disc. Sometimes, it takes only two to three seconds to find an answer. Due to the need to file charges on a timely basis, they sometimes have to work overtime (or even give up their vacation time). So this job is not as 'exciting' as one might imagine.

Job qualifications:
- selected from among the base of militia police officers
- politically correct members of the Communist Party
- upright lifestyle with no record of misbehavior
- good physical health (i.e. able to undertake heavy workload)
11:05, December 30, 2006. Saddam Hussein was executed by hanging. Five hours later, almost all of the major Chinese Internet portals placed the first photograph of the deceased Hussein on the top of the front page: black suit, eyes shut, mouth half-open, lying on a white bedsheet.

The next day the shocking revelation was that this photograph was forged by a netizen, who provided the process of the forgery. So the public condemnations were directed at the netizen named "Harry Potter's dad" who made the post at the MOP forum.

However, the true culprit was not "Harry Potter's dad" but another netizen known as "Blue Silence."

Here are the steps: (1) borrow the eyes of the dead Uday Hussein, the son of Saddam Hussein; (2) find a head shot of Saddam Hussein and paste Uday's eyes on them; (3) find a full photograph of Saddam Hussein in a suit; (4) paste Saddam's head on top of the suit; (5) set up the white background bedsheet; (6) paste some Arabic comments from elsewhere.

The yWeekend reporter contacted all the major Internet portals, and was surprised at the amazingly uniform reactions: they admit that they found this photograph at the forums and noted that it was drawing high hit rates. Therefore, they also recommended the post on their front pages. But they insisted that they never put a forum post into the news section, because all news items are obtained from the print media. If the netizens mistake the photograph as factual news, then it is their misreading. Journalism experts may not agree with this opinion since the Internet portals have far greater influence on public opinion than any individual media outlet at this time; as such, they ought to act responsiblity with respect to their influence.
In Wuhan, the police set up a platic statue of a police officer who appears to be taking video recording of cars coming through (to detect speeding and/or running through red lights). This morning, it was noticed that the plastic video camera is gone and the police officer is now holding a paper instant noodle cup with a pair of chopsticks. Free lunch for the drivers? The police say that they are investigating who the prankster is.
Two men who distributed leaflets with mocked-up images depicting state leaders and Chief Executive Donald Tsang Yam-kuen having sex with local female performers to make a political statement were sent to jail yesterday. Yip Chi-wai and Wong Chun-kit were found guilty of possessing and distributing obscene articles.

Magistrate William Lam Kui-po rejected their defence that they had been exercising their right to freedom of speech under the Basic Law. Yip was jailed for eight months, Wong for three. The Obscene Articles Tribunal had earlier determined the leaflets to be obscene.

In the leaflets handed out near the Bank of China Tower in Garden Road last February 16, the cut-out heads of leaders, including Mr Tsang, President Hu Jintao , Premier Wen Jiabao , Vice-President Zeng Qinghong and US President George W.Bush, were attached to nude bodies and animals from photographs and cartoons. Among the images on the cover was one of Mr Tsang's head attached to the body of a dog. The images depicting the leaders having sex were on the centre page.

According to Apple Daily, there was actually a complainant who initiated the case. On the day of the incident, a secretary Ms. Liao went by the Bank of China on her way to work and received a flyer handed over by the two defendants. This was a stack of A4 papers stapled at the four corners. She was perlexed: "I thought that there may be something in there that cannot be shown in public. So I removed the staples and then I found some very disgusting pictures. There were men and women without clothes, and Donald Tsang's head was attached to that of a dog." Ms. Liao eventually called the police.

During the cross examination, the first defendant told the complainant: "The pictures of Chairman Hu Jintao, Premier Wen Jia-bao, Chief Executive Donald Tsang and Vice-Premieir Zeng Qinghong appeared on the front page with the warning: 'Obscene material inside. Do not distribute to minors or else you will reported to the authorities.' Therefore, it was the complainant's own informed decision to read the contents. But the complainant that the front page also contained disturbing language such as "Fxxk you" and so on.

According to Ming Pao, the second defendant Wong Chun-kit put in the defense that he had no idea what was in the leaflets and he was only there to look after the personal belongings of the first defendant. The arresting police officer said that he had observed Wong passing out a leaflet to another police officer and that Wong had 13 leaflets in his hand when arrested.
[037] My Ancestors Told Me Not To Do This Translation Project (01/11/2007) You will recall the case of Wang Mei-hsin, the National Yunlin University of Science and Technology assistant professor of Wang Mei-hsin allegely placed written Taoist curses that targeted two other faculty members (See Comment 200612#103). This faculty dispute has become a media circus as both sides sought public sympathy and support.

Here is the latest salvo -- the release of an email from Wang Mei-hsin to Science and Technology Legal Research Institute director Chang Kuo-hua. The issue concerns a translation assignment given by Chang to Wang.


Translation:
Director:
I'm really sorry to have to return the original copy of the exclusive rights document that was to be translated. I simply cannot continue working on this project! The original has been placed with your secretary to give to you!
This translation project took many twists. The software, hardware and external circumstances were unfavorable!
Finally, I consulted the ancestors and the gods in my home, and they all do not want me to continue work on this assignment!
I'm very sorry that this is the outcome!
And watch how you fold models' kimono! And you'd better watch it all the way through production. Even in a Japanese-American audience in modern times, sensitivities can reach deep. A community that will go unnamed here chose a photo of a kimono-clad young woman to promote a Japanese-American event. The woman properly wore her kimono with the left flap on top. No one noticed that the photo had been flopped – showing the right flap on top – until the image graced the full run of souvenir booklets, posters, banners and newspaper supplements. Then members of the planning committee "blew a gasket" and insisted on reprinting, said our source, a Japanese-American committee member who didn't see the need for concern.

What was the big deal? The worst that happens with a non-Japanese flopped photo is that type – and wedding rings – loses its meaning or a hair part changes sides. But in Japan, only dead people are dressed with the right flap of the kimono on top. The community considers the incident so embarrassing that the person who told the story asked to remain anonymous so as not to identify the group by association. (As the source added, the need to save face is strong among Japanese people.)

(Next Weekly) Top model Chiling Lin (commonly known just as '040') is the spokesperson for China Airlines. In the China Airlines calendar, Chiling posed in a Japanese kimono in front of the Osaka castle. Unfortunately, she appeared with the right flap of the kimono on top. As soon as the calendar appeared in Japan, this faux pas was pointed out and the calendar has been withdrawn. But if you own one of those calendar, then this is a collector's item.
I listened to part of an interview with Al Gore earlier today in which Gore argued that the Internet and blogs are in the process of fundamentally changing the nature of political debate and dialogue in this country. Television has been overwhelmingly dominant in shaping public opinion, Gore argues, and because its attributes (corporate control, advertisement-dependence, reliance on an entertainment-format) preclude meaningful political discussions, our political debates have been vapid, substance-free and highly manipulative and those who have exercised the most influence in that environment -- presumably television "journalists" and pundits -- have thrived because they excel at these empty tasks.

Gore contends that the Internet will make political debates far more substantive and will render the punditry world far more meritocratic, because online commentators are largely free of the constraints of television which ruin political debates, and because online political dialogue both permits and demands higher-quality arguments in order to persuade.

Meritocracy: "A government or society in which citizens who display superior achievement are rewarded with positions of leadership. In a meritocracy, all citizens have the opportunity to be recognized and advanced in proportion to their abilities and accomplishments." But how do blogs get sorted out in this alleged meritocracy?

A wrong model is to believe that this is about blog wars -- Blogger A PK blogger B on the grounds of greater knowledge, more subtlety in the arguments and better presentation skills and therefore blog A is a leader. No, the real war is not between bloggers. The real war is being fought in the minds of the readers. In the above case, it would be nice if blogger A is much more popular than blogger B. But what if blogger A wins only on technical grounds and yet blogger B is much more popular? You can follow the path of fascism and declare that the masses are stupid and need to be told what to do and think. Or better yet, you can try to figure out why this is happening.

So why does Michelle Malkin have so many readers? Are the masses stupid? Or is there something else?
[in translation]

In anticipation of next year's Beijing Olympics, the mainland government has recently relaxed the regulations concerning foreign correspondents in China. As of this year, foreign correspondents can interview anyone with the consent of the subject; that is, prior application is no longer required. As soon as the new arrangements took place, Reuters interviewed the late premier Zhao Ziyang's secretary Bao Tang who is under house arrest. This act broke the taboo that had existed for foreign correspondents over the past eight years. Presently, the foreign correspondents are watching the "bottom line of tolerance" very closely. But most Hong Kong media people may not realize that this new arrangement was a promise made by the Chinese Olympics Organization Committee to the International Olympics Committee during the Beijing bid for 2008. The person who came up with this idea was Sarah Liao, the current Secretary for the Environment, Transport and Works in Hong Kong.

According to an informed person, human rights and freedom of press were the major issues that the competitors made about China during the Olympics bid. Some competitor made a short film using an undated film of the execution of 80 prisoners in Sichuan. Also, the French delegation cited a report about how the Chinese love to eat dog meat, including France's favorite Saint Bernard dogs.

The informed person said that Sarah Liao was working as a consultant for the Beijing delegation and she objected immediately to the French assertion by saying that the French loved to eat horse meat and also slaughtered horses (so beloved by the English) for that purpose. These battles of words left things unresolved. To close the battle, Sarah Liao recommended that during the preparation period for the Olympics, China will increase its transparency and relax the restrictions on foreign correspondents. At first, the department in charge of ideological control had reservations, but the government considered the costs and benefits and decided to make the promise to the International Olympics Committee.

Althought there is less restriction, it does not mean that foreign correspondents can do everything that they want. For example, while Reuters was able to interview Bao Tang successfully, another news agency reporter went to Inner Mongolia and interviewed the wife Xinna of imprisoned dissident Hada. The attempte to interview rights lawyer Zheng Enchong failed because the security guards outside Zheng's abode prevented contact.

Nevertheless, these new regulations represent an improvement for foreign correspondents. A Beijing Olympics Committee official complained privately that the relaxation of rules has created a large amount of additional work for them. When the international media can gather news freely, biases and errors inevitably occur and therefore the officials have to spend a lot of effort to correct the inaccurate reports.

This official used the example about how an international news agency reporter calculated on the basis of the number of hutongs that have been demolished in Beijing to say that a large number of residents had to be "forcibly relocated." After the report was published, the relevant officials had to issue strong denials that this was not true. But many foreign correspondents already believe this to be true, and so the Beijing Olympics Committee even had to take a large number of international media people to visit the Beijing hutongs so that they can see for themselves.
[033] White Photographers Wanted (01/10/2007) (Liberation Net via Sohu.com) A China Daily (Shanghai bureau) photojournalist named Gao went to film the rising Shanghai World Financial Center from the sidewalk yesterday morning. Suddenly, a man wearing a green military uniform came out of the front gate of the construction site and yelled at him, "No photographs allowed!" Gao did not see any signs against photographing and he was unsure who the man was, so he asked for the reason. The man would not explain, but started pushing and shoving Gao instead. Meanwhile three more men came out of the constructive site to join the first man to punch and kick Gao, breaking off the flash bulb on the digital camera. The men only stopped when the police was summoned by a 110 telephone call.

According to the security director in charge of the construction site, the whole matter was a 'misunderstanding.' He has apologized to Gao, and offered to compensate for the physical damages to Gao as well as the camera equipment.

So what? Well, the headline of the story is:
记者拍摄上海环球金融中心遭殴 外国人拍照不管 (in translation: Reporter beaten for filming Shanghai World Financial Center; foreigners can take photographs without interference). According to the construction workers, "many foreigners take photographs here and nobody stops them. When Chinese people come around, they get beaten." Hence the logical conclusion in the title of this comment -- hire white photographers!
The demolition of the tallest building by West Lake (Hanzhou):
Sina.com netizen: Does this show their ability to demolish, or their ability to waste money in constructing in the first place?

The closure of the school for children of migrant workers in Shanghai, and the physical assault on the school instructor:
Sina.com netizen: The state does not want voluntary education provided by the civilian sector! How infuriating! People try to provide education and they are assaulted! Teachers! Where will you go! Students! You are better off being idiots to satisfy the interests of certain people! Bandits! They are elites with no human feelings!

... Shanxi disciplinary committee secretary is dead. The government information is that she fell down a building and died.
Netease.com netizen: The police are actively investigating the cause of death. Even though the police does not know yet, the government knows that "she fell down a building and died." Is this an intelligence test for a three-year-old?

According to incomplete calculations, the 1,600 RMB deductions will decrease taxes by 2,000 million RMB. The National Tax Department recently reported that the average personal income increased by 17.1%, while the tax revenues increased by 35.841 billion RMB. This exceeds the targeted total annual amount.
Netease.com netizen: What does this prove? There are fewer taxpayers, but the tax revenues actually increased. This proves that income inequality has increaed.
One of the things about having a blog (we at the China Blog have learned in our lengthy four-day stint as bloggers) is that you spend a lot of time wondering who--apart from your Mom and your editors--actually reads what you write. We're still wondering. [you can read the plug for Danwei, from which I learned about this new blog]

... Also indispensable is Roland Soong's EastSouthNorthWest. Based in Hong Kong, Soong is an apparent insomniac who translates from mainland mainstream media and blogs at lightening speed.

Just a couple of days before this, I wrote to another emergent blogger:

Concerning this blogging thing, there is nothing I or anyone else can really do for you in terms of getting traffic (over the long term).  
In the end, you will have to put in the effort.  
If and when you do, you will be found (by others like myself through search engines, Technorati, Blogsearch, etc) without your even having to do anything.  
That was what happened to me.  
So just keep up the good work!
 
Patience, persistence and perseverance ...
... I was reading/watching the news in London when I discovered something that could affect the long-term development of newspaper media around the world. In Hong Kong, the three free newspapers are battling with each other. <Metro> has the advantage of exclusive access in the MTR subway system; <Headline Daily> and <am730> concentrate on the office workers who are traveling on the KCR lines from the outlying suburbs such as Shatin to the Central Business District. <am730> has exclusive rights at the Ma On Shan and KCR West lines with their emergent middle-class populations. Everybody believes that the essential key to success for free newspapers is distribution within the subway systems. I have discovered that this is a beautiful misunderstanding and the three free newspapers may have been misguided when they paid cash to the subway systems in order to obtain exclusive distribution rights. In Europe, this is no longer the case (note: although I write a column for am730, I must still tell you what I believe).

The free newspapers in London are going in the opposite direction. The London Underground had been trying to auction off the distribution rights for free evening newspapers over the past 18 months, but they have now abandoned the effort. The official reason was that the offers from the bidding newspaper groups were too low, so that there was no profit for the London Underground.

The free morning newspapers inside the London Underground is the <London Metro>, published by the Associated Newspapers group of the Daily Mail and Evening Standard. In 1999, they wanted to prevent the invasion of the Swedish Metro International group and signed a ten-year exclusive distribution contract with the London Underground. That contract actually included full-day distribution rights, which meant that no free evening newspapers can be present. Obviously, this protected the interests of the paid evening newspaper Evening Standard.

In 2003, Rupert Murdoch's News Corp complained to London's Office of Fair Trading about the monopoly situation in the London Underground. This matter involved so many complex details that the auction for the free evening newspaper distribution rights in the London Underground dragged on for 18 months. In the meantime, Murdoch lost patience. In November 2006, he launched the free newspaper <The London Paper> targeted towards young office workers. Meanwhile, the Associated Newspapers also launched <London Lite> to counter-attack. Both newspapers issues about 400,000 copies per day today.

From the beginning, these two free London newspapers were distributed at the entrances to the London Underground. As a result, they no longer care about distributing inside the metro subway stations themselves. This meant that the two large newspaper groups had done their arithmetic and determined that it was more effective distributing by hand outside the subway station than putting the copies on racks inside. They were able to reach their target readers more efficiently. Therefore, they will not put in high bids to the London Underground, thereby ruining the auction plan. The refusal of the two free newspapers to get into the subway system makes one want to re-evaluate the value of those distribution rights. Another free morning newspaper <City A.M.> also distributes by hand in the financial district. As a result, the value of the distribution rights within the subway system has now been seriously discounted.

(SCMP via AsiaMedia) Free papers take bigger cut of advertising dollar. By Frederick Yeung. January 10, 2007.

Free newspapers look to be the winners in the 2006 advertising market, after high response rates to marketing campaigns gave advertisers confidence to devote more of their budgets on the new rivals to traditional mass dailies, according to an executive at one of the freesheets. The launch of Sing Tao News Corp's Headline Daily and property agent Centaline Group's am 730 in the summer of 2005 broke the monopoly of Metro Publishing Hong Kong's Metro Daily in the freesheet market. At the same time, the new players helped to expand the market for freesheets which have captured more than 10 per cent of total newspaper advertising revenue.

"Our overall advertising revenue should have kept about a 10 per cent growth rate in 2006, thanks to the amount of advertising dollars in the last quarter," a source close to Metro Daily told Media Eye earlier this week. The paper, which has exclusive distribution rights within the MTR rail system, had an extremely quiet period in the first three quarters last year, the source said.

Metro Daily distributes about 330,000 copies among the more than two million morning commuters. Headline Daily distributes more than 600,000 copies in the streets and in lobbies of selected residential estates. "With our rival having double our circulation, I would be happy for us to have growth this year," the Metro Daily source said.

Headline Daily, with the largest freesheet circulation, should lead its competitors for last year's advertising revenue after earning HK$432 million in the first 10 months compared with HK$116 million in its first six-months of operation in 2005, according to researcher Nielsen Media.

The local gossip-magazine market is showing signs of consolidation and cost cutting as their ad rates tumble in a largely undifferentiated market. Next Media's flagship Next Magazine yesterday fired some editorial staff with management claims that they did not perform well last year, a source said. The dismissals followed last week's closure of two publications brought out by Robert Ng Hung-san's South China Group, a move that led to the sacking of about 20 workers, sources told Media Eye. The two magazines were the monthly Capital HMC, which had been directed at a trendy male audience and Feel 3, a supplement of 3 Weekly. "There had been rumours since mid-December that two titles were to be closed and the axe fell on January 2," said one worker who lost his job. The company asked him to stop working that day while his employment contract will be terminated next month.

The women's gossip magazine market, which includes Next Media's Sudden Weekly and Emperor Group's Oriental Sunday, has had to cut ad rates to compete for advertising dollars as they all promote gossip or news that is similar to stories run in newspapers during the week. "A full-page advertisement for a gossip magazine now costs as low as HK$6,000, compared with more than HK$10,000 several years ago," an industry source said last week, adding that several larger circulation magazines, such as Next Media's flagship Next Magazine has cut rates by 25 per cent to strengthen their market share. The fall in the ad rate was also linked to the arrival of U Magazine which was started by Hong Kong Economic Times Group late in 2005 and has grabbed market share from existing titles, the source added.
[029] The SMS from Nurse Wang Jing (01/09/2007) (Beijing News) Yang Gang is a 1.8m tall strong man as well as a 1.63m tall 22-year-old female nurse named Wang Jing.. The real Yang Gang is a man, but his day job is to nurse Wang Jing and send SMS's all over China to engage men in chat. Typically messages are: "What kind of girl do you like?" "Do men feel nothing for girls with tiny breasts?" "Do men like women for their minds or their bodies?" "How important is sex in a marriage?" "When did you start watching adult films?" If the men want to set up a date, Yang replies with "I'm a girl and I'm afraid of meeting bad people" "You can have hot beancurds when you are too anxious" etc. Yang Gang is one of a dozen people doing exactly the same thing at this company.

What is going on here? Yang Gang works for a Beijing SP company (which means that the company provides value-added services for mobile telephones). But why does Yang Gang and fellow workers do what they do, which Yang described as: "I have to speak coquettishly like a girl all day to con people. Even I'm disgusted." On a typical 12-hour workday, Yang Gang sends out more than 2,000 SMS, most of which are sent without him even have to think.

Here is the business model: When a user sends over the first SMS, it costs 0.10 RMB and the company does not profit. When they reply to the user, they can charge 2 RMB each for the first seven messages, 1 RMB each for message 8-15, 0.50 RMB each for message 16-30. After message 30, the service becomes a fixed monthly thing for which 10 RMB will be automatically charged every month regardless of whether there was any activity. So Yang Gang's goal is to reach message 30, and thereafter nurse Wang Jing will cool down.

So next time you receive a SMS from nurse Wang Jing -- do not reply! The Chinese New Year is coming and nurse Wang Jing is ever more active now.
[028] The Ding Xiaoping Interview (01/09/2007) The other principal in The False Science Debate on Phoenix TV - Part 1 was interviewed by Southern Metropolis Daily.

"Are you a Peking University professor?"
"Of course, I am!"

Ding Xiaoping said that he will sue anyone for libel if they say that Ding Xiaoping lied about being a Peking University professor. But when the reporter went to the Peking University Staff website, he could not find the name Ding Xiaoping. According to Ding's explanation, he is a special professor for the Peking University Social, Economic and Cultural Research Center. According to the national standard for professorship, he is not a Peking University professor and he has never claimed that.

The reporter asked again: What is the difference between a Peking University professor and a special professor at the Peking University Social, Economic and Cultural Research Center? Are they all Peking University professors? Netizens are saying that the Social Economic and Cultural Research Center is an enterprise of Peking University that provides training and has no authority to appoint professors. Besides, Ding Xiaoping is a special instructor, not a professor. Ding Xiaoping said that he has proof that he is a professor hired by the center. As for the title of Peking University professor, his scholalistic achievements are so great that he would even bother to become a fake Harvard University professor. "I want to go and print business cards that say 'Fake Peking University professor' because the 'fake' professor is superior to all the real ones."

With respect to Sima Nan and other shameless people, Ding Xiaoping said that he is very aware of what they are up to. Ding said that he was not able to procure a proper professorship due to political reasons, and Sima Nan is therefore making a big issue out of it. Ding Xiaoping said that within his field of research, he is number one or at least among the top. He is very influential overseas -- "The American CIA pays a lot of attention to every move of mine." Ever since he disclosed during his Qianlong interview that there are spies recruited by Japan and the United States, he has become the target of the anti-pseudoscience debunkers. Ding said that the attacks against him are systematic and pre-planned.
[027] YouTube PK Hong Kong Police (01/08/2007) (Ming Pao) The power of YouTube has swept the world, including as a tool for filling complaints against the Hong Kong police. Recently, many people have posted videos of encounters with the Hong Kong police on YouTube. The Hong Kong police have discussed this development, especially with respect to frontline police officers being filmed during the course of carrying out their duties. At the police academy, the cadets are now taught certain basics, such as "they cannot prevent the citizens from filming."

The following is a list of YouTube items found by searching for "Hong Kong police", "
香港警察", "

香港差佬
", "香港差人".
被我拍到了~
[026] The False Science Show on Phoenix TV (01/08/2007) I actually watched that broadcast on Saturday night. The physical action described in The False Science Debate on Phoenix TV - Part 1 was not seen, because the cameras were not running during the breaks. The exchange between Sima Nan and Jiang Chunxuan did not match Hu Yifu's description in The False Science Debate on Phoenix TV - Part 2 because he clearly missed the point. Here is Sima Nan's explanation at New Threads, which I have re-written in my own way (and therefore it does not necessarily represent his views to a tee):
Jiang Chunxuan handed his thick English-language mathematics book to Hu Yifu, who asked slowly in a serious tone:

Have you read this book?
Is any one of you a mathematician?
Does anyone of you understand this?
If you don't understand it, why do you call this false science?

The fact is that Sima Nan has ever said anything about the mathematics. While he has been called a "debunker" by the media, he has only debunked various religious quacks, miracle healers, mind readers, levitationists, etc. He does not address the issues of science themselves. Here is the exchange on the show:

Jiang: Sima Nan, have you read the book?
Sima: No.
Jiang: If not, then why do you call me a false scientist?
Sima: Where and when did I call you a false scientist?
Jiang: (silence, followed by a long digression until Hu Yifu had to cut him off)

What is the issue here? If Jiang Chunxuan wrote a book about some mathematics, it is up to the mathematical community to debate and judge whether this is good or false science. Unqualified outsiders (such as Sima Nan) are not requested to offer their unlearned and uninformed opinions. Sima Nan has never offered an opinion on the mathematical works of Jiang Chunxuan.

The problem with Jiang Chunxuan is that he made additional claims beyond the mathematics. For example (see Comment 200701#018), "I am the greatest mathematician in the last two thousand years. I was conservative when I said 500 years previously." There is no known objective and scientific basis for making such an assertion. Therefore, this is false science. This has nothing to do with reading his book or not. If you read it and think it is the greatest book ever, you can say so and that is quite alright. But that is a subjective and unscientific assessment and there is still no basis for quantifying your opinion (namely, 500 or 2,000 years).

Another problem with Jiang Chunxuan is that he claims to be internationally famous. This means that his lack of recognition inside China must have been due to evil forces such as Sima Nan and others who hate civilian scientists. Sima Nan has investigated the claim in detail -- it is based solely upon an American-Italian by the name Ruggiero Maria Santilli. Santilli is a retired physicist who is an amateur mathematician and has published several papers by Jiang in his journal Algebras, Groups and Geometries. Santilli heads the Institute for Basic Research, whose address is "Post Office Box 1577, Palm Harbor, FL 34682, USA." To have one international amateur mathematician endorse your work does not make you 'internationally famous.' If Jiang Chunxuan really "proved the Goldbach conjecture in ten statements" as he claims, he ought to be really, really internationally famous. Any qualified mathematician would recognize the worth of ten statements that solves an age-old problem. But they don't. More conspiracy theories?
[025] Democracy Is A Good Thing (01/08/2007) The appearance of the essay Democracy Is A Good Thing by Yu Keping has aroused a great deal of interest inside and outside of China. For example, at ObserveChina, Chen Weijian wrote:
In the Era of Spring and Autumn, there was a Mr. Ye in the nation of Chu. Mr. Ye loved all things related to dragons. All his decoractions, pillars, doors, windows, bowls, plates and clothes have dragons on them. Even his wall was covered by the painting of a very very big dragon. One day, a real dragon came to Mr. Ye's home, stuck its head through the window and bellowed: "Is Mr. Ye home?"

Mr. Ye saw that it was a real dragon and screamed: "Wahhh! There's a monster!" The dragon was surprised and said: "Why do you call me a monster? I am your beloved dragon!" Mr. Ye was quaking in terror and said: "I love fake dragons that look like dragons, not real dragons. Help!" Before Mr. Ye finished saying those words, he was already on his way out in flight. Because democracy and the current Chinese Communist interest group are like fire and ice, something that goes to democracy means something less for the Chinese Communist interest group. Democracy is a good thing. But if only the Chinese Communists can put the nation's and the people's interests ahead of their own interests, then democracy is a good thing.

The other angle is about the current political situation in China, specifically with respect to the control of media access. The assertion is that the Hu-Wen faction does not control the Central Publicity Department, and an essay like this had to be published in obscure places (such as Beijing party organs) instead of mainstream sources such as People's Daily. This is a recurrent condition in Chinese history:

Forty years ago, Mao Zedong held supreme power within the Communist Party, but he did not control the opinion apparatus in Beijing. So he had to go to Shanghai and get Yao Wenyuan and Zhang Chunqiao to criticize the historical drama <Ha Rui Quits Officialdom> to begin the Cultural Revolution; he also posted <My First Big Character Poster> on his own office door. In early 1992, Deng Xiaoping also held supreme power within the Communist Party, but he had no voice in Beijing either. Between January 18 to February 21, he traveled to Wuhan, Shenzhen, Zhuhai, Shanghai and other places and spoke to the local government and party officials to explain his dissatisfaction with the progress of the reforms, throwing down the tough words: "Whoever does not reform will be ousted."

The problems that Mao Zedong, Deng Xiaoping and Hu Jintao faced exposed that flaw of the Chinese Communist system -- it appears to be a collective leadership with division of labor, but it is in fact division of power by special interest groups. Obviously, the publicity and opinion apparatus in Beijing are not controlled by General Secretary Hu Jintao. Instead, the control goes to other members of the Politburo who used those apparatus to suppress public opinion against corruption in the name of "stability over all else." In the end, the beneficiaries are all the corrupt organizations at the various levels of local government.
[024] The Vote Rigging Case in Hong Kong (01/08/2007) On Saturday, the police noted that 101 persons (all males, including 19 teenage students with the youngest being 12 years old) were arrested as they boarded one tour bus and seven cars to go from Granville Square (Tsim Sha Tsui) to Ping Shan (Yuen Long).



(Apple Daily; Apple Daily) In Taiwan terminology, vote-buying is known as
走路工 (see The Vote Buying Case in Taiwan). But Hong Kong has its own terminology and methods. Rural village elections are being staged on five consecutive weekends from now on. In Ping Shan (Yuen Long), the occasion was a

太平清醮 ("purification rite for peace ceremony") held on January 4-7. Saturday was the big day with vegetarian banquets, operas and lion dances. One election candidate wanted a good show of force. Where did he think he could get the bodies to rally on his behalf? He went to a

426

紅棍 ("captain") of the 新義安 ("Sun Yee On") triad for help.

Now there are many triad gangs in Hong Kong. However, they are often more cooperative than competitive in such matters. If necessary, they can just call their rivals and ask for bodies in a show of force (晒馬). The standard rate card is HK$500 per head (HK$5,000 if violence is involved). This is just like the idea of sub-contractors, sub-sub-contractors, etc at construction worksites. Among the 101 arrestees, there were members of Sun Yee On as well as 14K and 和勝和 ("Wo Sing Wo"). They will be charged with being in an illegal triad assembly.

P.S. According to SCMP (no link), "There are a total of about 170,000 registered electors and more than 1,600 candidates in the rural polls this year. A total of 995 candidates have been returned uncontested and 634 are competing for 325 seats." For a seat to be competitive, there needs to be two or more candidates. 325 seats are competitive, so there much be at least 325 x 2 = 650 candidates. However, there are only 634 candidates. The computer does not compute ...

[in translation]

In the movie <Twelve Nights>, Eason Chan told Cecilia Cheung: "It is very tiresome to argue with you. You never follow someone else's argument."

This dialogue created a deep impression with me.
When you "argue" with someone, do you have to follow their argument?

When I first saw the movie and heard this dialogue, my immediate reaction was: "I am arguing! Of course, I won't follow your argument. If I follow it, what is there to argue about? Stupid!"

But on the other hand, I also thought: "If I don't follow, then what is there left to discuss? When both sides do not have some basis for some common understanding, then there is no point in saying anything." ...

While Sidekick considered this to be an issue in the blogosphere in which bloggers have retreated from arguments, the problem is actually much more widespread. I am going to list some of the long blog posts here over the past week:

Consider The False Science Debate on Phoenix TV - Part 1 and The False Science Debate on Phoenix TV - Part 2. This was a televised forum about false science. Were the participants trying to follow the arguments of the other side? That is highly doubtful. Instead, the arguments involve statements like: "Let us settle this in the parking lot afterwards and I'm going to whip your ass!"

Consider Prevention and Control of Public Harm from the Press. The state of arguments in Taiwan goes as follows: "XYZ is pro-blue media/blog. Therefore, everything therein is automatically wrong and harmful. Don't pay any attention. XYZ only wants to sell Taiwan out to China." The opposite argument goes as follows: "ABC is pro-green media/blog. Therefore, everything therein is automatically wrong and harmful. Don't pay any attention. They only want to protect their corrupt masters who want to rake in money while inflaming ethnic hatred." And the more polarized this society gets, the more gain goes to the politicians, special interests groups, media and blogs.

Sorry, but there was nothing from Hong Kong this week. But the state of arguments would be depressingly similar. "MNOP media/blog is pro-democracy and pro-freedom. Therefore everything there is automatically correct. Anyone who disagrees must hate freedom/demoracy. If MNOP criticises some other media/blog, then those other people hate democracy and freedom." The opposite argument is "MNOP media/blog hates China. It must be subsidized by secret funds from the US CIA and Taiwan military intelligence. Therefore everything there is automatically false. Anyone who disagrees is a traitor." Alternately, "PQRS media/blog dares to be critical of the pan-democratic camp. It must be a Communist shill. Therefore everything there is automatically false. Anyone who disagrees must also be a Communist shill."

Such pre-emptive statements will have a preventative effect of rendering all arguments unnecessary and redundant. We live in a harmonious society in which nobody has any arguments about anything because everything is settled beforehand ... such bliss! ...
[021] The Roast Swan Lake Affair (01/07/2007) (Ming Pao via Yahoo! News) At the CRHK Hit Song Awards, singer Joey Yung drew Internet scorn when she showed up in what looked like a ballet tutu. The netizens called her Roast Swan Lake (as Swan Lake is a famous piece of ballet music).

Joey's problems were compounded by multiple PR mis-management steps which inflamed the netizens. It is one thing if the netizens did not like this Viktor & Rolf 2007 dress, because everybody is entitled to his/her aesthetic judgment. However, it was found out that the dress was an imitation contraband (A貨). In defense, Joey came up with defensive explanations such as "I saw it in a magazine and I told the designer to make a copy" and "The next time, I'll be smarter -- I won't copy it exactly." She has not apologized.
The netizens attacked Joey Yung by methods such as joining together to complain to the Broadcasting Authority that Joey Yung had propounded on harmful information and disrespected intellectual rights during a TVB interview; that as a public figure she said "As long as it is comfortable or I like it, you can ignore the hard work of the creator ...." which may mislead or encourage young people who were watching the program during the family hour.

Also some other netizens were going to file complaints with the Customs Department and Viktor & Rolf; Jackie Cheung's promotion film about intellectual property rights was resurrected; asking Joey to turn herself in at the police station; asking whether it is alright to download Joey's songs (as long as you don't download the entire song) ... There was also a poll on the spokesperson for contraband goods, and obviously Joey won outright; ... There was another poll in which one has to select the person that Joey most resembles from a list that includes: thief, senior government official, Mrs. Tung Chee-hwa, Mongkok district contraband vendor with hair dyed blond, etc, in which 'thief' is currently leading ... However, Joey is only second (behind Jackie Chan) in the poll for the worst artiste in terms of moral character and self-cultivation ....

Joey's fans felt that she is being maligned by evil forces, but their voices are being drowned out the critics.
Here is the sample translation about event #5 in Part 2:

In early August, typhoon Paibian passed by Hong Kong almost 300 kilometers southeast (towards east) of Hong Kong. There were gale-force winds throughout Hong Kong. At first, the Hong Kong Observatory hoisted the number three storm signal based upon the Victoria Harbor measurements instead of a number eight storm signal. This caused many injuries to citizens. Many radio listeners called in to complain about the decision by the Observatory.

The Underground Observatory director posted a blog post titled "Did you know that the Weather Observatory fooled you?" which questioned the position of typhoon Paibian and the use of the weaker gale force winds at the Kaitak location and criticized the Hong Kong Weather Observatory for neglecting science, hiding the facts and deceiving the public. According to the blog service provider mysinablog, that post was viewed 120,000 times on a single day. This was a record for that blog service provider.

Many of my readers are English-only-readers in Hong Kong. These lists in fact have no relevance for them because they are for Chinese readers. But they cannot be dismissed, because 95% of the population in Hong Kong are Chinese readers (possibly bilingual).
[019] Blog Revolution (01/07/2007) How do I get my Google page-rank and Technorati ranking up? I don't have a clue because I don't work for them. Still, I do check on those rankings just to understand what is happening. Recently, I found out that my Technorati ranking is helped by the frequent mentions by Blog Revolution. Who? Their self-description is "BlogRevolution! is an auto-generated news page powered by progressive blogs." Progressive blogs? Since when was I listed as a 'progressive blog'? I thought that people in Hong Kong classify me as a "Communist shill," people in Taiwan classify me as a "pro-blue unificationist" and people in China classify me as a "CIA tool" and "China-hating fiend."

I don't know what happened. All I can say is that I never groveled for that inclusion by Blog Revolution, but I wear that badge of honor of a "progressive blog" with pride.
[in translation]

yWeekend: You participated in the 12/28 Phoenix TV program hosted by Hu Yifu. How do you feel?
Jiang Chunxuan: For a person like Jiang Chunxuan, there had never been any opportunity to speak out in public. He Zuoxiu, Fang Zhouzi and Sima Nan controlled the opinions, talked rubbish and trashed us. We can now speak out and therefore they are scared and want to divert attention.
The program host had established that Ding Xiaoping was a Peking University professor and it had nothing to do with the debate. But Sima Nan and others wanted to focus on that issue because they intended to bring up these unrelated matters.

yWeekend: What is your assessment of this program on Phoenix TV?
Jiang Chunxuan: This was my first opportunity to participate in this kind of program. I thought that the Phoenix TV program was very good. It provided an opportunity for us and for everyone in the whole world who does not understand this matter to find out about what is going on.
My biggest flaw is that my putonghua is not very good. Therefore, I did not get to say much on this program. But I am satisfied. I felt that Hu Yifu was very good towards me. He displayed my book for people to look at. I'm very grateful to him.
Under the present circumstances, I am the greatest mathematician in the last two thousand years. I was conservative when I said 500 years previously.

Related link: Pseudoscience in four glorious colors Joel Martinsen, Danwei; No space to speak, or simply no one listening? Joel Martinsen, Danwei
[017] Ms. Poison Tongue (01/06/2007) (Yangzi Evening News via 163.com) Ke Yimin has served as a judge to the a number of singing contests in China. She is known as the leader of the "Poison Tongue gang" because she can be cruelly sarcastic towards the contestant. Of course, judges with strong personalities are part of the package too. Here are some selected sayings from the current Super Yeskee starsearch contest.
Re: male singer Lin Peng -- "Oh, Lin Peng. I recommend that you not get into this business because I don't think it suits you. You should be commended for you courage. I like that. But after listening to you sing, I feel that you should get into this business only if you want to live a life of sorrow. If you want to be happy in your life, I recommend that you not get into this field.

Re: a bar singer who won the Beijing preliminary round with 200,000 plus votes on the Internet: "Although her singing was good, she is pie-faced. I don't think that she will become popular! Look at her. When she sings, her facial features go to the wrong places. She is really too ugly."

Re: a slightly rotund female singer: "Let me tell you something first. You need to lose some weight. When you sing this touching song, I was breathing hard on your behalf. I think that you are over-loaded! You better hurry up and lose some weight. Nobody wants to see a mother pig singing on stage!"

Re: a pretty female singer: "God is just. If he gives you the looks, you won't give you singing talent. From your looks, I thought you are an air stewardess! From your singing, I realized that you are just a ground crew member!"

Many of the contestants are organizing to dump Ke Yimin. "These are personal attacks against us. These are insults to our characters. Ke Yimin is just of too poor quality. She is unqualified to be a judge at Super Yeskee."
[in translation]

Wang Dan has opposed the Chinese Communists for many years. When speaking about the mistakes made by the Hong Kong democratic camp in the struggle against the Chinese Communists, he could not help using descriptive terms such as "too naive," "too moderate" and "too easy to bully."

"Certain Hong Kong democrats in Hong Kong are too naive. They actively seek to have a dialogue with the mainland. Some people hope to relax the relationship with the central government. I feel that this type of approach is not likely to work."

"The Hong Kong democrats have not caused many problems for the central government. It is more correct to oppose the Chinese Communists like Leung Kwow-hung. Most democrats are too moderate. They are basically unable to offer any competition against China."

"The view of the China Liaison Office is that the Hong Kong democrats are too easy to bully. If mainland makes one or two moderate comments, the democrats are highly encouraged. The Chinese Communists only see your strength. If you want them to respect you, you must show them some strength. On July 1, 500,000 people marched in the streets. Tung Chee-hwa left and Article 23 was tabled."

Wang Dan pointed out that Hong Kong has been returned to China for almost ten years and the Hong Kong democrats are in an increasing perilous environment. The forces of the Chinese Communists are growing stronger. The democrats must grab the public opinion of the seven million people and become a clearly defined opposition. The opposition is an opposition that will criticize the rulers and the mainland. The best strategy is to know your position and show your strength.

Simply put, are the democrats too lacking in strength?

"They don't do enough. They have to show more resistance. They have to be stronger," he said.

According to the defiant approach that Wang Dan is recommending, pan-democrat representative Alan Leong should hold nothing back in his Chief Executive bid. He must have the determination to win. If he does not win this time, he will win next time. There is no such thing as participation without competition in this race.

Alan Leong should launch large demonstrations to demand universal suffrage and criticize the 800 small circle of people who will decide the future of the more than 7 million people. Also, he should hold more large evening rallies to boost public opinion, to demand early implementation of universal suffrage and to encourage more Hong Kong people to have the passion and confidence for political participation. The mainland government is flawed by its nature because they are detached from public opinion. The democrats have the advantage. Turning that advantage into votes is the key to victory for the Hong Kong democrats.

For a fair and balanced presentation, here is the opinion piece in pro-Beijing Takungpao:

The Hong Kong Civic Party organ recently interviewed former "democratic movement member" Wang Dan in the United States. Wang Dan said that after he completes his doctoral thesis this year, he will apply to teach at a Hong Kong university. He "appealed" to Donald Tsang to "adhere to the 'One County, Two Systems' policy and not interfere with the issuance of the visa."

Who is Wang Dan? He is no stranger to Hong Kong citizens. Last month, the name of this "democratic movement member" appeared in the Hong Kong and Taiwan media. However, the relevant news was not glorious. In Taiwan, Ah Bian was in deep trouble with the disappearance of large amounts of "state affair funds" revealed that some of the secret funds was used to "finance overseas democratic movements" and he personally identified Wang Dan.

The Taiwan media then followed up and revealed that since 2003, the "Taiwan National Security Bureau Number One Office" had funded the "overseas democratic movement" with NT$1.5 million annually and the recepient was Wang Dan, the president of the "Association to Promote Constitutional Governance in China."

But Wang Dan was just as shameless as Ah Bian. After being exposed by the media, he had the gall to explain that "he did not know who his donors were," "he thought the money came from the civil sector" and he "felt regrettable" to have been involved in Chen Shui-bian's state affairs fund case.

Wang Dan has been in the United States and Taiwan working off the capital as an "overseas democratic movement activist," taking American dollars on the left hand and Taiwan dollars on the right hand ... This time, he is setting his eyes on Hong Kong. Does he want to get some Hong Kong dollars too?

The purpose of Wang Dan coming is to cause harm to the people of Hong Kong. In the interview, Wang Dan said that the Hong Kong democrats are "too naive, too moderate and too easy to bully." They are "strategically wrong in their struggles with the central government and they are elated and encouraged with one or two nice comments from the mainland." He thinks that the "democrats" must dare to "oppose" the central government. "500,000 people went into the streets, Tung Chee-hwa left and Article 23 was tabled ..." He is already acting as an advisor.

The Hong Kong "democrats" are not necessarily naive, but Wang Dan is definitely impudent. His impudence has reached the point that it defies commonsense. He should know that Hong Kong is implementing "one country, two systems." But there has to be one country in order to have two systems. Hong Kong is not the "base" from which he advocates resistance to the central government, and it is not the paradise from which he continues to draw American dollars and "Taiwan state affairs fund." ...
[015] The YouTube Video That Was Not (01/05/2007) (The Sun) In Chai Wan (Hong Kong), at around 2am, a car veered off the road and hit a cement pillar, whereupon it soared into the air and glided down a grassy slope until it ran into a lamp post. After a few somersault, the car ended on the grass field. The car was bent out of the shape, but the driver was physically uninjured.

Shortly afterwards, the father of the driver came to the scene. He had purchased the Benz C220 for HK$610,000 in 1995. The father treated the car with a lot of tender loving care. Whenever his son wants to borrow the car, he reminds him to be cautious. When the father arrived to the scene, he was relieved that his son was alright. Then he saw the shape of the wrecked car and he launched into a tirade which included a lot of obscenities. The son did not talk back. The police officers could only watch and listen on the sideline.

The hypothetical question is: What if someone took a video tape of the tirade and put in the context? Will it be a bigger hit than Bus Uncle? I emphasize 'context' because obscene curses in Cantonese usually involve references to the mother of the target person, and this is a father-son situation.

P.S. Come of think of it. I have heard that conversation before on a Hong Kong professional soccer field. The conversation was between two brothers on the same team, and the older brother was cursing the younger brother for not passing him the ball and invoking their mother in vain.
[014] Taipei Times Defends Chocolate (01/04/2007) With respect to the woman forcibily removed by the military police at the flag-raising ceremony on New Year's Day, Taipei Times issued an editorial I'm only doing my job, ma'am. The assertion is that once again, the pan-blue legislators are using a simple issue for political gains. Maybe or maybe not. But my interest is not about what is a fairly insignificant incident. Rather, it is about the serial lying that occurred afterwards. For the details, see the updates in "Someone Got Knocked Out By The Chocolate!".

To summarize:
- Next morning, the military police said that the action was performed by overzealous individual policemen without authorization. When asked how all the military policemen could be yelling out "Long Live the Republic of China!" without prior agreement or rehearsal, the answer was still that the action was spontaneous.
- In the afternoon, the military police acknowledged that the towels used to stuff the female protestor's mouth was purchased by the military police command center and issued to the individual military policemen (and hence the price tags and labels were still intact, as noted by the media). The commander of the 202 battalion has been issued a minor demerit as a result.
- In the evening, the military police acknowledged that the action was ordered by the 213 battalion commander.
- In afternoon of the next day, it was announced that the 213 battalion commander has been relieved of his duties and transferred to a non-commander position. Subsequently, it was revealed that the 213 battalion commander was due to be re-assigned anyway, so the transfer was not actually a punishment.

Who did exactly what? What ever happened to accountability? This part was a whole lot worse than the original 'nothing' incident.
[013] A Judicial Theory of Relativity (01/04/2007)

- (AP via MSNBC) The ban, effective Jan. 1, prohibits smoking in restaurants, workplaces, schools, karaoke lounges and public areas. Even smoking outdoors, at public beaches, swimming pools, sports grounds, museums and most areas in public parks is forbidden. Any smokers caught breaking the new law will be subject to a maximum penalty of HK$5,000.

- (Info.gov.hk) Littering in public is an offence and the offender is liable to a fine of HK$600. Spitting in public is also an offence. First-time offenders are liable to a maximum fine of HK$5000.

- (Apple Daily) In a Hong Kong court, three employees of the Sing Pao newspaper sued on grounds that the newspaper failed to paid HK$81,664 in back wages during the period February 10 to June 22 last year. As the evidence is not in doubt that this had occurred, the magistrate found Sing Pao guilty as charged. The magistrate fined Sing Pao HK$200 to HK$500 on the 11 different counts for a grand total of HK$4,200. The law allows a maximum fine of HK$350,000 and 3 months in prison.

Yes, the message here is that it is less serious to cheat your employees of their owed wages than to spit or smoke in public. By the way, Sing Pao still owes their employees and suppliers millions more. This verdict signals that the management can just waffle their way around without serious consequences.

P.S. Late-breaking news: the magistrate has sought a judicial review of his own decision!!! How is this for the interference of public pressure on the independent judiciary!? What ever happened to the vaunted rule of law!? Does the magistrate realize that he has to hold the line for the greater good of the system?
[012] Banned Phrases For Chinese Prosecutors (01/04/2007) (The Sun) A Nanjing district procuratorate has issued a list of banned phrases that its prosecutors must not use during interrogations of people suspected of economic crimes.

1. "If you don't confess, I'll put you away for a few extra years."
2. "If you return the money, everything will be okay."
3. "If you don't tell the truth, I'll lock you up."
4. "After you tell me what happened, you can go come."
5. "If you confess, I'll treat this as if you turned yourself in."
6. "We have investigated the case, and you did it."
7. "The others have confessed, except for you."
8. "You should confess now. You just took a little money from someone."
9. "We know everything that you did."
10. "If you don't say anything, then it means that you were dishonest."
[011] Long Live The Queen (01/04/2007) At Backchat's 2006 Person of the Year show (see Comment 200701#006), both Cyd Ho and I went for the people's choice -- the Stary Ferry protestors. Whereas Cyd Ho went for the content, I went for the style. Of course, the Star Ferry affair is a dead issue (unless some informant can tell us where the original clock is being concealed at this time!). However, both the content and style will continue on to the other sites of historical significance (such as Queen's Pier, etc). Later in the programme, when asked to predict whom the 2007 Person of the Year, I chickened out and said that it will be someone completely predictable at this time. On January 1, 2006, who would have guessed that the top two vote-getters of the year would be the Star Ferry protestors and Bus Uncle? In addition, I see the list of politicians (Donald Tsang, Anson Chan, Alan Leong, Regina Ip) as lacking in charisma and popularity last year and there is no reason for any surge this year. Meanwhile, Cyd Ho selected the Star Ferry protestors as Persons of the Year again for 2007. Obviously, this is not about the Star Ferry affair anymore. Rather, this has to be about the emergence of a civic society whose needs have not been traditionally addressed by the government or big business.

In terms of concrete action, the Star Ferry protestors have moved on to the Queen's Pier (see Daisann McLane's blog post Long Live The Queen). Daisann McLane's self-characterization is "political junkie." As such, her new blog will be refreshing compared to the other more detached English-language bloggers. More specfically, I do not think that many Hong Kong English-language bloggers are actually on close terms with local political parties and politicians. And I do not believe that one can ever take the press releases from politicial parties and politicians at face value, nor the presentations as filtered by the media.

In Hong Kong, if you can read Chinese, you will find blogs such as Big Discovery, TruthDiscover and DoctorReport in which alleged internal documents of political parties were published. However, one has to suspect the motives and contexts of those anonymous bloggers. Still, there are many persons who have been involved with the political parties in Hong Kong over the years and it is just a wonder that we practically never hear an insider speak of what goes on inside.

The lone exception is the Chinese-language blogger Derek Greyhound. On December 21, he made this blog post:
[in translation]

It is the eternal tragedy in Chinese history for people to be criminalized for speech and to give up speech for others.

I did not imagine that by my personal thoughts would be passed over to certain social elite and I did not imagine that there would be such a reaction from them.

I expected to be attacked and I expected to be shut down. At a time when they are fighting to gain the release of XX, they could not accept another desk in their classroom. Their space cannot tolerate one additional voice, in spite of their claim to be educators.

I expected that I might have to shut up. They may have thought that they won this time, but we will have to look at the long term.

For those friends who are interested in political thinking, you may have to be disappointed for some time. Let me gather my thoughts and I will shall my views with you later.

I never regretted any of my decisions. When I decided to quit politics at my peak, it was right as seen from today, even if it might have been too late ...

(Postscript: The friends who are monitoring my blog from the CGO Bldg and the Nathan Road HQ must be working really hard. You should really try some more subtle ways next time.)
In reviewing the Chinese media coverage of the Qiu Xinghua case, Southern Weekend provided the most depth while Huashengbao was the most timely. Southern Weekend also steered the direction of public discussion through its reporting on the psychological condition of Qiu Xinghua.

But the flaws in these reports are obvious. That is, in the initial stage, the media paid attention to the arrest of Qiu, how he committed the crimes and the condition of his family. In the latter stage, the reporting placed the emphasis on whether Qiu was mentally ill and the criminal proceedings. The tragic conditions of the victims' families, the assistance offered to them, the establishment of a victim aid system and the proposal of legislation to assist victims were all totally missing in action.

Only after Qiu Xinghua was executed did the local media noticed that while the Qiu family received some donations, the families of the eleven victims received practically no attention. It is obviously an improvement to show humanitarian concern for the family of a murderer, but if the price is ignoring the victims, then this kind of humanitarian concern is suspect, hypocritical and exhibitionistic.

I believe that the reason why the media collectively missed this issue is related to the media's emphasis on conflicts and drama. The logic behind the action is connected to the business logic at newspapers, because the action sells more copies. Objectivity and balance became less important and can even be put aside temporarily.

The consequence of this action is that media reports become partial, segmented and fragmented, thus distorting the audience's "virtual opinion environment" (this notion came from Lippmann). As a result of this distortion, the audience acted contrary to our traditional moral sense -- the murderer's family received donations, while nobody cared about the victims' families.

Therefore, I believe that public media with conscience should stay alert about the damage that business logic can do to the spirit of objectivity and balance.

For any report, it is unfounded and unreliable to claim that "I had the facts and the truth." From the theory of knowledge, it is hard for us to know the truth. When the judicial system uses the national apparatus for any case, the judge can ultimately only said, "I obtained the legal facts, but that does not mean that I know the truth of the matter. Nobody can reconstruct the state of things back in time." In news reporting, there are the truth according to the investigation and the truth according to the narrative, but these are just the truths of the news reporting and they are not the truths of the matter.

In the Qiu Xinghua case, the report should have adequate understanding of the murderer, the victims, the judicial system and the scholars, and provide a platform to express their views. If the media had been able to do this from the start, there would not be the grand-scale bias and incompleteness later. It can be said that the "principle of triangulation," the "principal of presenting multiple interests," and other investigative procedures provide the basic guarantee for objectivity. In the narration and expression of the reporting, the narrative style of know-it-all should be abandoned, the sources of all the important pieces of information should be identified, key information should come from more than one witness and physical evidence is preferred so as to form a chain of evidence as in judicial processes.

The serious bias in the media coverage of the Qiu Xinghua case caused the bias in public concern. In later reporting, the media focused on the system of criminal investigation and decisions. But actually, a more urgent need that affects greater public interests is to discuss the victim compensation/aid system in China. This is a more important, more basis, more urgent and more widespread problem.

The many victims in the Zhang Jun case, the many victims in the Ma Jiajue case, the man victims in the Huang Rong case and now the many victims in the Qiu Xinghua case have failed to invoke reflections and actions about how the legislative and judicial systems can set up a victim aid system. That is truly very regrettable.
[009] The Ritz Rose (01/03/2007) (Apple Daily) The controversial picture of the day is titled "The Ritz Rose" featuring actress Tian Hairong with rose tattos on her bare back. Some netizens are upset: "I cannot believe that this is the innocent and pure Fourth Phoenix in the television drama series Thunderstorm" and "This is yet another female actress trying to be famous through stripping."

Tian Hairong's reply is: "
雅者見雅,邪者見邪." (in translation: If you have a refined mind, you will see elegance; if you have a dirty mind, you will see filth."
As thousands of Saddam Hussein's supporters protested in Sunni Arab enclaves across Iraq, the Shiite-led government said it had launched an investigation into the chaotic scene at his execution, captured on video, which has deepened the nation's sectarian rift and sparked condemnation around the world.

Iraqi officials said a committee from the Interior Ministry would likely question everyone, including senior Iraqi officials, who was present at the hanging, where witnesses mocked and jeered the ousted president as he stood at the gallows. Hours later, grainy video of the event, taken with a cellphone camera, was broadcast around the world, bringing more pressure on Iraqi Prime Minister Nouri al-Maliki to take action.

The video triggered outrage, in Iraq and abroad, at Hussein's undignified and disorderly end. Iraq's Sunnis declared the execution an act of Shiite revenge. ...The video was the latest example of how amateurs using modern technology are exposing abuses and holding the powerful to account.

Oh, really? Let's see who took the video ... From Talking Points Memo:

Munqith al-Faroon, an Iraqi prosecutor whose job was to convict Saddam Hussein of genocide, was one of the small group of witnesses at the hanging and defended Saddam's right to die in peace. He said he knew that "two top officials ... had their mobile phones with them" at the execution, although other witnesses had their phones taken away beforehand.

...

(CNN)

A witness to Saddam Hussein's execution in Baghdad said that celebrations broke out after the former dictator died, and that there was "dancing around the body." "Saddam's body is in front me," said an official in the prime minister's office when CNN telephoned. "It's over." In the background, Shiite chanting could be heard. When asked about the chanting, the official said. "These are employees of the prime minister's office and government chanting in celebration."

The Internet is a tool, just as a video-capable mobile phone is a tool. Tools can serve civilian journalists to expose abuse and hold the powerful acountable, just as they can serve the powerful to manipulate public opinion.
More blogs

With more media exposure and more talk, expect a profusion of blogs: Both little ones like this and your big daddies like Danwei and ESWN. On the whole I've enjoyed blogging since I started this summer, and I'm sure more people will also suddenly realize it requires zero technical skills. It's still a small world, the English-language blogosphere, but it's going to start getting a whole lot bigger. Sure, the quality of blogs will vary, and good blogs will come and go, but the law of averages suggests that if there is quantity, there will be some quality.

What I feel is still lacking at the moment are a few alternatives to ESWN. While he does a grand job, he is only one man and is therefore never going to be able to capture everything that is happening in the Chinese blogosphere. An increasing number of English-language China bloggers will mean more demand for knowing what is happening in Chinese media. Hell, someone might even be able to make themselves a bit of money.

Also, more generally, there is no one central place where you can go for China news. China Digital Times is good, but blocked here in the fatherland motherland. Apart from that there are no good websites dedicated to China news (that I've found). If I had a few quid and some skills I'd start one up right now, sourcing content from all sorts of media and adding some analysis, comment and a bit of humour. If I was the editor of the SCMP I'd free up the website and corner the market while it's still possible. And while people still think it's a decent paper.

Advantage on the news aggregator will go to the first mover ... it is really not too hard and it really does not require that many resources (time or money).
[006] Backchat's Person Of The Year (01/02/2007) I was a guest on the RTHK3 radio show Backchat this morning where the subject was Person of the Year. In the online voting, the Star Ferry protestors were the winners, ahead of Bus Uncle. The programme can be listened to in the RTHK archive.
| | |
| --- | --- |
| Anson Chan | 12.90% |
| Alan Leong | 4.84% |
| Anthony Hedley | 12.90% |
| Bus Uncle | 19.35% |
| Ching Cheong | 8.06% |
| Donald Tsang | 9.68% |
| Mainland mothers | 1.61% |
| Margaret Chan | 3.23% |
| Regina Ip | 3.23% |
| Richard Li | 1.61% |
| Star Ferry Pier protesters | 22.58% |
[005] 2006 Statistics (01/02/2007) For the year 2006, here are the combined website statistics:

Total number of hits (including html, jpg, gif, wmv, ram, avi, pdf, txt, etc): 38,667,743
Total number of page views: 5,506,780
Total number of user sessions: 4,687,362
Total Bandwidth: 754,807,860 kilobytes

On a daily basis,
Average daily number of hits: 105,939
Average daily number of page views: 15,087
Average daily number of user sessions: 12,842
Average daily bandwidth: 2,067,966 kilobytes
Average time spent per session: 11:06

For comparison, the 2005 statistics are here.

Here are the top ten ESWN blog posts in terms of total page views during 2007:

1. Bus Uncle
2. Red Rubber Ball
3. The Immoral Foreign Blogger
4. Internet Pimps in Hong Kong
5. The Most Famous Pervert in China
6. The Naked Ladies With The Pink Ribbon
7. A Foreign Lady in Beijing
8. The February Girl Pics
9. MOP Hunts Pornographers
10. The Sling Shot at the Hong Kong WTO


[004] The Other Side of the Qiu Xinghua Case (01/02/2007) (Southeastern Express via Tom.com) The temple killer Qiu Xinghua was executed after the court declined to grant a psychiatric examination for mental illness. For the details on Qiu Xinghua, The Psychological File of a Mass Murderer. Of interest is the social treatment of the murderer and his victims.

According to Hanyin county public security bureau director Qiu Zhuman: "After Qiu Xinghua was arrested, the government gave the family some some financial support because they were living in hardship. Furthermore, other people donated money to the family. In the beginning, the money was wired to the public security bureau to hand over to Qiu Xinghua's wife. There was about 2,000 to 3,000 RMB from two or three people."

The donations helped the Qiu's wife and son to cope with the rent and tuition, as well as creating some subtle differences. When the daughter went back to her grandfather's home, she wore a brand new sports suit; they own a mobile telephone; Qiu's wife told the press that she has received about 5,000 to 6,000 RMB in donations from 6 to 7 persons.

On the other side are the families of the victims. Victim Xiong Wancheng's family lives in three broken down houses. According to neighbors, his wife is mentally handicapped. Xiong had been working as an accountant for the village, he farmed and he also worked at the Taoist temple. But things were still very difficult and they depended on the in-laws to get by. When the reporter went to visit, Xiong's wife was hugging her nine-year-son and crying: "What is going to happen to my son and I ...?"

According to Ankang Academy Department of Psychology associate professor Huang Luyang, the reporting in the Qiu Xinghua case was completely one-sided. People felt sympathy for the Qiu family and it was natural that they wanted to donate money. The family of the victims needed sympathy and donations just as much, but the public has ignored them without realizing it as such. From a certain perspective, the public was led by the direction of the media reporting.
[003] How To Game The Election System (01/01/2007) An election system consists of rules. It is possible to game the system while strictly adhering to the rules even though the spirit of the rules is being overturned. You do want to win, don't you?

(United Daily News) For the upcoming legislature elections in Taiwan, the KMT will be using a primary system to elect a candidate in each election district. The system is based upon a weighted score of 30% from a primary election in which only registered KMT party members can vote and 70% from public opinion polls conducted by multiple independent organizations.

With respect to the primary election, the most traditional way is to work far ahead of time by offering 'goodies' such as free tour trips to professional organizers and community organizations. A condition for taking advantage of these trips is to become a KMT member. In Taipei county, several thousand new KMT members have been signed up in recent months. These new KMT members paid a NT$200 membership fee (repaid by the organizer) and they will be paid a "walking fee" of NT$300 at primary election time. For each such recruited member, the organizer will receive NT$200 from the competiting candidate. In some Taipei districts, the KMT candidates have approached the DPP organizers to ask for their DPP members to double-registers as KMT members solely for the purpose of voting in the KMT primary election.

With respect to the public opinion polls which accounts for 70% of the outcome, some candidates have applied for thousands of telephone numbers all of which will be re-routed to a small number of telephone numbers to be manned by young work-study people. In public opinion poll, people in the 20-30 age group are the most difficult to locate and the least cooperative, and their response will be weighted up heavily to the population total.
[002] La Grande ODailisque Has Hemorrhoids (01/01/2007) (Apple Daily) La Grande ODailisque is a famous painting by Jean August Dominique Ingres (see Revolt In The Desert).


Alas, La Grande ODailique has been recruited by the Dasoon Hospital (Kaohsiung, Taiwan) for a wallboard that read: "If there is blood in your feces, you ought to seek medical treatment quickly."

According to the hospital, the woman in the painting is using a peacock feather fan to cover her vital part, thus giving a sense of shyness. So the purpose of the advertisement is to reflect the shyness that women often feel about their physical conditions.

The Internet BBS reaction has been ... ahem ... mixed, but you pretty much know what they must be saying.
[001] Sooner or Later, You Will Be Tagged (01/01/2007) Oy vay! There is a "five things you don't know about me" tag out there. Sooner or later I was going to be tagged. The tag that I read (and there may be others already) is from Sam Crane (The Useless Tree). As grim and humorless as I am known to be, I am not above and beyond using this opportunity to propagandize for the party (in lower case, of course). Unlike how other bloggers have responded, all my 'things' are validated by links (as you all know, if it is published on the Internet, then it must be true!).

(1) Once upon a time, I was a dux. For proof, go to this official webpage of the Holy Cross College, Ryde, Sydney, New South Wales, Australia and scroll down to the year 1969. So what? Nothing much really, but I am sure that for most of you, the question shall be, "What the deuce is a dux?" That is the part that you don't know.

You Google "dux"+"definition" and you get:
(Google) A Roman military commander. In the Byzantine period the title was given to the military commander of a small theme such as Durazzo or a frontier duchy in the east, such as Antioch.

(The Free Dictionary) (Mus.) The scholastic name for the theme or subject of a fugue, the answer being called the comes, or companion.

(MSN Encarta) Scotland: top student: the student whose academic achievements are highest in a school, subject, or class.

The third answer is the correct answer.

(2) Once upon a time, I was the webmaster for the Central Park Track Club (New York City). It is reasonable to assume that I am a track/road runner. How fast was I? Well, I have been running for twenty years and I ran races at various distances. So it is hard to come up with a 'fastest' race because the concept does not exist. I have ran hundreds of races at various distances inside Central Park, the home base of my team. But I am particularly fond of the Staten Island Half Marathon each year because of the ferry ride from Manhattan to Staten Island and back. Here is my photo from the Staten Island ferry in 2000, showing the World Trade Center twin towers before 9/11.

So here is my best race in the Staten Island Half Marathon (official result from the New York Road Runners Club): 1:21:57 (6:15 min/mile pace). I could have gone under 1:20 but for a leg muscle cramp in the last mile.

(3) Once upon a time, I stayed at the Jarvis Hotel (before it was acquired by Ramada Inn) in Ealing, London, England, United Kingdom. That experience was fully documented at the Central Park Track Club website, Food Review section (scroll down to the date October 11-13). The rest of that page contains my reviews of other facilities, as well as my teammates'. Of course, I enforced a 'style' requirement on all submissions, so you will only find the same style and attitude as mine. Dissent was ostracized. There is no better way to understand me as an individual than reading through this page. This is my essence. This is also about my good friends in this life. I love them dearly.

(4) Once upon a time, I was given a mission by my company to publicize on my website ZonaLatina.com the Latin American consumer survey that we conducted every year. Indeed I have written several hundred articles related to my company's consumer surveys. But my company forgot that I was a hopelessly romantic liberal who simply ignored all business objectives and pursue other personal fancies whenever they struck me. The best example was when I received a request from a Danish journalist about her documentary film Para Nunca Olvidar. Beyond just giving a plug, I built a monument for the victims of the dead in the Guatemalan civil war. The majority of my readers could not care less about Guatemala. Neither did I. That was until I began to research the subject. This whole case is more than the country of Guatemela, but it is also about reconciliation afterwards. For example, how shall you reconcile 1989 in China? The white terror in Taiwan? And so on. In those contexts, Guatemala may be an even more extreme case and they figured out a way to deal with this explosive issue, even if not everybody agreed that the outcome was totally satisfactory.

(5) Once upon a time, I have this page You Are What You Read which documents the books in my New York City apartment. More recently, the following photograph of me appeared in Next Weekly (see Comment 200612#099).

This led to this snooping question: What is on that bookshelf in my Hong Kong apartment in the background of that photograph? Here is one photograph of the books from one shelf. These are all Chinese-language books, including titles such as the Chinese Peasant Study and so on. These are some of the books that formed my present attitude and opinion.


Now I will be really really nice here -- I won't tag anyone else. Ain't I nice!?
---
Archives