[096] Airplane Sister (07/31/2007)
(SCMP; no link)

The wife of a Sun Hung Kai Properties tycoon was warned by police after an altercation with a member of the cabin crew during a Cathay Pacific flight from Japan to Hong Kong on Sunday night. A police spokesman said a dispute between a female passenger and a member of the crew over the storage of luggage prompted the pilot to call police after the aircraft landed at Chek Lap Kok. The police spokesman did not identify the passenger. The dispute was later settled but police issued a verbal warning.

However, a spokeswoman for Sun Hung Kai Properties said Helen Kwok, the wife of vice-chairman and managing director Raymond Kwok Ping-luen, had a headache during the flight and needed some medication. She said that Mrs Kwok had a misunderstanding with the crew and that the incident had now been resolved. The company spokeswoman would not confirm whether police were involved.

The above may be politically and factually correct, but it is also staid and unexciting. Actually, it is missing the real story altogether. You should try the two top local Chinese-language newspapers instead, where this was their front-page story.

(Apple Daily) On July 29, Helen Kwok and family were taking Cathay Pacific flight CX 581 from Japan to Hong Kong. At around 8pm, the A330 was preparing to land in Hong Kong and the air stewardesses began to walk down the aisles to ask the passengers to straighten their seat backs and put their luggage into the luggage compartments. A veteran stewardess walked by Helen Kwok's seat and asked her to put her handbag (which measures 12" by 12") into the overhead compartment. But Helen Kwok said: "I won't. I am always like this each time!" The stewardess informed Helen Kwok that this was a regulation designed by Cathay Pacific for safety purposes. She even volunteered to put the handbag into the compartment. Helen Kwok said: "What kind of regulation is this?" The stewardess informed the pilot, who was too busy with the landing preparations and only used the radio to inform the airport security staff. When the airplane landed at 8:23pm, the security came on board and learned about the story. Although Helen Kwok had already disembarked, she was still in the restricted area and she was intercepted and taken to the airport police station for interrogation.

Neither the stewardess nor the pilot knew the identity of this female passenger who refused to separate from her handbag. The stewardess is worried that she may be punished by Cathay Pacific for offending this wealthy customer.

On the Internet, Helen Kwok has already earned the title "Airplane Sister" in the manner of "Bus Uncle."
[095] The Guilin Tour Guides (07/31/2007) (Southern Metroplis Daily editorial) It was reported that the Guilin tour guides intend to go out on strike, possibly for as long as half month, in protest against new regulations. There is also a media story when Guilin Daily issued an apology to those Guilin tour guides.
[in translation]

... On July 26, Guilin Daily published a news report titled <Guilin begins clean-up of rule-breaking tour agencies and guides> in which the recent city government's actions with respect to the tour industry were described in detail. The report caused the affected tour guides to petition at the city government for three consecutive days. The tour guides presented their views and asked for certain unreasonable conditions to be changes. These assemblies created a great deal of nervousness. On July 29, Guilin Daily and the reporter who wrote the story apologized publicly to the tour agencies and guides for the "bad influence" created by their news story.

It is reasonable to speculate that this public apology was intended to mollify the affected local tour guides and calm things down. The perplexing thing is that the neither the official information nor the public apology itself carried a single word about the exact reason for apologizing. The outside world is left clueless and probably thinks that the local tour guides were petitioning against a news report.

Yet everyone familiar with the local tour market knows that the local tour guides were petitioning for survival in the aftermath of the media exposure over the bad practices in the industry ... There is plenty of competition in the industry, but the corresponding supervision is missing. The tour agencies offer very low prices to attract customers, using zero-fee (or even subsidied) tour packages. But these low price tour groups could not satisfy the financial needs of the tour agencies, guides, drivers and shopping outlets at the same time. The tour guides happen to be the most vulnerable group. They cannot obtain a share from the tour group fees. Instead, they are forced to pre-pay the tour agencies in order to be assigned to lead groups. Therefore, their sole sources of income come from bringing tourists to high-priced shopping outlets or scenic spots that charge additional fees. These are the well-known ills within the tour industry.

So why did Guilin Daily have to apologize publicly? The original report was a steady and cautious commentary that completely fitted with the official position. The case studies that were cited came from the files of the local tourism quality control board and they were presented in the tone of a government supervisory agency. The report even cited the city party committee's directive "to clean up the tour industry and expose whatever needs to be exposed." There is no doubt about the political correctness of that report.

But such a news report that is anchored in the ruling ideology may not fit the causes and effects around the incident as well as the interests at play. Such a report only presents the government action while ignoring the reaction of those who are affected; it represents only the will of the administration while ignoring the demands of those who are affected. The net outcome is that the media function to relieve social pressure is reduced. Insetad, the media became a magnifier for social conflicts. Not only did the media fail to become a buffer zone between the government and the industry, they actually injected themselves into the conflict. The Guilin tour guides had to petition directly because the media abandoned their public functions and intensified the conflict instead. If the newspapers had also described the situation and demands of the industry while they reported on the government clean-up campaign, things might not have gone so far.

The public apology by Guilin Daily illustrates the embarrassment that can come when the media lose their objectivity and fairness. The lack of freedom for the media (as well as their own willingingness to comply) is also the reason why they are forced to give up their dignity and be sacrificed. Since they don't have professionalism, dignity becomes a false issue ...
[094] The Chairman's Photograph (07/31/2007) (Tianya Forum) These photographs were taken by a Chinese graduate student in South Korea. The landscape photograph appears on the wall of a pet shop named "Village of White Dogs" in Yongin city, South Korea






As might be expected, these photographs generated numerous comments. The most interesting feedback comes in the form of a PhotoShop job:

[093] Queen's Pier (07/30/2007) The same event as reported in different newspapers:
(SCMP) Carrie Lam faces blood and jeers at the pier. By Olga Wong. July 30, 2007.

Secretary for Development Carrie Lam Cheng Yuet-ngor took part in an unprecedented and passionate public debate with heritage activists yesterday over the fate of Queen's Pier. Facing protesters' jeers, hunger strikers and petitions written in blood, the new minister stood firm, saying the decision to demolish the pier was the right one ... "She did walk into the crowd, but she has not listened to us," one protester said. Yesterday's forum was the first time a government minister had spoken directly to the public about heritage conservation.

(The Standard) Death knell on pier. By Una So. July 30, 2007.

Lam was booed and cheered as she spoke at Radio Television Hong Kong's live broadcast of City Forum and later at a public forum organized by activists, three of whom have been on hunger strike since Friday in protest against the pier's demolition. As she stepped onto the stage surrounded by walls of police officers, catcalls and cheers broke out among the crowd which jampacked the pier, with the moderator asking the audience whether the government owed the people of Hong Kong anything if the pier is pulled down by as early as tomorrow. ... A man in a Star Ferry clock tower costume and wearing a T-shirt with Chinese-language characters reading "Repeating the mistakes" walked behind Lam as she spoke.

... City Forum was punctuated with loud jeers and insults from elderly members of the audience, but most were in support of Lam and the demolition of what they called the "ugly pier from the colonial days."

"Watch the people hold hands to fight for justice and liberty ..." More than 500 people were singing civil movement songs to "welcome" Mrs. Lam. In the first round, Carrie Lam reiterated that she came to forum with the assumption that there was no way to go back on the decision. "Because this would be raising the hopes up only to let it fall down again." The audience booed. Lam smiled and said: "We officials like to leave after we speak, as opposed to be the last one to leave." The booing got even louder. Raymond Wong said: "You describe yourself as an official in every sentence!" Lam said: "It is not easy mixing with the people." Leung Man-tao said: "I have no idea why you bother to come today. You have used the work 'respect' seven times, but you tell us that there can be no discussion over the demolition of the pier. Is this called 'mixing with the people'?" Ng Chi-sum said that Lam had not provided anything to convince the crowd. "This is just a public relations show." Lau Mung-hung said: "If the pyramid can be relocated in Egypt, why can't Queen's Pier?" A representative for foreign domestic helpers said that they government never consulted the domestic helpers who show up every Sunday at Queen's Pier.

Then a young man on hunger strike told Lam: "The prior government decision was wrong, so why carry it out now? This kind of environment protection is destructive, and is equal to the massacre of Queen's Pier." Lam attempted to make an appeal by narrating her own experience in social movements during her own university days. This drew shouts of "hypocrisy" and "well spoken" from downstage.

At the end of the forum, demonstrators used blood to write the words "Wrong Again" and tried to deliver it to Mrs. Lam, who was surrounded by a phalanx of about 10 uniformed and plainclothes police officers. During the chaos, the letter was ripped apart.

Carrie Lam attended two meetings at Queen's Pier yesterday. At the RTHK's City Forum, representatives from various professional groups expressed their support for Lam. A large number "Victoria Park" uncles also came to Queen's Pier to yell "Demolish it!" and condemn the preservationists as "Chinese traitors 漢 奸."

If one suggestion from the above was about "putting on a show," then we need to be clear about just who has been putting on shows. In the preceding report, Carrie Lam is putting on a show by making an appearance to talk to the people when in fact there is no way that the decision could be reversed. That is putting on a show for the public just to show that she is "approachable" when in fact she is not. But Carrie Lam is not the only person putting on a show.

For the first other show, you have to consider the "letter-written-in-blood." So some people put on a show for the media to use their own blood to write a letter, which was promptly ripped up during the attempt to deliver it to Carrie Lam. Please consider: If the letter could not be delivered to Carrie Lam, then nothing happens; if the letter was successfuly delivered to Carrie Lam, then ... nothing happens because she has already said that the decision has been made. Then why did they do it? It was a media show, one way or the other. It had no material impact, but it just make the news program on TVB and Cable TV.

Hey, but there was another show that didn't even get reported in mainstream media. In Wong Onyin's blog, he noted that Hong Kong Legislative Council member Leung Kwok-hung was seen at 2:30pm and then he vanished before re-appearing at 4:30pm with a banner (see photograph at Wong's blog). The banner obstructed the public view and it fell apart on its own several minutes later. So this was another sideshow that none of the mainstream media cared to report because it was so irrelevant.
[092] "Rumors" Are Stopped By Raising Public Trust (07/29/2007) (Jing Kaixuan
景凯旋 at Southern Metropolis Daily)

[in translation]

If it were not for a female netizen named "Red Diamond Empire," most Chinese people might never learn that there is a Ginza Shopping Plaza in Jinan city. On July 18, a powerful rainstorm struck Jinan, causing damages and inflicting casualties. The Ginza Shopping Plaza was flooded and sustained tremendous damage. Afterwards, at the storm topic discussion of the local Internet forum, "Red Diamond Empire" argued excitedly that there must be casualties at the Ginza Shopping Plaza. The plaza management complained to the police, who arrested this 23-year-old woman under the <Security Administration Penalty Law> and placed her under security custody for "spreading rumors to deliberately disrupt the public order."

In the past, "manufacturing rumors to mislead people" and "causing chaos" are sufficient to shut people up. But there was a big controversy this time. Many netizens questioned the police action, because "Red Diamond Empire" was only commenting on what others posted. She also firmly believed that she was hearing the truth when she heard that there were deaths at the shopping plaza. Therefore, it is very hard to say that she had deliberate intention, and there was also no way to establish that she caused serious social conseqeunces. I agree with that viewpoint. Even if what "Red Diamond Empire" said was contrary to the facts, it was going too far to detain her. As for "spreading rumors," it is basically an ambiguous term used to exercise power. Very often, it was based solely on the preferences of those in authority. According to this logic, if someone posted that it did not rain in Jinan on July 18 and thus caused the rescue effort to lag, would that be spreading rumors? If this is not considered a rumor, then it only shows that certain things that some people dislike are deemed rumors while other things that they like are not deemed rumors.

...

The fact is that on public issues, incidents often occur because of the official versions such as "it did not rain." For example, there was no SARS cases in various places, AIDS did not spread due to the blood trade, there are no mining disasters and illegal brick kilns, etc. Many local governments are used to reporting only good news and never any bad news; they are used to covering up incident; they are used to suppressing dissident opinions. Under these circumstances, can the public believe the official versions unconditionally? On the question of deaths at Ginza Shopping Mall, the local government asnd the shopping plaza management worked activeily to dispel the rumors, but why didn't the rumors stop in spite of bringing in the police? If "Red Diamond Empire" caused bad influence with her opinions, then it explained something else from the other side: the lack of public trust.

To change this state of things, the various levels of government should increase the transparency of information and expand the public's right to know. Inaccurate information is stopped when the truth gets out and there is public trust. We can imagine that if we live in a fair and open society, the truth would not be a matter subject to dispute. Unfortunately, we are seeing more cases in the other direction. For example, in early June, a Wuxi (Jiangsu) citizen sent out more than 100 SMS about the blue algae explosion and was penalized 10 days of administrative custody by the police under the <Security Administrative Penalty Law>.

When speech is inhibited in society, there are more lies than truths and more doubts than trust. This leads to the spreading of various kinds of inaccurate information. This is the real point that we have to reflect upon as a result of this incident. During the Internet debates, "Red Diamond Empire" wrote: "I am a Jinan citizen. I love Jinan deeply. Could it be that I want people to die in Jinan? Would I be happy to see people die? I only hate the cover-up by certain people! Do you understand!!!" Unfortunately, it seems that only the netizens understand what she is saying.

The Jinan government should alter their governance approach and get rid of the the combative notion that "rumormongers" have "ulterior motives." They should even go so far as to tolerate unreasonable criticisms from certain netizens. Instead, they should put their minds to solving the problem of water drainage in the city. This is how discontent can be pacified, this is how to raise public trust and this is how society can become harmonious and progressive.
Chinese Nationalist Party (KMT) presidential candidate Ma Ying-jeou's ( 馬英九 ) trial over alleged misuse of his mayoral allowance has been enveloped in controversy over accusations that Prosecutor Hou Kuan-jen ( 侯寬仁 ) doctored the transcript of a witness' testimony. However, the audio recording of the deposition in question is not clear enough to be conclusive and Ma will have a hard time using it to convince a court he has been a victim of political persecution.

The disputed recording is of Hou's interview with former Taipei City Government treasurer Wu Li-ju ( 吳麗洳 ). The questions related to whether Ma's mayoral allowance was used for public expenses. Prosecutors hope to use Wu's testimony to prove that she mistakenly reimbursed Ma from the fund because she incorrectly deemed the receipts he provided to be valid and that this constitutes embezzlement on the former mayor's part.

In listening to the recording, it is apparent that although Hou frequently clarified his questions, Wu often replied with only "Hmm, hmm" or "Yes, yes." It is not clear from this response whether Wu was answering Hou's questions or indicating that she understood or simply heard them. Furthermore, both Wu and Hou cut each other off when talking, with the witness sometimes answering questions without waiting for the prosecutor to finish.

Because of the alleged discrepancies between the written and recorded deposition, Ma's lawyers accuse Hou of being biased against Ma, and having already made up his mind about the case. They have even threatened to sue Hou for forgery, malfeasance and abuse of power ... Ma's legal team has released selected parts of the recording to the media in an attempt to attack Hou. This political tactic suggests contempt for the court. As a former justice minister, Ma should know better than to attempt to manipulate public opinion and influence the judiciary in this way. His lawyers, meanwhile, may yet face disciplinary action from the National Bar Association.

Do you know what those "discrepancies" between the transcripts and the audio recordings were? Will you just take the word from Taipei Times for what happened?

Here is the parts that were listed in Next Weekly:

Transcript:
Q: Must the special fee be spent only for official purposes?
A: Yes. That's right.

Audio:
Q: Must the special fee be spent only for official purposes?
A: I'm not sure. The mayor is probably unaware of this rule.

Transcript:
Q: Do you apply the seal only if the mayor took the money and spent it for official purposes?
A: Yes.

Audio:
Q: Do you apply the seal only if the mayor took the money and spent it for official purposes?
A: I've never thought about this problem. Actually, the special fee was not clearly spelled out.

Transcript:
Q: If the mayor took the money but did not spend it, will you apply the seal?
A: As long as the mayor took the money, we would stamp it.

Audio:
Q: If the mayor took the money but did not spend it, will you apply the seal?
A: We do not think about whether this is for official or personal reasons. As the payer, we do not think about whether the money was for official or personal reasons.

Transcript:
Q: Because there are official expenses, that was how special fees come in?
A: Yes.

Audio:
Q: Because there are official expenses, that was how special fees come in?
A: I totally forgot. I wouldn't ... I can't remember.

Transcript:
Q: If you find that the mayor did not spend the money, or he did not spend all of it, would you apply the seal?
A: If we know that it was faked, we obviously could not stamp it. But if the mayor stamped the form, we obviously believe that the mayor will follow rule number three on the form. He has to bear responsibilty on the truthfulness of the original form.

Audio:
Q: If you find that the mayor did not spend the money, or he did not spend all of it, would you apply the seal? You should ... you should ... you wouldn't stamp it. Let us say that if you discover that, you wouldn't stamp it.
A: (...)
Q: Let us hypothesize. There is a receipt which you know was forged. Then you wouldn't stamp it.
A: Of course.
Q: So it means that same thing. I know what you mean. The form is obviously genuine.
A: No. If he puts his seal on the form, we will verify and issue.
Q: Yes. Let me hypothesize ...

These examples were deliberately selected and may not prove malice on the part of the prosecutor. Nevertheless, the quality of the transcription work is simply not acceptable. Transcription should not be this shoddy because it is relatively easy to do (compared to translation, for example).
[090] Labor Action in Shenzhen (07/29/2007) (Beijing News) At 4pm on July 27, a Shenzhen bank worker went to obtain some material from a manager. He waited until 8pm before the manager appeared. But the manager said that he could not open his office door because he did not have the key. The worker gave a smile. The manager promptly slapped the worker in the face. The worker did not fight back or say anything. The manager then apologized to the worker and said that he had given the slap because he was personally in a foul mood.

Yes, but so what? Why is this seemingly minor Shenzhen story being reported in the national news section of Beijing News?

The answer is simple -- you need to know the nationalities of the two persons. The worker is Chinese and the manager is Japanese. The bank is Bank of Tokyo-Mitsubishi UFJ. After the incident, the more than 50 bank Chinese workers stopped work and signed a petition to demand an apology and the transfer of the manager away from the Greater China region for perpetuity. The bank says that it needs time to study the unexpected problem and senior managers will be going to Shenzhen in person. But the bank has already acknowledged that a Japanese manager had slapped a Chinese worker.

Essentially, BMTU has this weekend to respond. If the bank manager is not reassigned out of China, all hell will break loose on the Chinese Internet.
[089] What Kind of News Can't We Accept? (07/28/2007) (Changping
长平 via Southern Metropolis Daily)
[in translation]

The distinction between the "cardboard steam bun incident" and the "stepmother mistreating stepdaughter incident" does not lie on whether the news is true or false, but on their influence. Both incidents were manufactured news. But the creator of the "cardboard steam bun incident" is under criminal custody while the creator of the "evil stepmother" can come out and explain that he was motivated to help treat the child's ailment. He received broad understanding and sympathy for his "well-intended lie."

If we think about this more, we will remember that certain fake news have been accepted and praised before. For example, certain biographies of heroes and stories of model workers were dubious, but they were still strongly promoted. In mainstream media, we often read that "the conference ended in a swell note," "the situation is fantastically well," "the disaster victims were delighted," "every Chinese child became irate" and so on. These clearly will not withstand scrutiny, but they continue to occupy the front page headlines and take the top journalism prizes. These stories are accepted and praised not because they are the most truthful, but because they have "good effects."

Perhaps there really are "well-meaning lies" in the world. But at least with respect to news reporting, I firmly supported the sentence used in the notice from the three government departments including the Central Publicity Department: "We will resolutely put a stop to false news." From the wording, this sentence should obviously be interested as follows: All false news must not be tolerated, irrespective of whether it was well-intended or malicious and whether its influence was bad or wonderful. In terms of philosophy, it is still an open question whether a objective truth can exist. But in terms of communication studies, objective truth is still the first aim of news reporting and it is the accepted standard. Truth in news reporting requires the reporter to do his best to describe the facts accurately, as opposed to designing the news based upon the best effects.

Several years ago, the established newspaper <New York Times> exposed that its reporter Jayson Blair had manufactured many news stories. They announced solemnly that this was the greatest shame in their 150 year history, and the chief editor resigned as a resign. What did this reporter actually do? Based upon our standards, his manufactured stories cannot be said to have "bad influence." For example, he made up the life history of a criminal suspect, he made up an interview with the father of a wartime hero, etc. These stories matched people's logical expectations and did not have the sensationalism of the "cardboard buns" or "evil stepmother." But as far as news is concerned, any kind of manufacturing is shameful regardless of its effects.

Culturally speaking, we do not have a tradition for seeking the truth. Instead, we are more interested in effects. Therefore, it will not be easy to put a stop to fake news. Not only must the leaders change their ideas, but the people have to reflect whether they cannot tolerate false news with bad consequences because they once applauded and cheered false news with good consequences? If the media become used to telling lies, they may be well-intended today but there is no guarantee that they won't do evil tomorrow. Evil false news should be condemned, but only when the well-intended false news are also considered shameful will the principle for truth in news take root and grow.
[in translation]

... I didn't want to get involved in this matter, but I have some opinions about certain values being reflected here. First of all, the Ming Pao editor published a newspaper essay in which she connected the way in which netizens shared Japanese adult videos over the Internet through BT seeds with the increase in sex crimes among young people. This is a totally irresponsible deduction. Please do not forget that this article appears in a newspaper that prints the words "Number 1 in public trust" on its front page every day. When she wrote the words, did she have any data or evidence that supported her conclusion? Did she have any objective data and research? Did she have a second source? If she just wrote whatever came to her head without any objective supporting data, then her idea that the AV-seeding netizens are nurturing new AV actors may be idle speculation. It is one thing for this essay to appear in Apple Daily and Oriental, because it will allow the Communications Department professors and lecturers to criticize these untrustworthy newspapers even more. But this essay appears in the newspaper which is "Number 1 in public trust." How shall the professors and lecturers explain to their students?

Even more striking was the ignorance and prejudice of the essay-writer about adult videos. If you have read Tong Ching-siu's book <The AV Scene>, you would understand the professional attitude of the Japanese hold towards AV. All AV workers, including the actresses, actors and directors, regard their work with professionalism. In the foreword to <The AV Scene> by Leung Man-tao: "It does not matter how you judge adult videos in terms of the moral value, I feel that you must first try to understand it. I have read many essays that analyze adult videos. I must say that they are very detailed, in which the angle of each scene is described in detail. This is like a close reading of a work of literature. But like so many cultural studies, they pay too much attention to the product from the cultural industry while they have too little understanding of the production method and process. Before you know it, it becomes their own fictional ideas about the product. The remarkable thing about Tong Ching-siu's <The AV scene> is that it is the first Chinese-language book about the AV industry." When the Ming Pao editor concluded that AV caused the proliferation of sex crimes among Hong Kong youth, did she try to understand AV like Leung Man-tao and Tong Ching-siu do? Do young people really want to become AV stars after watching some AV? Based upon the same logic, if the youngsters read the rape stories in newspapers (including the newspaper that is "Number 1 in public trust" which is allowed into the schools), will they become rapists through imitation as well?

As for the so-called cyber bullying, frankly speaking, how much can the netizens do? Alter photographs? Look up your private details? Apart from some personal annoyance, what else is there? (I have gone through the same thing and I deleted my old blog in order not to get involved in certain disputes on the Internet) But an essay was published in a newspaper and it may lead to government intercession. The accused will not be subjected to just minor challenges about altered photographs and private details, but there may be criminal charges instead. It goes without say just who is the bully and who is being bullied in this case.

I only wanted to say that Internet culture and ethics are completely different from the traditional media culture and ethics. You can stay far away from the Internet. But if you take one step into the Internet, you must respect Internet culture and ethics, no matter whether you agree with them or not. This represents the progress of scientific technology and our times ...
[087] There Is No Bullying On The Internet (07/28/2007) (Erica Yuen via Apple Daily)
[in translation]

Recently, the case of Nike fans lambasting the Ming Pao editor was a hot topic on the Internet. As someone experienced in such matters, I obviously want to join the party.

The history of the case has already been entered into the Hong Kong Internet Encyclopedia: On July 17, 2007, Zhou Li wrote an essay titled "Just Do It" in Ming Pao's supplement section. She wrote sarcastically about the adult video uploader Nike and blamed the youth sex crimes on the proliferation of adult videos uploaded by people like Nike ... many forum discussants thought that it was unfair, unreasonable and irresponsible for Zhou Li to attribute most of the blame on Nike while completely ignoring the roles of the parents and the media. Furthermore she stereotyped all AV-watching netizens as Densha Otoko (
電車男) while saying, "every Asian Densha Otoko (電車男) has a nike link in his heart."

If Zhou Li wants to criticize something or censure someone in her Ming Pao column (which is her platform), she is free to do so. As to whether she was fair and reasonable in what she wrote, that is a later story. It the netizens read her essay, became upset and they went to their own platforms (namely, the discussion forums on the Internet) to curse her out, it is also their freedom. As to whether their language was harsh, that is a later story. All parties have their own platforms and viewpoints, and they go about their own business.

A few days later, Ming Pao's Internet page editor Mr. Tang Shiu-hang published an essay titled <The Invsible Fists> to inform us about a contemporary Internet term "cyber bullying." This refers to netizens "using a section of writing by the principal, a photograph or a video clip plus a bit of fabricated information" to insult or even libel the principal. Thus, the attacks by the netizens against Editor Zhou was a form of "bullying" while she is being presented as the little lamb being "bullied."

By the time that I read to this point, I had to start laughing.

The Media 1.0 era in which the newspaper writers own the say-so is over. Nowadays, as long as you have an Internet connection and a keyboard, you have the right and platform of expression with equal degree of influence. Why else would TIME magazine select "You" as the Person of the Year in 2006?

Does Mr. Tang believe that altering Editor Zhou's photograph and distributing it on the Internet is "bullying"? Suppose I take Chief Executive Donald Tsang photograph and add a moustache, and then this altered photograph is forwarded to friends and relatives as well as posted at the discussion forums. Am I "bullying" the Chief Executive? If so, am I not very powerful? Such juvenile activities can only be said to be idiotic and disrepectful, including being disrespectful to oneself.

Since the articulate Editor Zhou is so contemptuous of the Densha Otoko, then why does she mind the comments at her blog all of a sudden? Is she being concerned about what these people are saying? Editor Zhou shut down her blog for a day in order to escape the attacks. Her blog is her space and there is nothing wrong with her shutting it down. But can she shut down the innumerable discussion forums on the Interent? It is ineffective to cut off your toes in order to avoid the sand worms.

Since Editor Zhou is a writer and a media worker, it is hard to imagine why she could not be more tolerant: she could not calmly receive other people's opinions and feelings, she chose evasion over accepting responsibility in handling the matter and she offered no apologies for the lack of evidence and blanket statement in presenting her original case. I recommend that Editor Zhou should write anonymously in the future, because she can avoid many unncessary problems.

If you are going to stand up in public and condemn people and things, you better expect to be condemned and cursed in return. This should be simple enough. A professional commentator should treat criticisms as encouragement. If your essay can arouse the passion of others, it will make us want to understand their viewpoints and values and bring us to a deeper level of reflection and adjustment. That would be extra value. The near universality of the Internet allows the reactions to arrive quicker and more directly. All writers and commentators should count their blessings instead of complaining that this battle of saliva is "cyber bullying." If you face the fearful with no fear, then the fearfulness will disappear!

Relevant Link: Hong Kong Reporter Transgresses Against A God And Gets Lynched
[in translation]

... In the Internet world, there really are some very radical people who employ extreme language. When they encounter people whose opinions they disagree with, they will use critical or even abusive language to express their disagreement. I used to think that they were misusing the freedom and space on the Internet, but upon further reflection, I now feel that they are actually a group of socially weak people. Apart from the Internet, where could they express their voices and be heard from? The Internet provides an outlet for these people. On careful thought, this may be a good thing for society. The violence implied in their words are very unlikely to be turned into real action. But if there is no way for them to express their voices, it would not be a good thing for those sentiments to simmer and accumulate. Besides, when faced with these speeches, all you have to do it tap on your keyboard and it will immediately disappear. So it does not matter how loud they shout.

If we go back and examine the series of Internet violent incidents, including the case of Bronze Moustache, we can see that even as many netizens made loud condemnations, this is the Internet and we quickly saw a different version about the other aspects of the affairs. I still believe that debate can lead to the truth as long as information flows smoothly. The ability to get to the truth on the Internet cannot be matched by other media because the Internet is particularly effective at communicating information and viewpoints. Some of the Internet mobsters saw that the final facts did not match their original assumptions, and they began to reflect and contemplate. Therefore, debate is not a bad thing. The bad thing is during the course of the debate, the source of information was suddenly cut off and people lose their orientation in the confusion.

At my blog, whenever someone used abusive language or make personal attacks against others, someone else will stand up and remind people about the proper way to discuss issues. Due to this atmosphere of self-correction and self-regulation, I do not regard intense (or even abusive) language as a problem. I am more scared about another type of commentators. That is, they will determine the nature of your position, and then they will determine the nature of you as a person. This sort of definition is sufficient to make you worry about your future. It makes you feel that there is invisible eyes something watching your every move from some unknown place. They seem to be giving you advice and they use very steady language, but in truth you feel that they are really trying to intimidate you.

The yelling from the "angry young people" only show their vacuity and fragility, and they only invade the dignity or privacy of others. If we have sufficient tolerance, endurance plus patience, their comments will just be fleeting episodes that we merely laugh about. But the kinds of comments that I was talking about has a certain deterrent effect. They make you speculate just which interests are represented by these commentators. You cannot stop asking yourself that question, but you are afraid to say more because you don't know the consequences. When you encounter these kinds of comments, you will have truly encountered Internet violence.
[085] A Quiz On Internet Violence (07/28/2007) In the item above, blogger/media worker Rose Luqui discussed the generic version of Internet mobsters as compared to a more ominous version. You may not know what she means. I can symphasize with her experience, so I will draw these comments that were directed to me (note: the details have been modified to avoid even more controversy). So how would you classify these statements? (note: there are no right answers -- each reader will have his/her own response).
1. Your blog has really gone to SHIT with your latest post about the case of the dissident arrested by the Chinese secret police with the assistance of an American company. Why are you so interested in justifying corporate misdeeds? You are just so predictable in each and every case. Whenever a Chinese dissident gets arrested, I don't even have to come to your blog because I know what you are going to say already.

2. I have been monitoring the GLOBAL RECOMMENDED READINGS in your blog. It seems that you are paying a disproportionately high proportion of the links (especially since the rest of the blog is related to China) to Venezuela. Your selections are clearly uniformly pro-government and pro-Chavez there. I think I know why you are doing this, because there is no other reasonable explanation.

3. I have asked you before about who works on your blog and you replied that you are the only one. All the other public sources about you out there say the same thing. But given the amount of output this month, I do not think that it is physically possible for you to do it all by yourself. I have done the calculations, and it just does not work. There is something that you are hiding from people. But I have difficulty figuring out why do you need to do so. What are you hoping to gain?

4. I can understand why you place so much emphasis on certain incidents at the Taiwan parliament in which body contact took place. That's because we've got freedom and democracy in Taiwan and you've got none of that. You are jealous and therefore you want to denigrate our freedom and democracy. Unfortunately, that won't work because the truth is out there.

5. You are getting repetitious and boring. Every week, you bring up that you don't understand the 87,000 mass incidents in China being cited by somebody or the other. The fact that there are mass incidents in China upsets your wish for The Peaceful Rise of a Harmonious China. But this is also a fact that cannot be wished away by your obfuscation with technical details of the statistics.

6. Here is an important piece of advice for you -- you should be very careful about the choice of words among cult, sect and religion. I noticed that you seem to switch among them with nary of thought of the important distinctions. These are not just linguistic niceties, but they have serious political consequences. If I were you, I would be really careful about handling those terms.

7. Once again, you were making fun of the Civil Human Rights Front over the July 1st march numbers. Look, I was personally there and I saw a sea of people. There was no way that the number could be as low as the academics say. I would rather trust my 'own lying eyes' than the academics any day. If there is a real news story, it is why these academic teams collude to low-ball the number each and every year without anyone challenging them. But it takes intellectual curiosity, technical knowledge and moral courage to cover this story. That obviously removes you as a candidate.

8. I think I know what your gig is. Your biography says that you work for a company with assets in media and marketing research, advertising and public relations. That experience led you to create a website which is in fact a clever mixture of propaganda and entertainment. About 80% of your website content are sensationalistic social stories (about sex diaries, Internet mobs, eating dogs/cats, etc) that draw the majority of your audience, and the remaining 20% of the content are propaganda (masked as 'straight translations'). For example, you translate 'news' stories about the happy endings when some corrupt Chinese local officials are weeded out while ignoring the white elephant in the room (everybody knows that the real problem is the Chinese Communist Party). Do not think that nobody out there knows what you are up to. You may be clever, but not everybody is stupid. The only open issue is whether you are doing this on your own, or whether your company was paid to task you on this assignment.

9. You say that you don't derive a cent in income from your website and yet you spend so much time working on it. So who pays your bills? Does money fall from the sky? Someone has to be paying you under the table. The tax authorities should really look into your finances carefully.
[in translation]

According to the July 26 report in Southern Weekend, no one could imagine that a three-hour-long rainstorm could lead result in massive flooding in the center of Jinan city with at least 34 people dead. The basement of Jinan city's busiest Ginza Shopping Mall because clogged with water in 30 minutes. Although the officials claimed there were no casualties, various rumors have persisted.

How big was the disaster from the 3-hour-long rainstorm in Jinan on July 18? I live faraway from Jinan and I was not there to experience it personally. Even those locals who experienced the rainstorm personally do not have the right to speak either. Didn't the netizen "Red Diamond Empire" get arrested for raising questions about casualty figures? Therefore, I don't intend to sane anything more.

But I am reminded what Lung Ying-tai said. Someone asked her: If you were taken to an unfamiliar country, how do you determine if it is a developed country? She said: A rainstorm is sufficient to tell -- best yet, let is be a huge rainstorm that lasts three hours. If you walk around with an umbrella and you don't feel that your trouser legs are getting wet or the vehicular traffic being slowed down but continuing to move or the pavements are slippery but without flooding, then you are likely to be in a developed country. If you find that the water is covering up your feet, or the teapot from the shop is floating in the middle of the street, or the children are using pots to fish at the street intersections, then you are likely to be in a developing country. Developing countries may have money to build tall buildings, but they don't have the mental will and physical ability to build the storm drainage system; tall buildings are visible, but the storm drainage system is invisible. It takes a rainstorm to show the true face.

Professor Lung Ying-tai is known to have the courage to speak out. But when she said those words, the Jinan rainstorm has not yet occurred. Therefore, nobody can hold her responsible.

But no matter what, I feel that she had "foresight." The Jinan storm lasted exactly three hours. If we switched the "country" in Lung Ying-tai's words to "city," then it fits even better. Of course, there are just my random thoughts. I placed quotation marks around "prediction." Therefore, I am not manufacturing a rumor, and Lung Ying-tai will probably not come and give me trouble for saying so.
[083] Why I Link (07/26/2007) ESWN is divided into three sections: (1) recommended photos/videos/readings; (2) brief comments; (3) blog posts. I am going to talk about the first section in light of something that happened recently that people imply that I had something to do with. Why do I link to what I link? The fact is that I don't have a real job and I therefore have plenty of time to read all sorts of things on the Internet, from which I choose to post whatever interests me. This is personal and idiosyncratic, for sure. But that is me, and you don't have to come here if you don't like it.

But where do I get what I read? From my RSS feeds, blog roll, Technorati/Google Blogsearch/BlogPulse and email/Skype. All sorts of things come over those channels. My first criterion is about the length. If you are going to post two sentences about something or the other, I don't want to waste my readers' time because the content must be poor. How much can you possibly say with two sentences? My second criterion is about the substance of a long argument. If you are going to say something like, "Once again Blogger X was completely wrong and he/she has shown himself to be dim-witted about something-or-the-other," I will not link because it is detrimental to blogger culture. If you want to criticize someone, please do so on the substantive issues instead of scurrilous personal attacks. So in the end, you must either bring new and interesting information and/or present a cogent argument.

That was the explanation for the recent link that might have surprised people because it apparently went against what was presented here by myself here. But I had no problem with presenting an alternative viewpoint. I also did so without any personal comment to approve or condemn. It was just another viewpoint and I have consistently thought that it was important to present alternative visions. I would hate to live in a monolithic society in which there is only one view on any subject. Such a society would be boring, unexciting and ... dare I say? ... authoritarian. I am thinking about Hong Kong and I know that perhaps 20% of the popluation are 'virulently' "pro-China." Should the "pro-democratic" side simply completely denigrate their views, deny them speech rights and treat them as sub-human? Or should there be a recognition that we all live on the same land and next to each other, and we must reach accomodation (one way or the other)? The same argument obviously works the other way around.

In any case, I still do not understand whether my recent link had anything to do with what happened afterwards. If this comment appears incomprensible to you, I don't feel any need to explain any further. Those who know will know and those who don't know won't be enlightened. This is the Internet and the consequences are often unintended and unexpected. We are all learning from the experience as we inch along ... you know ... this is about "feeling for the stones as you cross a river bed" according to Deng Xiaoping.
[in translation]

At this year's Hong Kong Book Fair, the Television and Entertainment Licensing Authority issued advice for 17 books not to be sold. Most people know about <Myths of Love> for which TELA later withdrew their advice. But what about the other 16 books?

Sorry, you don't have the right to know! That was the response from the Television and Entertainment Licensing Authority and the Trade and Development Council.

I called the Television and Entertainment Licensing Authority first and the worker quickly transferred me to the Commerce and Economic Development Bureau's Information Office director Ms. Tam Sze-man. Ms. Tam spent several hours and then told me, "We cannot disclose any information about the 16 books."

I asked, "What is the reason why TELA cannot disclose the information?" Ms. Tam was unable to respond and said that she will find the appropriate colleague to respond. I waited for more than a day without receiving a reply. After repeated inquiries from me, she told me to speak to the TELA Executive Director Mr. Tong Fu-keung.

Mr. Tong Fu-keung was a very busy man. I left four voice mail messages. After one full day, I finally reached him. He explained that TELA was invited by the TDC to inspect the book fair. Any advice that TELA issued to TDC was strictly between themselves and not appropriate for public disclosure. Mr. Tong explained that that there are no rules or regulations against disclosure, but this has always been the principle and practice of TELA.

Since the matter of the advice against the 16 books was a matter between TELA and TDC, I decided to contact TDC. After half a day and two telephone calls, I finally located TDC's Information Office director Ms. Lam (who did not want to give her full name). She also said that she will not publish the full list. She said that TELA did not issue any paper document to TDC that provided the details of the books. After repeated probing, Ms. Lam suggested that I should contact Mr. Lawrence Yau, who is the spokesperson for the book fair.

Mr. Lawrence Yau seemed to have a better understanding of the affair. He said that TELA was asked to inspect, provide advice and then withdraw those advice for the benefit of the booksellers. The booksellers had signed contracts to exhibit only Class I (Neither Indecent Nor Obscene) books. If the books are sent to the Obscene Articles Tribunal and classified as Class II: Indecent or Class II: Obscene, the booksellers will face criminal charges. So the "pre-review" was good for the booksellers.

Thanks, Mr. Yau, for telling us that pre-censorship exists at the Hong Kong Book Fair. Superficially, it would seem that the Hong Kong SAR government does not pre-censor publications, but it can do so in practice. The "pre-review" at the Hong Kong Book Fair is one example.

At the same time, Mr. Yau declined to provide the information about the 16 books. He said that it would be unfair to the booksellers. I must be dense because I cannot understand the 'reason' how this could be unfair to the booksellers. He said that the advice from TELA to stop selling the books and the withdrawal of those books by the booksellers occurred before the book fair officially began -- therefore, the details will not be disclosed.

Recently, TELA has triggered many controversies over the classifications of many cases. It makes one wonder what scandals lie behind those 16 books. Even more worrisome is the fact that TELA is a government department and TDC is a statutory organization established by the government. These two organizations oversee the largest book fair in Hong Kong. For this important cultural activity, the process of the review (known as "advice" but actually "pre-censorship") of the books on sale basically occurs behind closed doors! The citizens do not even have the right to know, much less any basis to question the decisions!

Postcript: Cosmos Books has said that two of the 16 books are those by Mu Zimei (see Comment 200707#067). Those two books have been on sale at the Hong Kong Book Fair in past years without problems. Those two books can also be purchased in Hong Kong bookstores. But they cannot be sold at this year's Hong Kong Book Fair per TELA advice.
[081] The Jinan Rainstorm (07/25/2007) (Southern Metropolis Daily) Did it rain on July 18, 2007 in the city of Jinan? Most people did not think so, but it did. At 5:20pm that day, heavy rains came down. At 5:50pm, rain water began to flow into the parkling garage at the Ginza Shopping Plaza. The security guards began to evacuate customers and workers. The water level eventually reached 1.7 meters high. The question was: Did anyone die?

According to the official version, the water did not come in very quickly. After all, the Ginza Shopping Plaza was flat and covered tens of thousands of square feet. The water level was rising slowly, and there was enough time for the security guards to check all the shops and make sure that everybody was evacuated. When the water was pumped out eventually, there were no bodies found.

But the Internet refused to believe. Many Internet posts indicated that dozens or even a hundred people perished. One netizen claimed to have seen floating bodies in the water, but rescue workers said that those were mannequins in the store windows. This leads to the story of one particular netizen with the nickname "Red Diamond Empire." In real life, she is a 23-year-old female worker at a bridal shop. Just past 1pm on July 21, Red Diamond Empire began to join the discussion on the Jinan storm. By 1pm on July 22, she had posted more than 200 comments, although she never made an original post.

In the discussions, she belonged to the radicals insofar as people dying at the Ginza Shopping Plaza. She was certain that people had died, but the truth was being suppressed. Like many netizens, she relayed descriptions by other netizens and quoted what her friends told me. But she also acknowledged that she did not personally see any corpses. When netizens asked her for proof, she said that she was not obliged to provide any proof. She refused to accept any attempt to dispel the rumors and said, "I only trust what my friends tell me." Some netizens raised doubts about the Internet talk about deaths, and people posted to clear the rumors. Red Diamond Empire believed that these were just "shills" hired by the Ginza Shopping Plaza and she used strong language to attack those netizens, calling them "slave dogs." This raised the ire of other netizens who engaged in a running battle of words with her. One netizen cautioned Red Diamond Empire that she should refrain from discussing this subject because she could be arrested for spreading rumors: "You only have doubts and you will never know the truth. There is sufficient reason to arrest you!" Yesterday, the police placed Red Diamond Empire under public security custody.

The SMD reporter interviewed many citizens who were at the scene. Although they still believed that people died at the Ginza Shopping Plaza, nobody saw any floating corpses or bodies being taken out. One citizen claimed to have seen my stretchers covered with white cloth, but he did not know what was underneath. This citizen refused to describe the exact time and location of when/where he made the observation. A local Jinan reporter said: "Jinan is a big place, but I have not heard anyone whose friend or relative perished there. If someone really died there, the family would have come to the site to pay respects or protest. No one has shown up yet."

Tsinghua University Law School Professor Yu Lingyun said that spreading rumors to disrupt public order is different from spreading gossip. The latter is not illegal. The former involves more than spreading rumors, because it has to lead to consequences. There are specific guidelines as to what the consequences might be (e.g. public panic, public disorder, panic buying, people barricading themselves at home, etc). For an Internet post, it will depend on the number of readers and the extent of the influence. If a post is broadly re-published, then it proves that people are interested and that will be an indicator for the damage to society. It also depends on the circumstances under which the post was made; for example, if the post was made even after the government had come out to dispel the rumor, then this is worse.
[080] Prostates in Flames (07/24/2007) (Apple Daily) According to Guangzhou Daily, Zhongshan University (Guangzhou)'s Number Three Hospital Infertility and Sexology Department director Zhang Bin said that when the male reproductive organ is stimulated and mainstained in a state of excitement (which may result from addiction/obsession with pornographic websites), the prostate gland secretions will collect in the urinary tract. If the sperm cells are not expelled, bacteria will grow and result in inflammation of the prostate gland and/or testicles. Furthermore, he pointed out that excessive masturbation leads to too many dead sperm cells which will block the spermatic duct, leading to infertility.

Hong Kong urologist Wong Kwok-tien said that "this assertion has no medical basis whatsoever! It is sensationalism!" According to Wong, inflammation of the prostates had nothing to do with bacterial count. The main source of infection is unsafe sexual activity, and it had nothing whatsoever to do with browsing pornographic website or frequent masturbation. "Excessive masturbation will lead at most to muscle fatigue and soreness," said Wong.

[079] The Rape of the Peking University Female Student (07/24/2007) (Beijing News) On April 25, a netizen named "dcyer" posted the story about the governor of a Xiangxi Tujia/Miao tribal prefecture named Tu Chongyan raping a Peking University student named Shi Yao. The post contained scanned images of a long letter written by Shi Yao's hand. This post was propagated across various Internet forums.

On July 20, the print media began to cover the case and there were dramatic developments. First of all, the female student Shi Yao stated that the letter was written under coercion and that she and the governor will be vindicated by the law. On July 1st, "dcyer" posted love letters "from Shi Yao to a married boyfriend" together with some tape recorrdings, including the 10,000 yuan diamond ring as well as a watch that the governor gave Shi Yao as presents.

Yesterday, a man named Chen Xiliang was arrested by the police and he is presently being interrogated. Here is the gist of the story. Chen was the lover of Shi Yao, who wrote the love letter to him. Shi Yao put Chen in the dual role of father and lover, saying "I want to be your dearest friend in your life; I want to comfort you when you are said. I don't mind being your lover or the third party who can only meet with you at night and never go out in the sun. I would be satisfied." At some time, Chen attempted to extort money from Du, who rebuffed him. Chen then turned around to make Shi Yao write the long-hand letter to Du and then manufactured the story in the Internet post.

Is the preceding story true? Or just another step in the evolution of lies and more lies?
[078] The Most Beautiful Female Rural Teacher (07/24/2007) (Daqi) About six months ago, the name Wang Meixiang began to show up on the Internet. A netizen published a series of photographs about a rural village teacher. This 22-year-old teacher taught at a village deep in Taihang mountain. Since the schoolhouse was decrepit, she taught from her own home. She had 11 students when she first took over six years ago, but now there are only two left. She swore that she would continue to teach there even if she never marries. Her words and looks gained her the title: "The most beautiful female rural teacher in China."



Now an Internet promoter has come forth to say that the project was a ruse to collect donations. Since then, the two are in dispute over the disposition of the money. For example, Wang Xiangmei went to Yantai (Shandong) to collect 20,000 yuan in donations but told the promoter that it was just over 10,000 yuan. When the promoter confronted her with the report from Yantai, she said: Oh, it was about 18,000 yuan ... because they did not provide food and accomodations and so I had to spend more 20,000 on expenses." According to the promoter, the teacher said: The money was given to me, so why should I give any to students?

Netizen comments:
- "I hate crooks, especially those who use children to scam people; I hate promoters, especially those who focus on poverty to gain sympathy!"
- "Why did Meixiang do wrong? She is just an ordinary rural female but you want her to be a saint. What is wrong for an ordinary person to want to have money?"
- "The promoter wanted to become famous. When the other party would not cooperate. Therefore, the promoter comes out and exposes her."
- "Internet hyping had diminished public confidence even as truth, values and morals become totally distorted and twisted in this environment. So now the 'Most beautiful female rural teacher' bubble has bursted and another Internet promoter who wrote for the public interest turned out to be a slimy and shameless con artist! How will the rural schools and students get more help in the future?"

[077] The Worst Stepmother in History (07/24/2007) (The Sun; Daqi) On July 17, a post titled <The Most Inhumane Thing That I Have Ever Seen! Stepmother viciously assaults six-year-old stepdaughter>. The six-year-old known as Dingxiang Xiaohui lived in Poyang county, Shangrao city, Jiangxi province. At the hospital, she was found to be vomitting blood and she had multiple bruises all over her body (legs, thighs, chest, stomach and back).


That obviously put the stepmother Chen Caishi in the eye of the storm of Internet anger. She claimed to be completely innocent. The father and the neighbors also said that they have never seen her beat Xiaohui "although she likes to scold people." The stepmother said that she had seen those bruises when she bathed Xiaohui, who told her that they came from tripping and running into objects.


Meanwhile, another Internet post has popped up -- The family needed money to treat the hemophilia condition for the child and someone came up with the idea of an Internet hype. But it is boring just to say that there was a sick child. Therefore, the "6-year-old daughter being beaten by the wicked stepmother" was a "well-meaning lie." (Medical reference: USCF: "Another symptom of hemophilia is easy bruising. Children with hemophilia may have many bruises of different sizes all over their bodies. Other symptoms of bleeding may be a prolonged nosebleed or vomiting of blood.")

The Poyang county public security bureau said that they have made a thorough investigation (with a huge effort because all the leaders were aware of the Internet public opinion) and concluded that (1) Chen Caishi did not mistreat Dingxiang Xiaohui and (2) Dingxiang said that her injuries came from tripping over.
[in translation]

At 6:30pm on July 22, two Southern Metropolis Daily reporters and a Southern Daily reporter followed tips to proceed to a packaging factory in Dongguan to investigate a case of workers being assaulted over a labor dispute. At around 8pm, the reporters were interviewing the manager. At that time, a man wearing a white jacket entered in the company of four plainclothes persons. The man yelled: "Detain all these people! Do not let anyone leave!" Then he pounded his fist on the table. After the man said those words, the factory directors and the plainclothes men went up to stop him from saying anything more. They explained to him that the visitors are reporters. The reporters took out that mobile cameraphones to record, but one of the plainclothes men used his hand to block the camera eye.

The man then hollered: "So what if they are reporters. I'm not afraid. You better report what happened as is." Then he threw his lighter on the table. The reporters asked him who he was. "I'm the deputy party secretary here," said the man. The reporter asked him what deputy party secretary he was for. "None of your business! I'm not telling," said the man. "You can ask CCTV to come here!" But his speech was slurred and incoherent, and the reporters could not really understand what he was saying. At around 8:18pm, the man left the factory upon advice by the others.

After the "deputy part secretary" left, the three reporters left. At the entrance, a person told the reporters: "The leader drank a bit too much. I hope you won't mind. This is a trivial thing."

After leaving the factory, the reporters were concerned about their personal safety and went to the police station. When the reporters showed the video to the police officer, they were told that the middle-aged man was the deputy director of the city street administration in charge of industrial activities.

Now there is a way of turning this small story into a national storm -- just post the video at the video-sharing sites and let the viral effect take over!
[075] The Frosty-Faced Commissioner (07/23/2007) A minor issue in the TELA/OAT hoopla over the oil painting of classic nudes is the public response. As noted earlier, the press coverage has drew the attention of the senior Hong Kong SAR government officials with the long-term decision to study further and the short-term decision to get TELA Commissioner Maisie Cheng to hold a press conference.

With due respect, she was not the right person to be the public face. Here are her photographs at Apple Daily, Sing Tao and Oriental Daily respectively (L to R). These photographs just make it so easy for her critics to make their points about her statements being directly contradicted by the booksellers. So either she was lying herself, or the communication along the chain of command had broken down. For example, the Diuman Park blogger calls her "the frosty-faced commissioner
冷面處長." They better find another spokesperson, because this one is damaged goods.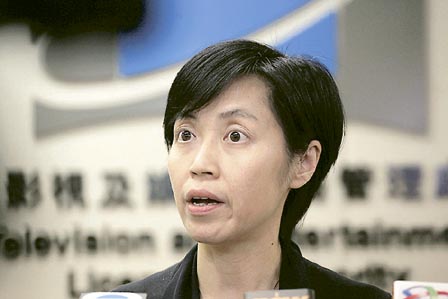 [074] But There Is No Censorship In Hong Kong! (07/23/2007) In spite of the recent hoopla over the actions by the Television and Entertainment Licensing Authority/Obscene Articles Tribunal, it is a fact that indecent/obscene materials are still widely and legally available. The opposition to the TELA/OAT actions are based upon the fact that they are hypocritical -- they are only interested in technical interpretations of the law for the purpose of prosecuting certain individuals in special circumstances, and they do not interfere with the broad distribution of the indecent/obscene material at all.

Case #1: In the case of Oiwan Lam, the TELA action began with a telephone call as recalled at A Conversation With A TELA Bureaucrat. The bureaucrat pointed out that the photography may be indecent even though the Obscene Articles Tribunal had not yet made a classification. The bureaucrat then proposed the establishment of a screener before that page with the photograph. For example, here is the screener before reaching the adult photograph section of the Uwants discussion board:

If you click on the left button "I am eighteen or older," you enter into the area without any further restrictions. Legally, this relieves the discussion board of further responsibility. In practice, the age of the user cannot be verified and this does not ensure that minors are not browsing the adults areas. But the bureaucracy is satisfied, even though everyone else thinks that this is hilarious. The fact is that in Hong Kong, anyone of any age can enter right into these adults areas and access millions and millions of indecent and/or obscene articles without interference. In that sense, there is no censorship.

Case #2: Rebecca MacKinnon wrote:
One final comment on this whole issue. People have asked me: "but if Oiwan gets away with posting a picture of a topless woman on Inmedia Hong Kong, doesn't that give all the Hong Kong tabloids carte blanche to publish topless girlie pix to increase their circulation?"

Frankly, I appreciate not being confronted with pictures of boobs at newsstands. I hope that if she wins her case, the result will not be boobs all over the local newspapers (unless that's seriously what everybody in Hong Kong wants), but rather will be part of a re-examination of how the Hong Kong people as a society can best determine and enforce community standards - in a way that makes sense and is considered fair by the community.

But there are pictures of boobs and more at the newsstands now, and they have been there for decades already. Here are some of the magazines that are available at just every regular newsstand in Hong Kong (note: the magazine covers are taken from Tenten Net). At the newsstands, the magazines are wrapped in plastic paper with the legal disclaimer warning: "This magazine contains material which may offend and may not be distributed, circulated, sold, hired, given, lent, shown, played or projected to a person under the age of 18 years or local legal age." The magazine covers do not show nipples or genitaliia and therefore they may even be classified as Class I: Neither Indecent Nor Obscene. However, the photographs inside are definitely Class III: Obscene. You can tell very simply by the titles -- for example, the first title is "Pretty Girls Urinating," the second title is "Ten Shaved Pussies," etc.

The Television and Entertainment Licensing Authority exists to ensure that the magazine covers do not show nipples and the magazines get wrapped in plastic with the warning message. TELA is not out to ban those publications, which have been around for decades already. Do the plastic wrapping and warning message work? Of course not. But the bureaucracy is satisfied, even though everyone else thinks that this is hilarious. In that sense, there is no censorship.
[073] Ma Ying-jeou Drove Female Reporter To Tears (07/23/2007) (ETToday, TVBS, ETToday)

On the second day of KMT presidential candidate Ma Ying-jeou's "Long Stay" in central Taiwan, the following conversation took place.

Female TV reporter: "I heard that your long stay was almost completely arranged by legislators. Someone said that you are kidnapped by the legislators. What do you say?"
Ma Ying-jeou: "You must be from SETV? No? Indeed, you are. Ha!"
Female Reporter: "Why do you say that?"
Ma Ying-jeou: "Because nobody else would ask such a question. It is very normal to work with the legislators. This is far too normal."

This conversation was enough to cause the TV reporter to start crying. She said: "I was only doing my job but he grabbed my microphone and said that only SETV would ask such a question."

Later in the day, Ma Ying-ejou explained that the "pro-green/pro-Hsieh" SETV had already asked the "kidnapped by legislators" question on the morning of the same day. At another stop at noon, SETV sent a different reporter to ask the same question and that is why Ma Ying-jeou made a sarcastic comment. He was making fun of SETV and not the female reporter. He apologized for making her cry.
In the case of Chu Pui-hing, he did three things wrong: first, he patronized a place with sex workers; secondly, he lost his composure when he encountered the photographers; thirdly, he later used the RTHK public relations apparatus to declare that the girl next to him that night was just the girlfriend of a friend of his.

... So far, the Hong Kong media and public seemed to have paid the most attention to the above two items. The absurd pose of Chu Pui-hing in the photographs drew the scorn of citizens. What happened between him and the woman was uncovered by the press in more and more detail and the general story is now known. But everybody glossed over the third thing that he did wrong.

Based upon the preceding discussion of political ethics, it is this third mistake that is far more serious. First of all, it was a lie because the "girlfriend of a friend" as characterized by Chu Pui-hing was actually a sex worker that he hired. When a political figure tells such a lie to the public, it obviously makes people wonder if he might also lie about matters of public interest. Next, even if we made the most tolerant attitude to say that the lie is unrelated to the public, it is still a very serious mistake because this lie was promulgated through a government department, namely the RTHK public relations apparatus.

In other words, Chu Pui-hing can consort with women or lose his composure, and it has nothing to do with his job position. But his manner of response genuinely violated the professional ethics of public servants. Since he used his job position and the government apparatus to tell a lie, he was abusing his power.

Technically, Leung Man-tao was wrong when he said that "everybody glossed over the third thing that he did wrong." There is at least one person who pinpointed that: Comment 200707#033:

... the RTHK communications/public relations apparatus was marshalled to mount a defense of the private affairs of its director. If private affairs are irrelevant to public service, then why is public service paid for by taxpayers' money being made to serve private interests? Worse yet, the defense was incompetent or even deceptive. This was doing a great deal of damage to the reputation of RTHK. To cut the losses, Chu opted for early retirement.

But on July 21, an essay by a RTHK worker appeared in Ming Pao (re-posted at InMediaHK):

Our director Mr. Chu Pui-hing drank too much and hid hurriedly behind a woman. It looked terrible. Afterwards, some colleagues could not believe the ruin of his gentleman's image; some rued that his disarray was due to his lack experience; others sighed that the director lost his job for going out at middle-age; others said directly, "Why was Mr. Chu was careless?" We kept talking and we even spent our meal time reading every newspaper report. But nobody at RTHK expected Mr. Chu would resign on account of his "private affairs."

On July 9, I received a SMS from a colleague that Mr. Chu will hold a press conference to announce his decision to retire early. This was the worst moment in RTHK history. The colleagues present said that it was even more rowdy than the transfer of Cheung Man-yee in 1999. RTHK has been bothered by the "Report on Review of Public Service Broadcasting" recently because the workers were hurt that the past accomplishments of RTHK were not affirmed positively. The departure of Mr. Chu is like rubbing salt into the wounds of RTHK people.

On the day after the Mr. Chu announced his departure, the Union held a meeting. On this stormy day, we met with the senior people . There were no new announcements made at the meeting, just the recount of the early retirement of Mr. Chu and how the senior people handled the affair.

That was it. Perhaps the senior people knew and acknowledged that they had done wrong as suggested by Leung Man-tao. But nobody at RTHK has come out to acknowledge it. If they still don't realize that this was a problem, then it is bad; if they know that this was a problem but will not acknowledge it publicly, then it is even worse. Either way, this is part of the corporate culture because it requires all the RTHK workers to join the process of staying mute.

Addendum: It is alleged that RTHK has a habit of being brutal in its sarcasm about certain political figures whereas others are "untouchable" "sacred cows." In the case of Chu Pui-hing, it is alleged that RTHK was "hands-off" and "neutral," which marks it as being very different from the rest of Hong Kong media from Apple Daily to South China Morning Post to Oriental Daily to Ta Kung Pao.
VISION

To be a broadcasting and entertainment regulatory agency that fully satisfies the needs and expectations of the community.

MISSION

We are committed to -

following closely standards for taste and decency accepted by the community and reflecting them in our decision making;
effectively monitoring broadcasting services and publications;
providing an efficient service for film censorship, entertainment centre and gaming activity licensing, and local newspaper registration;
facilitating the development of the film industry;
maintaining the relevance of our regulatory framework with regard to community needs, technological development and international practices; and
continuously enhancing our professionalism.

VALUES

Freedom of expression with social responsibility
Professionalism
Impartiality
Openness
Responsiveness
Quality Service

The problems with TELA are rooted in its mission: "following closely standards for taste and decency accepted by the community and reflecting them in our decision making." In any society, different people have different standards for taste and decency. This makes the it impossible to do anything without upsetting someone or the other. This so-called "community standards for taste and decency" cannot be objectively determined.

Even worse, the first item in "Values" is "freedom of expression with social responsibility" in which two different concepts are bundled together. It is easy to explain "freedom of expression" but "social responsibility" is not trivial. Every person has his/her own notions of social responsibility. For example, some people think that the single invocation of the term "Pok-kai" in the televised movie <Tales of Autumn> was enough to destroy our entire society, but others consider that hiliarious.

To solve the TELA problem fully, the government ought to reconsider the mission and value statements and return to the Constitution (Basic Law) as well as act according to the law (such as the case of the Statue of David years ago). Otherwise, there will be no end to the continual international loss of face for Hong Kong.

Meanwhile, were the TELA bureacrats wrongfully pilloried? Not entirely.

Doesn't the mission statement spoke of "maintaining the relevance of our regulatory framework with regard to ... technological development"? So why did they prosecute hyperlinking?
Don't the values include "impartiality"? Then why are they biased on behalf of the Truth and Light Society?

Could the Obscene Articles Tribunal have been infiltrated by agents?
[070] The Language in the New School Textbooks in Taiwan (07/22/2007) (United Daily Press, Apple Daily, The Sun; China Times) In Taiwan, the Ministry of Education has issued 380-page compendium of 5,000 inappropriate terms to book publishers for 'reference purposes.' Here are some examples:
中法戰爭 Sino-Franco war -> the war between the Qing dynasty and France
日本佔據台灣 Japan occupied Taiwan -> 日本管治台灣 Japan administered Taiwan
Calendar references during Japanese rule used to be in terms of Qing Dynasty or Republic of China calendar, but they will now have to changed to either Showa (Japan) or western calendar (for example, the 20th year of the Republic of China must now be either the 5th year of Showa (Japan) or 1932).

中外遊客 tourists from inside and outside China -> 國內外遊客 tourists from inside and outside the country
國畫 national painting -> 中國山水畫 Chinese landscape painting
京劇 Beijing opera -> 中國京劇 Chinese Beijing opera
國字 national writing character -> 中國文字 Chinese writing characters
國曆 national calendar -> 陽曆 solar calendar
歷史上 in history -> 中國歷史上 in Chinese history
古人 ancient people -> 中國古人 Chinese ancient people
古代 ancient times -> 中國古代 Chinese ancient times

Those like Ma Ying-jeou who were not born in Taiwan will be hereafter referred to as 新住民 "new residents" or 中國各省隨中華民國政府遷台人士 "those people from various Chinese provinces who moved to Taiwan along with the Republic of China government."

國父孫中山先生 nation's founder Mr. Sun Yat-sen -> 孫中山先生 Mr. Sun Yat-sen
台灣地區 Taiwan area-> 台灣 Taiwan
海峽兩岸 the sides of the strait -> 兩國 the two countries
我國 our country -> 中國 China; if for example the reference is to Chinese history, culture or language (e.g. 王羲之是我國著名的書法家 Wang Xizhi is a famous calligrapher of our country -> 王羲之是中國著名的書法家 Wang Xizhi is a famous calligrapher of China)
中國 China -> 我國 our country; if, for example, the reference is to Taiwan history, culture or language
鄭成功從荷蘭人手中收復台灣,所以後人尊其為民族英雄 Kuxinga recovered Taiwan from the Dutch and therefore people honored him as a national hero afterwards -> 收復recovered and 民族英雄 national hero are controversial value judgments.

Yesterday, Minister of Education Tu Cheng-sheng denied at the press conference that this was about de-Sinofication of the school textbooks. He said that the list was used only as 'reference' by the book publishers.

However, some book publishers said that while it would appear that they have some leeway, their books were eventually have to be approved by the Ministry of Education.

(Radio Taiwan International; June 23, 2007) At an exhibition of old elementary and secondary school textbooks, Lu Mu-lin (current Political Deputy Minister of Education) recalled what a book publisher friend told him: "He said that the textbooks often get sent back without explanation. They won't explained the cause. After a couple of time, someone shows up to tell him that he might want to make certain changes, and those parts are based upon political considerations."

So the book publishers are now saying that they will know soon enough when the next round of reviews come. If they refuse to make all the changes, will they be rejected?

Another question is if Ma Ying-jeou should become President in 2008, then will all the books be revised all over again?
[in translation]

Do you want to buy a cushy government job? Do you want someone to fix something for you? Do you want to win the bid for a government project? If so, please buy the work this painting by Wang Chun-siang, the cousin of First Lady Wu Su-chen.

Those who paid for the painting and the registration fee will get promoted, make money, acquire banks, obtain projects and get anything that they want!!

Please hurry up to buy a painting by Wang Chun-siang and then you will be on the fast track to get promoted and wealthy!!

This painting is valued at NT$320,000 but auction is starting off at the original purchase price of NT$320,000 (or NT$500,000 if you want it outright without going through the bidding).

Who is selling this painting? This is Ligi Lee who exposed the SOGO vouchers case of First Lady Wu Shu-chen. Back then when the two were still friendly and her company "Taiwan Red" held a grand opening in Taiwan, she got the First Lady to do the ribbon-cutting ceremony and she paid NT$320,000 to purchase the <Ten Nudes> painting of Wang Chun-siang.

Sorry, but it is unlikely that anyone who buys the painting from the Yahoo auction will get the First Lady to cut any ribbons ...
Yesterday morning, senior Hong Kong SAR officials met to discuss the storm over the book <Love Mythology> and they held different opinions about what to do. The eventual decision was to let Secretary for Commerce and Economic Development Frederick Ma Si-hang study the problem. The immediate order was for Television and Entertainment Licensing Authority commissioner Maisie Cheng Mei-sze appear in person to explain. It was also decided that in the future, no work of art will be listed as an indecent article.

Meanwhile, the Hong Kong blogs are forming a ring in which they are posting photographs of artisitic nudes. Here are some examples:
The last blog post by Diuman Park is funny because the painting of Cupid and Psyche was 'purified' with Photoshop. All the worse because it was deliberately done in a crude fashion.
[067] More Tales From Television and Entertainment Licensing Authority (07/21/2007) (Apple Daily)
Yesterday, Hong Kong Television and Entertainment Licensing Authority commissioner Maisie Cheng Mei-sze addressed the press for the first time over the incident of <Love Mythology>. She insisted that TELA had clarified on opening day that <Love Mythology> was carrying photographs of art that was not indecent material. As such, this clearly illustrates the standards of TELA with respect to works of art.

Maisie Cheng also pointed out that on the day before the opening, TELA was invited by the Trade and Development Council to offer advice at the exhibition. During the process, they had discussions with certain booksellers but they did not indicate anything was indecent. She emphasized: "You cannot say that anything was wrong with the handling procedure," because TELA does not demand that its workers should express their views about publications right there at the scene. The proper procedure is to take the suspected publications back to the office to study. She admitted that the frontline inspectors require more support and training, with a better reporting system so that they can obtain directions from their supervisors quicker and easier.

Yes, but you know proper journalism requires the other side of the story. Here is what some of the booksellers said.

Cosmos Books distribution manager Lee Fok-nan said that before the book fair opened, TELA workers told him that certain books might have "stepped over the boundary," mainly the books of mainland Chinese writer Mu Zimei. In order not to affect participation at the book fair, he removed the books. "Mu Zimei's books are relatively daring, but we have been selling these same books in past years. I don't know why it should be so sensitive this year." [Note: You can walk into any bookstore in Hong Kong (e.g. Joint Publishing, Popular Books, Cosmos Books, Commercial Press, etc) and Mu Zimei's books should be on sale without any warning or plastic wrapping.]

Crown Press marketing manager Chen Kin-yan said that the translation of Patrick Süskind's <Perfume> received the "attention" of TELA because the female in the oil painting on the front cover bared her nipples. "This was clearly a tasteful work of art." To avoid trouble, she pulled up the accompanying book wrapper from the bottom and covered up the female. "Once we covered up the nipples, TELA was quiet."

Yuan-liou (Hong Kong) Publications Limited manager Alexander Chan Kwok-wah was unhappy with the response by the TELA commissioner. He stated frankly that the TELA manager is dodging responsibility. He said that when the TELA workers came around that day, they said that they followed department rules to advise him to remove <Love Mythology> or else the book would be sent for classification. "Now the managers are shifting responsibility and blaming the frontline workers for making mistakes. But those people were only carrying out orders from above. If the TELA decision-makers do not reflect on what they are doing, these types of things will continue to occur!"
What was the issue about? It was something or the other about the budget for something or the other. But will this make the ABC/CBS/NBC national news broadcasts in the USA ... ?
[065] Hong Kong By The Numbers (07/20/2007) At just past 9pm last night, my home telephone rang. I picked it up and it was the Oriental Daily automated computer interviewer asking me about my opinions with respect to the Obscene Articles Tribunal. Yeah! This was my first time as a respondent to a media-sponsored telephone survey in Hong Kong after more than four years. I am just as representative as any other Hong Kong citizen. So I gladly pressed the buttons. Here are the results (see The Sun). I was with the majority on every question.


Q1. Do you think that there is a problem with the Television and Entertainment Licensing Authority classifying books with nude art as indecent?
55% (n=199): their standards are very problematic
22% (n=82): their standards are alright
23% (n=84): No opinion

Q2. The Television and Entertainment Licensing Authority does not prosecute libraries for having books with photographs of nude sculpture and paintings. By contrast, the book seller was advised at one point to withdraw their books. Do you think that the way in which the Television and Entertainment Licensing Authority assess indecent materials is problematic?
50% (n=182): Highly problematic (because this is practically double standards)
30% (n=108): Somewhat problematic because people find the standards to be ambiguous
15% (n=56): No problem, because these are two different things
5% (n=19): No opinion

Q3. Do you think the execution of the "Control of Obscene and Indecent Articles Ordinance" by the Television and Entertainment Licensing Authority is suitable for these times?
60% (n=218): It is behind the times
15% (n=56): There is no problem with the standards of the Television and Entertainment Licensing Authority
25% (n=91): No opinion
Members of Taiwan's unofficial diplomatic delegation in Venezuela will not have their visas renewed, the Web site of a Taiwanese newspaper reported Wednesday, and the Foreign Ministry said its officials there are facing "an unfriendly environment." Also on Wednesday, Taiwan's state-run oil company, CPC Corp., said Venezuela had asked it to relinquish its shares in two local oil fields.

The report on Taiwanese diplomats appeared in the electronic edition of the mass circulation China Times. The report, which was unattributed, said that Venezuela would not renew visas for Taiwanese diplomats in the country, forcing them to leave the country.

Foreign Ministry spokesman David Wang did not comment directly on the China Times story, but acknowledged that Venezuelan President Hugo Chavez was making it difficult for Taiwan to operate in the South American country. "As soon as Hugo Chavez came to power, Taiwan has been facing a new, unfriendly environment in Venezuela," he said.

(China Times via Wenxue City) Ah, no, that was not what was being said. The break was dated back to the inauguration of Nicaragua president Daniel Ortega in January 2007. At the time, Venezuelan president Hugo Chavez arrived late and hurried over to the venue. As he walked through, Taiwan president Chen Shui-bian rushed up to shake his hand.

According to reports, Chavez had no idea who this person was but he was polite to reciprocate. The international media (especially the Taiwan media) published this handshake as if this was a big deal and thereby caused mainland China to complain. Chavez was very displeased and all those resulting actions are now taking place. This photograph may be good for internal political consumption in Taiwan to show President Chen working hard on foreign diplomacy, but it was bad in terms of practical diplomatic relationsihp. It can be argued whether the handshake created the hostile environment now. During the ongoing problems about visa extension, the Venezuelan government refused to provide any formal documentation about their intent. When the China Times reporter went to inquire, the official response was: "What documentation? We don't even recognize this government!"

Of course, the standard response is to accuse Chavez of being a communist dictator who is bent on destroying freedom and democracy in Venezuela. That will make even fewer friends for Taiwan given the political climate in Latin America today.

Relevant Link: Chen Shui-bian, Laura Bush: Golden Handshake Letters from China
[063] How Much Money Does Oiwan Lam Need? (07/20/2007) Actually I don't know the answer to that question. But you can read The Humanaught about the fund-raising details.
For reference, I cite from Doreen Weisenhaus' book <Hong Kong Media Law: A Guide for Journalists and Media Professionals>. Chapter 11 is written by Yan Mei Ning on "Print and Online Regulation and Self-Regulation." Section 3.5.1 of that chapter contains the following:

Several media-related decisions by the Obscene Articles Tribunal in the 1990s have resulted in much confusion and criticism. The following three appeals lodged by the now defunct Eastern Express newspaper vividly illustrate the kind of unreasonable and unacceptable interference that the OAT could have on the daily operations of the media (Eastern Express Publisher Ltd v Obscene Articles Tribunal [1995] 5 HKPLR 247). In ruling on the appeals, a High Court judge sharply criticized the OAT saying, "These cases have, in my view, invovled a great deal of waste of time, money and valuable resources."

The first appeal concerned an OAT determination in 1995 that an advertisement in Eastern Express depicting Michelangelo's statue of David was indecent. The OAT maintained that it was not appropriate for the newspaper to publish a photograph of a statue of wholly naked male body with the penis fully exposed. In allowing the appeal by Eastern Express, the High Court judge noted that he had never, until then, heard any sensible person suggested that the statue of David was indecent. He considered the OAT conclusion as "totally incomprehensible" and one which could not have been reached reasonably given that the advertisement was published on an inside page of a serious English-language newspaper and was clearly intended to be read by normal, reasonable adults.

But that does not give a cost quotation. In the extensive listing of the press coverage on the TELA decision with respect to the Cupid/Psyche photograph on the book on mythology at the Hong Kong Book Fair (
影視處《賽姬接受丘比特的初吻》事件報導匯編 Memory-Melody-Mentality), the following monetary figure was quoted: Eastern Express paid HK$80,056 in legal fees in order to get the decision reversed all the way through the High Court in 1995. Given inflation, Oiwan Lam will be facing a legal bill that is several times that amount. Brother, can you spare a dime?
[062] Lung Ying-tai at Hong Kong Book Fair (07/19/2007) I was over at the first day of the Hong Kong Book Fair when Lung Ying-tai addressed a full house. The title of her talk was "Ten drawers in Hong Kong." What does that mean? She was given this title to talk about ten examples of Hong Kong life that have not been explored fully -- these are drawers that are unopened; or if opened, then the contents had not been adequately explored.

With due respect, I was irritated by the first part of the presentation. The first drawer was about an old street in Central District (Hong Kong) that was scheduled for demolition. The presentation used a series of photographs to illustrate the numerous personal histories (e.g. butchers, coffee shops, design boutiques) that would be annihilated as a result. The supposition was that the district would be removed and hence replaced by one of those malls in the manner of Pacific Place (in Admiralty) or Festival Walk (Kowloon Tong). She stated that Pacific Place and Festival Walk are exchangeable because they have the same kind of stores and therefore they are boring and have no personality.

I am irritated because I have actually had to study and analyze malls during my professional career. For a trained and experience professional, Pacific Place and Festival Walk are radically different. They may seem to have the same brand name stores, but you would be a fool to think that those businesses are run the same way. They are not. They would not last very long if they were. How so? You can start off with the demographics. Who goes to Pacific Place? Who goes to Festival Walk? There is a huge traffic of City University students who go through Festival Mall from the MTR/KCR stations to reach their school campus; no such comparable group exists at Pacific Place. Do you think that Festival Walk shops need to adapt to that client base? Or have you scanned around what exists in the neighborhood of Festival Walk? Basically, nothing. So the neighbors actually adored that mall, because they no longer had to travel far and wide to do basic shopping. If you polled them whether they preferred the former wasted space there, they would say no. As for Pacific Place, you have to ask why it is there when there are any number of malls in that area already. It is there because it is doing something different and irreplaceable in order to succeed. If you just stare at the store brands and reinforce your prior conclusions, then you are being very superficial. You just don't get it. To understand, you could start by spending a few days there and simply observing who comes and goes. It will be an edifying experience. That used to be part of my professional job, which consists of those kinds of observations as well as exit interviews about who the visitors are and what they actually do there.

More to the point is that I will not prioritize one set of experience over any other. In Lung Ying-tai's case, she is prioritizing the history and experience in the old district over the supermalls. I decline to choose one as superior and worthy of preservation, and the other as boring and worthless. This is not to say that the old district is not worth preserving in some form. It may be worthwhile, but the argument should not be prioritization of one set of history over some other. This was not the right case to make, at least for me.

But I totally agree with her response on the last question from the audience. The question is really about the relation of Hong Kong with respect to mainland China and Taiwan. Having returned to Hong Kong in 2003 and lived here for 2007, I sense that many Hong Kong people are essentially self-absorbed and their focus is turned inwards here. I may have been like that during the first year, but I quickly saw that everything here depends and will depend on what happens in mainland China and, to a much lesser degree, in Taiwan. That is why this Hong Kong-based blog may have more coverage about mainland China and Taiwan than Hong Kong itself. Most other Hong Kong blogs are focused on local issues such as universal suffrage, political scandals, local censorship by TELA/OAT, etc. Very few of them deal with mainland Chinese/Taiwan issues in detail.

One thing that I have observed is the tremendous influence of Hong Kong on mainland China. That is not obvious at all, but let me re-phrase a recent email: "Hi, I work from Hong Kong but I have regular business in Sichuan. I was there recently and I spoke to my colleague. By happenstance, I mentioned the name Coco and he immediately said, 'Oh, the director of RTHK.' Then he told me that Coco had plastic surgery on her face." Whether Hong Kong people realize it or not, their local news have a tremendous impact on mainland public opinion, including notions about the accountability of public servants. This is very much due to the impact of the Internet.

Conversely, it seems quite bizarre to me that the 'conventional opinion' in Hong Kong about the Beijing authorities is still stuck in 1989. They are still being spoken of as if they are clones of Li Peng who ordered the Tiananmen Square crackdown. And the problem isn't even about the Beijing authorities. Lung Ying-tai presented photographs of some 'rightists' in Hong Kong at the July 1st march with banners carrying the pictures of Sun Yat-sen and Chiang Kai-shek. She said, "I asked Hong Kong people about how the local rightists came about and what they are about, 95% of the people had no explanation. I asked Hong Kong people about how the local leftists came about and what they are about, 90% of the people had no explanation."

In Hong Kong, people talk about "One Country, Two Systems" and yet their focus is about getting their best deal in their one system. They pay scant attention to the other system, which has changed tremendously over the ten years since 1997. If the assertion is about convergence of the two systems in 50 years, then getting the best deal for yourself is not going to work. How about working also to make sure that the other system converge towards your ideal? You say that is impossible? You are going to have to tell the hundreds of Hong Kong-based NGO's that their work is worthless. With due respect, their work is vastly under-reported in Hong Kong media as compared to the gossip and scandals of Hong Kong politics. But that is another story ...
[061] Wen Jiabao's Umbrella (07/19/2007) (Wenxue City) What do Chinese netizens get into a frenzy over? Not what you normally think by reading English-language media. The following photograph somehow generated a frenzy. On July 13, Chinese Premier Wen Jiabao visited Fuyang city, Anhui province. The issue is with the umbrella tht he held in his "own hand." Compared to other less prominent party cadres who expected their underlings to hold their umbrellas, the contrast was striking. The worst contrast was an official speaking on the dais with a little girl wearing a red scarf holding the umbrella for him!

Netizen comment: "When the Premier holds his own umbrella to speak to the people, it is a minor 'detail' in reaching out to the grassroots. This action should not have invoked any attention. Of course, one should hold one's own umbrella. But the current atmosphere is that the cadre leaders want to look ostentatious, and this minor detail actually highlighted the charisma of the Premier ... holding an umbrella or fetching tea is something that a young child can do. But somehow the other officials are incapable of, unwilling and undetermined to do. This minor affair reflects how deeply the notion of 'hierarchial rank' is embedded in the minds of people. It is a minor matter about holding your own umbrella or not. But this minor matter is a mirror for reality. Premier Wen has set an example for the cadre leaders to learn."

ESWN blogger's comment: Sorry, this is just making sure that the cadre leaders learn the modern techniques of public relations. They will just hire image consultants and put on a good show. I'm sorry. The point is not about how you look (and you should never look bad), but about what you actually do.
[060] The Woefully Inadequate Penalties on Shanxi Slave Labor Case (07/19/2007) (New York Times) Beijing's Lack of Penalties in Labor Cases Stirs Outrage. By Howard French. July 17, 2007.
China's efforts to bring a quick end to an embarrassing labor scandal over slavelike conditions for hundreds of workers at brick kilns in Shanxi Province has provoked anger among victims and widespread criticism.

The provincial government said Monday that dozens of officials were being punished in the scandal, but that only six low-level figures in the Communist Party or the local government would be prosecuted. The punishments ranged from demotions and firings to expulsion from the party or administrative warnings.

"Other than the direct responsibility of the owners, the 'black brick kilns' incident happened mainly because of lax supervision and dereliction of duty of grass-roots party and government officials," Yang Senlin, a senior provincial Communist Party disciplinary official, told the Xinhua news agency.

Contradicting the accounts of many people who were freed from the kilns, including numerous children, Mr. Yang s

Chinese journalists say government propaganda officials have urged the news media to limit coverage of the scandal. But the announcements on Monday brought a torrent of strongly critical commentary on the Internet, with thousands of bloggers and participants in news discussion groups denouncing what were widely perceived as light punishments and questioning the failure to pursue criminal charges or corruption accusations in more cases.

Let me take the contrarian (and unpopular) position that this case could not have gone any futher up the hierarchy from the start. I argue from an economic perspective instead of the typical political one. I base my opinion on The History of the Illegal Brick Kiln in Hongdong. If you read that article carefully, the finances at Wang Bingbing's illegal brick kiln was that his projected sales could generate only about 100,000 yuan in profit minus the labor expenses and he still have to pay his subcontractor. Even if he paid the workers nothing, he was still not looking at a pile of money. So he had nothing to bribe the higher-level officials with. Maybe he could pay 1,000 yuan to the town policeman or 3,000 yuan to the town public security bureau director or the town labor department director to look the other way. But the county mayor or party secretary would require a lot more money than Wang Bingbing could afford. I am not saying that the county mayor or party secretary is not corrupt, but they must be smart enough not to take on huge risks for small money. That is why I believe from the start that the criminal case itself would be limited to the village/town level. The county/city/provincial government/party officials are guilty of dereliction of duty and some of them will probably be disciplined (i.e. missing their promotions), but they did not take bribes directly in this case -- not because they wouldn't, but because Wang Bingbing's brick kiln could not afford to do so. Shanxi governor Yu Youjun may be sacked eventually, but it will not be taking bribes from Wang Bingbing (see The Shanxi Officials In The Eye Of The Storm).
[058] Fantastic Tales of TELA (07/19/2007) (Ming Pao; The Sun) Hong Kong's Television and Entertainment Licensing Authority landed itself with a front-page story as it narrowly escaped another internationally ignonimous scandal.

The Hong Kong Book Fair opened yesterday, and the Television and Entertainment Licensing Authority patrolled the exhibit booths. A bookseller from Taiwan was selling a book on myths about love with the photograph of a naked couple. The TELA worker believed that the photograph had "stepped over the boundary" and advised the bookseller not to sell the book.



According to the bookseller, the book was published in 2005 and had been exhibited here for the past two years without any problems. But this year, TELA issued an "advice." The bookseller was here to do business and therefore did not protest. The only comment was that "this is very pathetic." The bookseller voluntarily removed this book. The organizers (i.e. the Trade and Development Council) did not force the bookseller to do anything on the grounds that there was no official classification as yet.

On the morning of the book fair opening, a woman filed a complaint against the book. In the afternoon, TELA notified the bookseller through the organizers that there was no problem with the book and it could be sold again.

Why the change of heart? Ming Pao believes that it was because the press got hold of the news and was making inquiries. ELA reversed the advice to avoid the publicity, but TELA denies that has anything to do with their decision. Meanwhile, the bookseller had withdrew the book and gave them away to the press reporters who were clamoring to see it.

What was the issue? The photograph on the book cover was based upon a famous painting. This would have been another international scandal matching the banning of the Michelangelo's Statue of David in 1995. This episode goes to show the quality of the TELA workers, who do not recognize publicly accepted major works of art.


(Encyclopedia Britannica) Cupid and Psyche, oil on canvas by François Gérard, 1798; in the Louvre, Paris.

By the way, TELA had issued advice to 17 books on pre-opening night. Only this book was reprieved. TELA declined to reveal the identities of the other books.

Related Link:
影視處《賽姬接受丘比特的初吻》事件報導匯編 Memory-Melody-Mentality
[057] Tang Xiao Gate (07/18/2007) (Daqi) For background, see Super Girl Gets Slapped In The Face: top 10 Super Girl finisher Tang Xiao had a physical confrontation with a armed military policeman at the Hunan TV Broadcasting office building. At first, Tang Xiao's story gained credence. But an alleged (and anonymous) colleague of the policeman made an Internet forum post that accused Tang Xiao of misappropriate behavior (such as kicking the policeman in the groin) and calling him a "doorwatching dog."

Tang Xiao's manager Huang Liang said that the management company Tianyu has been monitoring the development of the situation. They realized that the situation has worsened for Tang Xiao. Huang Liang said: "If you are the guard who assaulted Tang Xiao, you ought to stand up and face us. Do not hide in the shadows and shoot barbs!" He said that this whole affair was a malicioius attack to smear Tang Xiao and it has created a huge negative impact on the image of Tang Xiao. According to a recent Netease Entertainment survey, the majority of netizens believe in the other side's story.

Huang Liang said that there is no desire to reconstruct the details of that day. Their only recourse to file a police report. The Tianyu statement was: "We have no choice but to file a police report." He said that Tang Xiao has no idea what has happened yet because no one has informed her. "If she finds out, she'll have a breakdown."

Okay, so there is a public relations problem here. Should Tianya launch a public relations attempt to inflame fan emotions against the armed policemen who were supposed to guard the state television office? Can they fight the perception that these Super Girls are bitches who do not think that they abide by the rules and who can abuse the policemen at will? Is this fight worth fighting at all?
President Bush has signed an order that allows the U.S. government to block the assets of any person or group that threatens the stability of Iraq.

The order exempts the United States.

With due respect, the biggest source of instability in Iraq is the presence of U.S. military forces. Their presence unifies all segments of the Iraqi sectarian interests in the single and common goal of ousting the foreign infidel occupation army. Juan Cole wrote: "Either the VOA copy writer is a little clueless or this person has a wicked, dry sense of humor."
[055] A Farewell to Starbucks in the Forbidden City (07/18/2007) (Rui Chenggang) (Background: It was CCTV English-language program host Rui Chenggang whose blog post originally drew attention to the presence of Starbucks in the Forbidden City.)
I am glad that our Forbidden City has said farewell to Starbucks in July 2007, as well as some other not harmonious facilities. The Forbidden City administration's latest decision is smart and rational. Many administrative organizations for famous cultural heritage sites around the world are doing the same kind of thing.

The Forbidden City should have only one brand, and that is -- the Forbidden City. Other brands are not being excluded to obtain a monopoly. Rather, this is about protecting the integrity of the national brand of the Forbidden City with its heavy cultural significance.

Once upon a time, the airports in the large Chinese cities had only specially licensed high-price, low-quality small food/beverage outlets. The spoiled service workers worked their bad attitudes on the travelers who had no choice. In time, we were delighted to see the big domestic and international brands such as Starbucks enter the airports with their customary price and quality levels and they brought more competition and better quality. At the airports, malls and offices where service matters, we need and we welcome the Starbucks of the world.

I believe that in the post-Starbucks era, the Forbidden Palace will manage food/beverage services even better for the tourists. When the 2008 Beijing Olympics comes around, the Forbidden Palace will be splendid, clean and comfortable. With popular attention and support, the protection of the various cultural heritage sites around China will become better. The entry of Starbucks into the Forbidden Palace was a decision made many years ago. But the China back then is not today's China, and the Chinese people back then are not us today.

I believe that international brands including Starbucks will learn better how to respect the popular culture and tradition of a country. They will learn how to blend into that tradition, like the McDonald's in Kyoto learning to blend in with the old streets that surround it by voluntarily changing its logo color from bright red to purple-red.

We will still need the Starbucks, not just because of the coffee or because it is a relaxing place for leisure and meeting. In this wide world, we need the Starbucks to stimulate the Chinese service industry by bringing in the competitiveness and chasing away the outdated and inefficient.

From the day when that blog post first drew public attention to now, I have never refused to enter any Starbucks shop outside of the Forbidden Palace.

康帅博/康师傅
雪碧/雪霸
白猫/日猫
飘柔/漂柔
SK-II/SK-D
Eleven games from seven companies have begun testing their anti-addiction system as of July 16. In the current implementation, all under-age and/or unregistered users are covered under this system (but those adults who register under their real names are not included). For the first three hours of play, everything is normal. Between the third and fifth hour, the equipment gained will be halved. After the fifth hour, all equipment will be lost.

Here are some of the unintended consequences:

(1) The trade in identification numbers is booming. A user is required to submit an identification number. The public security bureau can determine whether an identification number is valid, but it has no way of deciding whether a submitted identification number corresponds to the person who made the submission.

(2) The anti-addiction system works within a particular game only. So someone can play a game of 4 hours 59 minute, log off and then start a different game. The anti-addiction system in the second game is unaware that this user has been playing for five hours already. Generally speaking, if people used to play one game most of the time, their time is now divided between two games most of the time. So this has been good for some of the smaller companies.

(3) With the restriction on playing time, some users are opting to pay for certain equipment instead of spending time to win them. By yesterday afternoon, the average price of equipment at Taobao has risen up by 30%. An Internet analyst aid: "It is completely predictable that when the anti-addiction system goes into action, the trade in virtual objects will be hotter than ever."
[052] Photograph Location Fee (07/17/2007) (The Standard) Two days ago, Apple Daily has a front page story of Dr. Kung Yan-sum (brother of the late Nina Wang) 'living underneath a road overpass.' Ordinarily, the term "living underneath a road overpass" refers to a homeless person. But since Nina Wang left HK$100 billion in her estate, it was therefore sensationalistic that her medical doctor brother should be "living in destitution." But actually, Kung was living in a house built underneath the road overpass. It is possible that this was an illegal construction.


(The Sun) Now that the public is interested in seeing more, the photographers are rushing over to the building across the street with the view. Whether it was for the money or peace of mind, the board of directors of that building across the street has just posed a notice to ask their shareholders about a new policy of charging HK$2,000 for access to the roof from which to take photographs.

[051] A Change Comes Over Hong Kong (07/16/2007) This is a foreign reporter's assertion that Chinese agents are operating in Hong Kong and using covert, guerrilla tactics of intimidation and disruption on journalists. Before you read my comments below, you should read Loretta Tofani's A Change Comes Over Hong Kong (backed up at World Security Institute). She wrote: "What happened ... has led me to see Hong Kong in a new way: as part of China's police state, where nearly everyone - whether in an official position or not - can be expected to participate in the Big Brother system of spying and repression."

==============================================

My comments follow. Actually, I don't have a lot of meaningful things to say.

Does the Chinese government apply pressure on foreign reporters. Tim Johnson documented four known cases in Pressure On The Foreign Media in which foreign reporters were summoned for reprimands by the Foreign Ministry. Case #1 was over an interview with Zeng Jinyan, a blogger and wife of AIDS activist Hu Jia; Case #2 was over a Sky News report on how animals were treated in zoos; Case #3 was over the reporting done by Tim Johnson and a German reporter on a trip to Tibet. The above reprimands occurred post facto, insead of being preventative measures. This is different from full-scale monitoring of all activities of all foreign reporters all the time, and preventing them from covering certain stories through intercession. Such cases has happened in the past, but it is usually done at a local level (for example, Media Coverage of the Taishi Village Affair). There is no evidence that this is occurring on a systematic basis at the national level.

Now the above is about mainland China. Loretta Tofani is writing about Hong Kong I have seen no evidence that the Hong Kong SAR government runs a "Big Brother system of spying and repression" there. But the assertion here is that "Hong Kong since 1997 has been populated with Beijing-loyal citizens from China. 'Apparatchiks,' Hong Kong Legislative Council member Martin Lee has called them." So these are the people in the spy network run by the mainland government independent of the Hong Kong SAR government.

Suppose you want to spy on foreign reporters in Hong Kong. Suppose one of the targets comes to Hong Kong to do a story and stays at a hotel. If the reporter stays in a five-star/six-star hotel (e.g. Peninsula, Four Seasons, Ritz Carlton), then the hotel management will not cooperate with surveillance activities as described (e.g. fixing air conditioner at 8:30 possibly for the purpose of installing a recorder) without proper government authorization. This is explicitly against local law, and these publicly listed companies will be ruined if it should ever be revealed that they cooperated with illegal surveillance. Worse yet, there is a contemporary Chinese saying that "Beware of fire, beware of thieves, beware of reporters." You don't want to make reporters angry, because they will write you up and the consequences will be much worse than a fire or theft.

The news story refers to two hotels. The first one is Comfort Hotel and the second one is Nathan House. I cannot find a Comfort Hotel, but there is a Comfort Lodge in the Yau Tsum Mong district with rooms as low as US$21 per night. But I am not sure if this is the right hotel. So what is the likelihood of Nathan House being a spy facility? I look up Nathan House (which is not Nathan Hotel). This is not a proper hotel. It is a 'tourist guesthouse' which is scattered over various floors in a residential buidling (e.g. seven rooms on one floor, five rooms on the next, etc) in the Yau Tsim Mong district. The average daily rate appears to be around HK$250. At that price, I am not shocked that "the hotel maid's laughter rang through the hotel" or that "someone turned on a Chinese music CD at full volume -- even though it was by then 12:40 a.m." If the Chinese apparatchiks were interested in building a spy network, this would not be a top priority location because they are not expecting top quality information from there.

There are also the telephone calls to the factories where the managers are at lunch ("But it's only 10:30"). Here I am reminded of Michael Moore trying to meet with General Motors chairman Roger Smith. What do you think factory managers do when reporters call up, especially if they have something to hide? Of course, they will all be figuratively "out to lunch."

Anyway, I am going to say that I don't know what to think here. For me, much will depend on the actual journalistic work of Loretta Tofani that will get reported eventually. It had better be earth-shaking to justify the espionage effort that is supposedly being expended here.


Q1. Are foreign forces using certain media and organizations to oppose China and create chaos in Hong Kong?
Yes: 45%
No: 32%
No opinion: 23%

Q2. Certain media and organizations claim that there is no freedom of expression in Hong Kong. What does that reflect?
Certain media and organizations are abusing the freedom of expression: 32%
The citizens don't understand what freedom of expression is: 23%
Foreign forces are opposing China and creating chaos in Hong Kong: 18%
The Hong Kong SAR government is importent: 18%
No opinion: 9%

Q3. Concerning those media and organizations which abuse freedom of expression, what is the solution?
The government must enhance supervision and control: 41%
Citizens must refrain from watching those programs and reading those publications: 27%
Those media must not be allowed to publish or broadcast: 10%
Those media must be allowed to continue to publish or broadcast: 10%
No opinion: 12%

Q4. Next Media demands freedom of expression, but its publications regularly publish indecent/obscene reports and oppose China at every turn. What does that represent?
They exaggerate their reports for the market: 46%
They use freedom of expression to peddle erotica: 21%
There is no problem with what they do: 13%
They are making account to foreign powers and they have ulterior political motives: 12%
No opinion: 8%

The above poll is in response to the Hong Kong Journalists Association's 2007 annual report: Shrinking Margins - Freedom of Expression in Hong Kong since 1977.

Now for the background: The Oriental News Group (including Oriental Daily and The Sun) has the largest daily newspaper circulation in Hong Kong. They have come out with a public opinion poll that is directly aimed at the Hong Kong Journalists Association, Next Media (including Apple Daily and Next Weekly) and RTHK. You will have to be careful about how to react to this. If you start making accusations that they are a Communist front, then you will have proven the original point about the shrinking margins about freedom of expression -- Oriental Daily/The Sun dared to express a different viewpoint, but they received ad hominem attacks that never address the substantive issues.

For example, do you really believe that 45% of Hong Kong adults believe that foreign forces are using certain media organizations to oppose China and create chaos in Hong Kong? Even if you believe that the 'true' number is not 45%, would you be bothered by 30%? 20%? 10%? Does the Hong Kong Journalists Association represent all Hong Kong journalists, including those at Oriental Daily/The Sun? Why does the association seem to be embroiled in a very public war against the largest newspaper in town?.
[049] Super Girl Gets Slapped In The Face (07/16/2007) (Netease via Xici Hutong)
On June 28, the Netease Entertainment reporter interviewed Tang Xiao, a Final 10 finisher the 2006 Super Girl contest. Tang Xiao was weeping as she gave this account: "I was rehearsing that afternoon at Hunan Broadcasting. Since I did not have lunch yet, I placed an order and I went to pick up the delivery at the T2 area. I took one step out and the guard told me that I could not re-enter again. Since rehearsal was going to start immediately, I kept walking in. But he grabbed my hair and clothing and threw me on the aground. There were many fans and media people present. One of our workers said, 'This is our performer.' I reflexively kicked him once. He slapped me hard in the face until I fell on the ground and then he kicked me hard. Then he pointed his finger at me and said: 'Don't think that you are famous ...' and so on."

Let me say that this was not a hype. I will not use something so awful for hyping. I can close my eyes now and see the nightmare in which he knocked me down on the ground in front of so many people. ... I thank all those who cared about me and offered help. There arere the fans who were there, the media who told the truth, the company leaders and workers and the leaders at Hunan Broadcasting. I know that you have done your best and I think you. I thank my sweet fans (note: her fans are nicknamed 'honeys') because you never doubted me.

I spoke to my fellow soldiers and sergeant and I learned the truth. The soldier who hit Tang Xiao was 20-year-old Hu. At the time, Tang Xiao wanted to enter the Hunan Broadcasting building and Xiao Hu asked her to show identification. She ignored him and kept walking. Hu blocked her path. She cursed him out as "Gatewatching dog! (看门狗) and hit him with her handbag. Hu stood his ground and told her that she cannot enter. During this process, there was some body contact as she tried to go past him. Then she kicked him in the groin. After which, he had to slap her twice.

Of course, when Tang Xiao faced the media and the netizens, she posed as a weakling. But while she is the weaker in physical strength, she is the stronger in terms of public opinion and administrative influence, for Xiao Hu is just an ordinary armed policeman. His division has decided to do nothing under Internet pressure for the sake of social harmony. He may also receive a demerit, which would finish his career at the armed police division.

Someone left word that I should pay attention to this affair. So I read all the news, commentaries and the principal's blog. Since I was not an eyewitness, I had to rely on the media reports. But there were contradictions within the media reports (e.g. the man went from a security guard to an armed police officer).

It is in the rules that armed police officers stand guard outside the provincial-level broadcasting offices. The Super Girl might not know; the entertainment reporters might not know; but how could the editors not know? This piece of information just slipped by and went right into the streets.

An armed police officer has every right to subdue someone who forces entry and act provocatively. This particular armed policeman seemed to be patient at first, but he committed one mistake -- he should not have retaliated unprofessionally with a slap because he could have subdued her with proper means. In my view, both parties were wrong. The female broke the rules while the male used the wrong method to carry out his duty.

As for the blog of the Super Girl, she seemed to have suffered some physical pain but she got condolences from the leaders and the support of her fans. She is whining about the outside criticisms. I don't get this. For this kind of behavior, she would have been locked up already in any "free" country in the world. Of course, in these "free" countries, you can sue the other party for using inappropriate methods but that is for later on. First of all, you must pay a price for breaking the law.
[048] Happy Blogiversary at The Wall Street Journal (07/15/2007) (Online WSJ) On the 10th anniversary of the birth of blogs, twelve commentators tell about the meaning of blogs. These commentators include novelist Tom Wolfe, politician Newt Gingrich, SEC chairman Christopher Cox, actress Mia Farrow, Firelakedog blogger Jane Hamsher, Craiglist CEO Jim Buckmaster, Gawker founding editor Elizabether Spiers and China Digital Times founder and editor Xiao Qiang.
Xiao Qiang.

Founder and editor of China Digital Times (an independent aggregator of China news); director, China Internet Project at the Graduate School of Journalism at the University of California, Berkeley
Favorite blogs: ZonaEuropa.com (global news with a focus on China); SmartMobs.com (author Howard Rheingold's tech thoughts); Blog.DoNews.com/keso (opinated takes on tech, from iPhone to Google)

Lian Yue started his blog in the spring of 2005. A free-lance columnist, Lian lives in Xiamen, one of China's most wealthy cities on the southeast coast. His liberal-style social commentary and humorous writing quickly won him thousands of readers.

Starting this March, Lian posted a series of articles warning the people in his hometown that a paraxylene (PX) chemical factory being built in his city could have a disastrous environmental impact. He called on residents to speak out against the construction. "Don't be afraid," Lian wrote on his blog on March 29. "Please just talk to your friends, family and colleagues about this event. They might still be in the dark."

Lian is one of 16 million (and growing) active bloggers in China. While most posts are personal, an increasing number of bloggers writing about public affairs have become opinion leaders in their local communities. Despite the government's "Great Firewall" to filter out "undesirable information," and the tens of thousands of personnel hired to police the Internet, the sheer number of bloggers writing about public affairs is having a transformative impact on Chinese politics.

Xiamen authorities have vigorously deleted anti-PX factory messages on any servers within their governing territory. However, word still got out to local residents via email, IM and SMS on mobile phones. One of Lian Yue's articles on this topic was published in a newspaper in a neighboring province and spread "like wildfire" throughout the blogosphere. By the end of May, SMS messages and cellphone photos of protesting slogans such as "Boycott PX, Protect Xiamen" were sent out to millions of Xiamen residents. On June 1 and 2, against the local authorities' warning, several thousand citizens spontaneously showed up "to walk" in front of the city government with anti-PX message boards. Participants reported the protest live with their cellphones, which directly transmitted photos and text to their blogs.

The government was forced to announce a "re-evaluation" of the factory construction.

In China, blogs enable millions of citizens to express their opinions with reduced political risk simply because of the sheer number of like-minded opinions online. Facing these independent voices, the old ideological machine starts to crumble. Within society, bloggers like Lian Yue are seen as more credible voices than propaganda officials. The Chinese blogosphere is a dynamically contested terrain. What will the long-term implications be? I think the writing is already on the Great Firewall.

Postscript: Earlier in the week, I was contacted by The Wall Street Journal and informed that I was named as someone's favorite blog. Therefore, they would like to have a webcam video clip of me saying something about blogging. That did not occur because ... I don't own a webcam!
[047] Nike Is Due To Be Prosecuted Next (07/15/2007) (Ming Pao) In Hong Kong, there must be hundreds of thousands of people who use the BitTorrent peer-to-peer technology to share movies. The first and only person to have been prosecuted successfully for intellectual copyright violations via the BitTorrent (BT) method was the man nicknamed "Master of Cunning" or "Tricky Heavenly King" (古惑天皇). Who will be next?

It would seem that the user with the nicknamed Nike should be rated as the next most likely candidate. Nike is such a prolific uploader of pornographic movies that he has earned the title of "Adult version of Master of Cunning" (鹹濕版古惑天皇). Since 2003, he has uploaded more than 4,600 pornographic movies using P2P technology at an average of 3.4 movies per day. Last week he uploaded 81 movies at a particular Hong Kong discussion forum. Yesterday, he uploaded 23 movies which take up more than 40GB (or the size of a typical home computer hard disk). By 10pm last evening, there were 39,551 pageviews. The reporter also noted that sevreal other discussion forums carried the same post, so that the total number of users is hard to estimate.

First, it is not against the law to post adult videos (unless children are the subjects). At those Hong Kong discussions forums, users will be asked whether they are adults before being allowed to enter. But it does not matter what the real age of the user is. A ten-year-old can click on the "Yes" button and be admitted. There is no way to verify the real age of the user. Some of the discussion forums have a club membership system, but the only registration information is an email address. This is a pro forma exercise that is pure sham.

Secondly, the case of the original "Master of Cunning" was pushed along by pressure from the movie industry because mainstream movies were being uploaded. Nike is sharing pornographic movies. There is no open market for pornographic movies in Hong Kong. Therefore, the Hong Kong Customs Department is not under pressure from the movie producers and distributors to take action.

Thirdly, and most interesting, there is a persistent rumor (see The Hong Kong Internet Encyclopedia) that Nike is in fact a front for the Hong Kong Customs Department. This is the only explanation why Nike could have access to so many pornographic movies and share them too. Why would the Customs Department do that? It is the best way to attack the CD pirates. This beats chasing them around them town. Since BT became popular, the price of a pornographic CD has dropped from HK$30 to 6 for HK$100.
[046] The World as India (07/14/2007) On a slow news day, I leave you with Susan Sontag's St. Jerome Lecture on Literary Translation from her book "At The Same Time: Essays & Speeches":
To translate means many things, among them: to circulate, to transport, to disseminate, to explain, to make (more) accessible. I'll start with the proposition -- the exaggeration, if you will -- that by literary translation we mean, we could mean, the translation of the small percentage of published books actually worth reading: that is to say, worth rereading. I shall argue that a proper consideration of the art of literary translation is essentially a claim for the value of literature itself.

Beyond the obvious need for the translator's facilitations in creating stock for literature as a small, prestigious import-export business, beyond the indispensable role that translation has in the construction of literature as a competitive sport, played both nationally and internationally (with rivalries, teams, and lucrative prizes) -- beyond the mercantile and the agonistic and the ludic incentives for doing translation lies an older, frankly evangelical incentive, more difficult to avow in these self-consciously impious times.

In what I call the evangelical incentive, the purpose of translation is to enlarge the readership of a book deemed to be important. It assumes that some books are discernibly better than other books, that literary merit exists in a pyramidal shape, and it is imperative for the works near the top to be widely translated and as frequently retranslated as is feasible. Clearly such a view of literature assumes that a rough consensus can be reached on which works are essential. It does not entail thinking the consensus -- or canon -- is fixed for all times and cannot be modified.

At the top of the pyramid are the books regarded as scripture: indispensable or essential exoteric knowledge that, by definition, invites translation. (Probably the most linguistically influential translations have been translations of the Bible: Saint Jerome, Luther, Tyndale, the Authorized Version.) Translation is then first of all making better known what deserves to be better known -- because it is improving, deepening, exalting; because it is an indispensable legacy from the past, because it is a contribution to knowledge, sacred or other. In a more secular, translation was also thought to bring a benefit to the translator: translation was a valuable cognitive -- and ethical -- workout.

Speaking for myself, I am not a translator of canonical literature. I am a translator of news reports, which are published in mainstream media or alternative Internet media. I can obviously take the above excerpt and re-frame under the my circumstances (e.g. "by news translation we mean, we could mean, the translation of the the small percentage of new stories actually worth reading ..."). However, there is significant difference. Canons of literature achieve their exalted status in decades or centuries through public consensus; news stories become hot in a matter of hours or days. Therefore, my project also my personal judgment about the importance of some news stories (and the unimportance of some other stories). I cannot cover everything and I am not infallible. I should not be the sole arbitrator. The general news translation project demands the existence of other translators of news stories with different opinions and values.
[045] F_U_C_K YOU CHINA (07/14/2007) (Xici Hutong) In the German city of Bremen, a shop named KULT was selling a white t-shirt with the label "F_U_C_K YOU CHINA: Manufactured in Europe, Produced and designed by Philipp Plein." The sleeve of the t-shirt has a figure of a caricature of a Chinese man.

When the Deutsche Welle reporter asked the company, its press spokesperson said that the company did not want to follow the trend of cheap clothing and accessories.

It goes without say that this t-shirt has riled the Chinese netizens.
1. When the company says that it does not want to follow the trend to produce cheap clothing and accessories, it means to say that Chinese products are sold around the world because they are cheap.
2. When the company says that it will guarantee the quality of the products and it will not make contrabands, it means to say that the Chinese are known around the world for making contrabands.
3. When the company says that it is only trying to consider the interests of the fashion and garment manufacturing industries and not to provoke the Chinese people, it means to say that Philipp Plein is defending the interests of the German fashion and garment manufacturing industries.

(Wenxue City) In the aftermath of the Internet storm, Philipp Plein has come up with an ingenuous response. It said that the netizens are misunderstanding what "F_U_C_K YOU CHINA" means. The correct and complete meaning is "The Fascinating & Urban Collection: Kiss YOU CHINA." What else are there underscores between the letters? Alright, but what about that caricature on the sleeve? How does that relate to a kiss?
[044] The Communist Propaganda War in Taiwan (07/13/2007) (China Times via Yahoo News)
On the occasion of the 20th anniversary of the ending of martial law in Taiwan, the Minister of National Defense Li Tien-yu (
李天羽) declared in this speech to military soldiers: "The Chinese Communists have intensified their united front work and used various means and methods to buy out certain media workers to become their fellow travelers. On one hand, these people help them to collect intelligence. On the other hand, these people act as their spokepersons to attack the government and other designated persons in order to achieve the goals of the united work front."

Yesterday, Li Tien-yu quickly clarified that this was a huge mistake. On Monday, he had reviewed the draft speech and asked to delete this inappropriate portion of the speech. When he did the rehearsal of the speech on that day, he did not bring up this part of the speech. Li Tien-yu emphasized that he treats the media as his critical friends and he regrets all the misunderstanding that has occurred.

As to why the military news agency carried this portion of the speech the next day, the Ministry of Defense spokesperson explained that the agency reporter could not attend the speech in person and therefore published the previously sent text of the speech. He admitted that this was an operational mistake.
Q. Out of social, economic and political problems, which are you most concerned about?
62%: social problems (compared to 53% in June 2006 and 42% in Sep 2005)
32%: economic problems (compared to 42% in June 2006 and 51% in Sep 2005)
4%: political problems (compared to 4% in June 2006 and 5% in Sep 2005)

Q. Are satisfied are you with ... ? (satisfied/dissatisfied)
Social conditions (54%/18%)
Economic conditions (57%/17%)
Political conditions (39%/24%)

Q. How are ... compared to three years ago? (better/worse)
Social conditions (60%/16%)
Economic conditions (81%/17%)
Political conditions (50%/14%)

Q. How will ... be three years from now? (better/worse)
Social conditions (44%/15%)
Economic conditions (50%/12%)
Political conditions (42%/14%)
It was reported recently: "The suspects Huang, Xiao and Cai recently manufactured rumors such as 'rape and killing of female students, organ thefts and torture' and have now been arrested by the police. They will be punished according to the <People's Republic of China Public Security Administrative Rules>. Further invesigation in the case is continuing."

I read the corresponding resports in detail and the conclusion should be clear: Huang, Xiao and Cai did not 'disseminate' 'unfounded, baseless rumors' on the Internet. The news report on the case was: "During interrogation, the criminal suspects Wu and Huang confessed that since March 19, they had been trailing single women in Xinyi city, using force to drag them onto the van, raping and robbing them. They committed a total of six such crimes ..." That is to say, the three netizens did not have the correct facts and they exaggerated the severity of the case. Their "alarming words" caused local people to get "worried." It is not a bad thing for people to become more alert. We have seen that the fact that certain serial crimes were unsolved and unreported and that made it easier for the perpetrators to continue their crime sprees. The crimes in this case were committed "between March 19 to May 31" but there were no more cases through July 3, when the suspects were apprehended. I even felt that the Internet forum posts made by the three netizens created enough Internet heat to force the criminals to stop their activities.

It is one thing not to reward these three netizens, but why give them a hard time? I don't know what their security penalties are. I hope that it would just be a 100 yuan fine or a warning, after which they promise not to make exaggerated claims in the future. If the penalty is administrative detention, then just let them eat and sleep well for a few days.

This case was previously mentioned in Comment 200706#078. It is useful to recall to just what those three netizens and others were posting:


The above message was received at 13:38:06 June 22, 2007: "81 students have gone missing in the education city area of our city!"

A sample post: "There have been a series of van kidnappings in Xinyi. Several medium-sized vans have been roaming the streets of Xinyi. When single females or pairs of females are spotted, they are quickly dragged into the vans and taken away. None of these females have returned." Another sample post: "Two bodies were found in the Jinjiang river of Xinyi. When they were retrieved, it was found that their hearts had been ripped out ... there is talk among people that someone is in the business of kidnapping solo pedestrians and then selling their body organs to people who need transplants."

These rumors are said to be common knowledge among the people of Xinyi. Night time business is said to be down (e.g. restaurants, taxis, etc). Students and their parents are said to be worried and take extra caution (e.g. boarding students must be accompanied by their parents if they want to go home).

So maybe one should not be too sympathetic towards these three netizens, at least not to the point of awarding them good citizen merit badges. However, the converse should be noted from the official status report:

In March or April this year, there was a case of a female student being kidnapped and raped by persons in a white van in the city of Xinyi (Guangdong province). There has been no such cases since concerning female students or even rapes and murders of women. That case is unsolved thus far.

Now we find out that the authorities actually knew that there were six cases of rape/robbery between March 19 and May 31 (although they can make the technically correct defense that only one of the six victims is a student).

Related Link: Web user arrests in southern China underscore growing official fear of the Internet David Bandurski, CMP
[041] The Good Fortune of Xin Yanhua (07/12/2007) (Yan Lieshan at Southern Metropolis Daily)

By comparison to the three Xinyi netizens, Xin Yanhua was fortunate. She was the netizen who composed the famous forum post <The bloody plea from 400 fathers: Who is going to save our children?> from the 400 Henan fathers whose children were missing and believed to have been kidnapped to work as slave laborers in the Shanxi illegal brick kilns. This forum post attracted the attention of state leaders Hu Jintao and Wen Jiabao, who issued directors to the Shanxi government officials to take action.

So why did this netizen not get into trouble? First of all, she was not denoucing specific named government officials. She was pointed out a problem, and wondered which government official was going solve it. Based upon past experience, there is significantly less risk to do so. Secondly, the Henan resident Xin Yanhua was talking about what was happening in Shanxi province. Therefore, she was not debasing the image of her locality. She had appealed to the Henan government to work with Shanxi to liberate the slave laborers and was told that it was not easy to obtain cross-province cooperation. By the same token, it would be not be easy for the Shanxi government to ask the Henan government to take action against her post.

If eventually people see enough of these examples, they will see that if complaints made at local Internet forums are suppressed, they will go outside (e.g. the national web portals, or the local sections of national BBS forums). You can call this social psychology, economics or physics.
[040] A Useless Public Opinion Poll of Sample Size One (07/12/2007) On this day, the Hong Kong SAR government releases its green paper on political reform with respect to the election of the Chief Executive and Legislative Council. I was sitting in a local Hong Kong restaurant across the cashier who had her first day off after eight working days. I decided to cross-examine her opinions. I had the restaurant copy of Apple Daily (with the horse racing page removed by management because it contains the erotic pages that upset certain customers). I showed the front page story on political reform to her, but she winced and shoved it aside. Nevertheless, I persisted with my questioning in spite of her obvious distaste.
Question: About the election of the Chief Executive, they seem to want candidates who are nominated by a small selected group. That means the process is restricted. Not everyone who wants to run for Chief Executive would be allowed to do so. Do you agree?
Answer: Of course, that seems right. I don't see why everyone and anyone can run for the Chief Executive. Why should "Long Hair" (note: Hong Kong Legislative Councilor Leung Kwok-hung) run? He is not a serious candidate.

Question: Then you really don't want just anyone to run for Chief Executive?
Answer: If you open the field, Bus Uncle
will be running for Chief Executive. The whole thing will become a farce.

Question: But still, would you like to be able to vote for the Chief Executive?
Answer: Sure, why not? But I am not sure if it will make a difference or change my life.

Question: Okay. Now about the Legislative Council election. What do you think?
Answer: I'm afraid that I have no idea who my Legislative Council representatives are and what they really do?

Question: Do you know which Legco election region you are in?
Answer: No.

Question: Since you live in Mongkok, you are in Kowloon West. Do you know who your Legco representatives are?
Answer: I'm sorry. I have no idea.

Question: Do you know James To Kun-sun? Lau Chin-shek? Frederick Fung Kin-kee? Jasper Tsang Yok-sing?
Answer: Not really. The names seem familiar because I might have seen them on the plastic water-proof posters on the sidewalks. But since I am not applying for public housing, I have no need to deal with any of these people.

Question: The Legislative Council regions are big. The District Council regions are a lot smaller. Do you know who your local District Council representative is?
Answer: Absolutely no idea whatsoever. Why would I know?

This is a survey of sample size one, and therefore the standard error is infinite. As such, it is quite useless as survey sampling. Still, I suggest this person is typical rather than exceptional. You can find them everywhere (not among your reporter friends, but among the service workers that you come across every day). By the way, the working hours of this particular cashier (10am-11pm, at least six days a week) is such that she will practically never be at home to be interviewed by the Hong Kong University Public Opinion Programme or any other survey organization.
The evening newspapers used big headlines to declare that the Executive Yuan stated in its report on the 20th anniversary of the ending of martial law that there had been more than 200,000 victims of the "White Terror."

Taiwan Government Information Office Minister Shieh Jhy-wey was asked today by a reporter in a press conference.

Q: The report from the Government Information Office does not cite any sources. Will people question the information?
A: First of all, this is not an academic report. This is a a report from an Executive Yuan committee.

Q: When this report was written, were the courts and law enforcement agencies consulted in order to verify the data?
A: It was based on the data from a certain book. I do not think that there is a lot of scholastic requirements here.

Q: You claim that the data came from the book <The Path of Human Rights> published by the Chen Wen-chen Foundation. But the wording of your report is identical to the Wikipedia entry. Who is copying whom?
A: Wikipedia took it from the same place.

Q: But Wikipedia provides references at the back. Meanwhile, there are no references in the special report.
A: If you were to ask questions in this way back then ...

Q: We are not questioning you.
A: ... I have not finished speaking yet. If you behave like this back then and you want to have answers for everything, then you will become one of these people (note: pointing to the book with his hand).
Q: I want to know about the Xiamen real name registration system. Is it okay for you to talk?
A: Alright. It does not matter.

Q: As a Xiamen citizen, what are your views?
A: This is the most ignorant and stupid action that lacked basic commonsense about contemporary civilization.

Q: Do you think a real name system if accomplishable?
A: Not possible.

Q: Why? That is, according to your personal analysis.
A: First, the likelihood of this draft law being passed is very low. It violates the spirit of the law. The legal scholars have views about that. Secondly, you cannot prevent the Xiamen citizens from speaking out on servers not registered in Xiamen. All they have to do is open a different web page. Thirdly, not unless the Xiamen government wants to declare full war against the entire IT industry in Xiamen and chase them all out.

Q: What about outside netizens speaking out at Xiamen websites?
A: Yes. That is theoretically hard to control too. Basically, this draft law from the Xiamen government is just looking for embarrassment.

Q: May I quote your name on this?
A: You may.

There are ample other examples already. At the grander scale, China has a filtering/censorship system on mainland websites. All this does is to drive those citizens who want information or to speak out otherwise to overseas servers. Some of those servers are blocked by the GFW, but if you want the information badly enough, you will find ways to get around that. At a similar scale, Hong Kong has recently seen some legal cases in which hyperlinks on local websites are prosecuted for indecency/obscenity. If this gets really bad, it will only drive those netizens to overseas servers. At a smaller scale, a forum may decide to clamp down on flame wars by demanding real name registration. All this does is drive those users who object to the policy to use other forums instead. The commonality in these situations is that when you cannot impose on people when they have alternatives. If you will try, you will only ruin your imposed choice.

P.S. I predict that if this draft law gets passed, it will only lead to an interesting phenomenon with unique Chinese characteristics -- an entire industry of people ready to sell 'real' ID numbers/names for the purpose of deceiving the 'real name registration.'

Related Link: Warcraft Will Save Xiamen Netizens Mutant Palm
[037] A-Qiu and his Student Mistress (07/11/2007) (Chongqing Evening News) Yesterday, an anonymous person with IP address "222.130.241.*" posted at an entertainment forum that CCTV host A-Qiu has a mistress who is a student named Tian Yun at the Communication University of China. The post claimed that A-Qiu and Tian met last October and therefore he kept sending her SMS's. Then A-Qiu said that his marital relationship was poor and he offered to pay Tian to become his mistress as well as get a job later at CCTV. It is asserted that A-Qiu picks Tian up every Friday to stay at an apartment and then take her back to school on Sunday evening." A-Qiu has promised to marry her in two years' time. A photograph of the two was attached.

When A-Qiu was contacted, he asked: "Who?" He said, "I could barely feed my family with my salary. How am I going to keep a mistress?" The reporter also contacted the Communication University of China and was told that there was no student by the name of Tian Yun. At the university student BBS, no one had heard of Tian Yun.

(Chongqing Morning News) According to a PhotoShop expert, this was a simple composite photograph. If you look at A-Qiu's shirt right above the hand of Tian Yun, it is slightly blurred. It was likely that the girl took the photograph in his room and then A-Qiu's figure was pasted onto it. All this was before A-Qiu received a fair amount of abuse at the Internet forums for being a dirty old man.
Satisfaction rate with Legislative Council members:
Satisfied: 28%
Dissatisfied: 23%

Satisfaction rate with Hong Kong Police Force:
Satisfied: 83%
Dissatisfied: 3%

Satisfaction rate with People's Liberation Army
Satisfied: 62%
Dissatisfied: 2%

Question: What is wrong with the Legislative Council? Answer: (Talk among yourselves)
[035] What Happened Over At RTHK (07/10/2007) Here are two documents pertaining to RTHK office politics.
(Sun Bin) Letter from former RHKT director Cheung Man-yee to the RTHK staff:

To RTHK colleagues:

In recent days, we have been shocked, pained and worried about Chu Pui-hing. We also worried about the reputation of RTHK, the impact on morale at RTHK and the loss of citizen supporty. But today, Chu Pui-hing made a decision with a wave of his hand in his usual gentlemanly manner, and he will not tussle any further,

We will not use empty words such as "the sea becomes wider and the sky becomes clearer by taking one step back." How does anyone not make mistakes? Chu Pui-hing said in beautiful English: "Alcohol is not very conducive to good behaviour." I smiled. I smiled with consolation. Ultimately, our director was presentable. He told the reporters: "Drink less." He carried a faint smile and and he was cool.

The next step is to look ahead. To repeat: Our duty is to produce good programs. With a pen, a microphone and a camera, and a heart and a mind, we do our duty and we will continue to receive support.

RTHK is a system, a belief and the symbol of "one county, two systems." We have participated and we will continue to participate. This is worthy of treasuring. We will not forget the contributions of Chu Pui-hing and we will meet again someday.

Good night, and good luck!

(Ming Pao)

Since Thursday when the incident occurred, Chu Pui-hing remained on leave but he used telephone calls and email to direct the response of RTHK to the outside. The senior RTHK management understood that this was the personal affair of the director and whatever his decisions were, "the entire team must work according to his thinking."

When the media uncovered that the female Coco was a "working girl," the question of staying at his job came into play. The senior RTHK management was aware of that.

On Monday, deputy director Fu Shiu-wei held a senior-level meeting at 10am in order to gauge how people felt about the future of their director. The question was posed directly: "Should the director resign?" Since Chu Pui-hing was not present, the opinion that he ought to resign was "relatively more prominent." Before the meeting ended, it was announced that another meeting would be held at 3pm with Chu Pui-hing in attendance.

By noon, people over at Government Headquarters received information: "The RTHK workers will apply pressure on Chu Pui-hing." At 1:30pm, Chu Pui-hing showed up and proceeded to meet with the six most senior managers in his office on the top floor of the building. Chu was told what the others were thinking.

At 3pm, Chu Pui-hing met with more than 20 senior and middle managers at RTHK as scheduled. According to an attendee, Chu Pui-hing was angry because the incident occurred during his personal time and had nothing to do with public business. Therefore, he needed only to explain to his wife. With this angry outburst, some of the managers thought that he wanted to hang on. So some "cowards" who said in the morning that the director ought to resign now flipped to say that he ought to hang on. When the meeting broke up, the attendees could not imagine that their director would resign in just over one hour later.

At 4pm, Chu Pui-hing met with the union representatives and never mentioned any decision on "early retirement." According to the union representative, Chu Pui-hing waited until moments before the 5:15pm press conference before calling to notify the union about his decision.

So why did Chu Pui-hing decide to withdraw? There are various analyses among the RTHK workers. Some senior manager believes that the smear information will continue to arrive. Therefore, if Chu Pui-hing stays, the developments will be deeply damaging to himself as well as RTHK. By leaving now, the scandal is stopped. Another senior manager believes that the most decision factor was his wife.
[034] EastWeek Interview with Coco (07/10/2007) RTHK director Chu Pui-hing bailed out one day before EastWeek magazine published this interview with the woman known as Coco. Her account is somewhat different from the simple version promulgated by the RTHK spokesperson Chan Man-kuen: "Chu Pui-hing attended a private function at which a group of people ate dinner and sang kara-ike. There were men and women present. Afterwards, the people left separately." The RTHK version is not a lie in the technical sense, but it is a whitewash. Why was RTHK promulgating this version? Here is Coco's account:
At around 7pm that evening, I received a call from mamasan Mimi. She called me to go to the Must Kara private club on the sixth floor of Elizabeth House in Causeway Bay to meet some clients. When I entered into the room, the two male clients already had one girl to each side. I gathered that they had been there since 5pm. Mr. Chu was very happy to see me. He stood up and got me to sit down next to him while ignoring the two girls whom he was with before.

The slightly intoxicated Chu Pui-hing embraced me and we began to chat in a mixture of Cantonese and putonghua. Chu's putonghua was quite ordinary but he repeatedly praised my beauty and kept his hands on my breasts. But Mr. Chu was not particularly dirty, because all the men looking for women are like that.

Chu Pui-hing only knew how to sing Cantonese songs. I remember that those MTV's were old-fashioned and so these must be old songs. His singing is so-so, except for the one song when he got really excited. Of all the songs that he sang, this was the one that didn't sound so dreadful. (note: Coco hummed a few notes from the song and the reporter believed that it was probably the Cantonese classic <The Sound of Bells from the Buddhist Temple>.)

Chu Pui-hing's drinking game play was even worse than his singing. He played <Bluff dice> and <15,20> with me and he lost more often than not. Each time that he lost, he took a big sip of whiskey. But when he won, he permitted me to take just a small sip. Then Chu and I teamed up against the other man and his female companion. Whenever they lost, he would always sip on my behalf.

At around 9pm, I wanted to heat things up as well earn some extra money. So I proposed to Chu that I will do exotic dancing for HK$3,000. Chu agreed without thinking. So I played a list of fast songs and I took off my blue dress to show an extremely sexy sailor's dress with an opening in the front down to my navel. I donned on her brunette wig and began dancing.

After a round of heated dancing, Chu asked mamasan Mimi for the price of taking me out. Although Chu was a regular customer at the club, this was the first time that he had ever taken a girl out. I had no idea who these two men were before this night (note: the other man was a renowned racehorse owner). But I found out that Chu was a high official and he looked honest, so I tried to maximize my returns. Usually, the standard price at Must Kara was HK$1,000 for sitting down and HK$2,500 for going out. But I asked for HK$6,000!

The total fee for sitting down, dancing and going out totaled to HK$10,000. But Chu did not seem to be bothered and handed over the money to Mimi. Then Chu and I left Must Kara through the special elevator to go to my apartment on Lockhart Road.

[Side comment by the reporter: Mr. Chu must be a novice. At Must Kara, celebrities always leave separately from the girls. They also choose their own rendezvous spots. If they go to the girl's place, they may be secretly videotaped. Furthermore, Chu kept saying that he did not want to stay overnight. In this business, you do not have to tell the girl that -- she won't stop you if you get up and leave afterwards.]

When Chu and I reached the ground floor, we were found by the entertainment reporters. I had no idea why they were photographing me. I was confused. I tried to act calm. I had no idea that Mr. Chu was hiding behind me. I only saw how ridiculous he looked from the newspaper photographs. He was holding the wig that I handed over to him.

Chu and I went into a bar and then a restaurant. After calming down, Chu called a friend of help. Chu looked distressed. When the friend came over, Chu's immediate words were a loud: "This is f*cking big trouble!" My Cantonese is not that good, so I did not immediately recognize that he was using an obscenity.

The next day, the reports were all over the newspapers. Chu asked Mimi to apologize to me. That is futile. All of Hong Kong know that I am a bar girl. With this notoriety, nobody will give me a job. I have not even received the HK$10,000.

Mr. Chu was a good man. I asked him to look after my wig and he did not give it up even though he was being pursued by the photographers. He was such a stupid pig! When he got inside the restaurant, he politely returned the wig to me.
[033] Double Standards In The Case of Chu Pui-hing (07/10/2007) (Simon World)
The city, like many others, has numerous hostess bars, nightclubs and the like. They are frequented by many. So what does it matter if the head of RTHK goes to a club and walks out with a woman? How is this relevant to his job? His organisation? The rule is that people in authority must be held to some higher standard, but why? Is RTHK any better or worse his activities after hours? If he hasn't done something illegal, what is the case for his leaving his post (other than that RTHK is at an all time low already and could only get worse after this)? In short, what has Mr Chu actually done wrong here?

Here is my take on why Chu Pui-hing had to fall on the sword. It began as a private matter. Chu might not have handled the situation well initially, but he could have set up a firewall between himself and RTHK. He only needed to say, "This is my private matter done on my personal time, and I don't have to tell you anything." That would be the end of it, regardless of how much 'dirt' the tabloids can come up with. Meanwhile, RTHK takes the official position that "this was Mr. Chu's private matter and RTHK has no comment."

But that was not how Chu did it. He did not address the press directly and he wanted to use RTHK to communicate to the press. On the next day, there was a debate among senior RTHK management about whether the public tools ought to serve the personal needs of its director. Chu claimed that he was not feeling well plus he was still on leave. Therefore, management agreed reluctantly to deploy its communications/public relations apparatus on behalf of Chu.

That was when things fell apart. Chu provided information to the RTHK spokesperson, who first said that Chu was attending a private function in which the female Coco and her male friend were present. However, the reporters had spotted Coco entering the Must Kara club and they canvassed the staff and other clients who reconstructed what happened that night. Coco was a 'working girl' and the club charges a fee when someone 'buys her time.' There was one other male client present, but it was not exactly her 'male friend.' Thus, the original statement was inoperable. Once caught in the first lie, the assumption was that something was being covered up. More details (which are not necessarily all accurate) emerged over time. For example, did another man pay HK$4,000 to Coco on behalf of Chu, or did Chu pay HK$5,000 to Coco out of his own pocket? This question actually pertains to the public interest because of the possibility of bribery/corruption. The RTHK spokesperson had no answer because they had to go back to Chu for more information each time.

After a while, the situation looked like one in which the RTHK communications/public relations apparatus was marshaled to mount a defense of the private affairs of its director. If private affairs are irrelevant to public service, then why is public service paid for by taxpayers' money being made to serve private interests? Worse yet, the defense was incompetent or even deceptive. This was doing a great deal of damage to the reputation of RTHK. To cut the losses, Chu opted for early retirement. He was lucky, because the EastWeek interview with Coco was published the next day.
[032] The Zhuhai Penis (07/10/2007) In Doumen district, Zhuhai city, Guangdong pronvince, the local political consultative conference member Jia Yongqing spent 20,000 yuan to built a 5 meter tall penis that weighs more than 5 tons. He advertised this as a Guinness world record. After Southern Metropolis Daily reported on the statue, the various portals such as Sina.com, Sohu.com, 163.com and QQ featured the story prominently. At 163.com, there were more than 2,000 comments which were also uniformly condemnatory. Most netizens called it "indecent" and "immoral." Jia Yongqing said: "I have received 50 to 60 telephone calls a day. Netizens were making long-distance calls to curse me out. A Tianjin netizen called out and heaped insults at me immediately. He said that I had nothing better to do. After he stopped, I asked him if he had anything else to say. He thought for a second and said, 'I have not finished yet. I am still angry.' I expected a controversy, but not this big."

Yesterday, Jia Yongqing had the statue moved inside a family planning shop away from the public space. "This is a victory for the netizens, but it is a step backwards for the sex culture in China. I hope that this will calm down the criticisms and controversy over the statue."
[031] RTHK Director Sees Flowing Water Under The Bridge (07/10/2007)
(The Standard) RTHK chief quits amid media frenzy. By Una So and Diana Lee. July 10, 2007.

Broadcasting chief Chu Pui-hing has decided to opt for early retirement in a bid to end the media glare which has surrounded him since his bizarre flight from cameramen last Thursday night. "It is now time to go," the director of broadcasting solemnly announced in his first public appearance since the incident, as cameras flashed and more than 70 reporters crowded round him to hear his latest words on the subject.

Chu said the publicity surrounding the incident was harming the morale of RTHK staff and the image of the organization. "For the benefit of the organization, I think the strife must end now without further entanglement. Originally, I planned to retire in 10 months. However, the time to say good-bye has come much earlier," Chu said.

(SCMP) RTHK boss to go over scandal. By Joshua But and Jimmy Cheung. July 10, 2007.

Mr Chu yesterday refused to reveal the nature of his relationship with the woman. He said that some reports had been inaccurate, but that "any detailed clarification would be of no value to RTHK or myself". He added: "It should be the good work of my colleagues, not my private life, that should be given the spotlight." Mr Chu said he had explained the matter to his wife and family, and had secured their support and trust.

Here is the "media frenzy":

And here are the front pages of the major newspapers:

With respect to what happened last Thursday, Chu Pui-hing said: "On my private time last Thursday night, I met with my friends. None of these friends have anything with RTHK and we did not talk about public business. Therefore, there does not exist any exchange of interests."

With respect to the press report that a friend paid HK$4,000 for his girl, Chu Pui-hing said: "There have been many reports about my private activities. Even though some of the details in these reports are inaccurate, it is useless for me and RTHK to clarify them point by point."

When asked "What is your relationship with that woman (Coco)?, Chu Pui-hing gave an embarrassed smile, paused and said: "Hmm ... I came here mainly to deal with my public business and I have announced my decision to you. As for the private matters, I only need to account to my wife."

As for any regrets about the street incident, he said: "Everyone needs to have some personal space. Any activity within this personal space that is not illegal and does not affect others should be okay. I do not believe that my private activities on that evening was wrong from any angle of public business. I believe that the matter will be over sooner or later. My matter is just flowing water under the bridge. Water will flow away eventually."

The final words were in English: "The only comment I would make is that alcohol is not conducive to good behaviour. So my advice is, Drink less."
In Potou district, Zhanjiang city, Guangdong province, the Nantiao street administrative office has been attempting to acquire land from the villagers at the price of 20,000 yuan per mu. The land is considered much more valuable than that on account of the newly opened Zhanjiang Bay Bridge. The village brigade leader named Lin represented the villagers to reject offer. In order to ensure that the project could not go ahead, Lin 'vanished' so that there was no one to sign any papers.

However, the Nantiao street administrative office arrested Lin's wife and sent a message that either Lin signs or else he and his wife would be fined 200,000 yuan for exceeding the family planning quota. Lin's wife ended up jumping out of the street administrative office building to her death.

Afterwards, several hundred villagers showed up and surrounded the street administrative office. Lin's mother-in-law fainted when she heard the news and was taken to the hospital. Lin appeared and sat down in the road to cry for two hours before passing out. The villagers were enraged. They attacked the office building, they vandalized everything inside, they locked up the workers and they posted guard over the body of Lin's wife.

At around 10pm, about 300 Zhanjiang riot police showed up and used tear gas to disperse the crowd. Villagers threw bricks in retaliation. The armed police then chased the crowd and beat them with batons. Dozens were were injured, including spectators who were children and senior citizens. The clashes continued until 3am when the armed police snatched the body of Lin's wife.
July 5: Hong Kong RTHK director Chu Pui-hing was spotted walking down the street of Causeway Bay with one arm around the arm of a woman and another arm holding a wig. When Chu saw the reporters, he ducked behind the skirt of the woman, fled into a bar and hid in the restroom partition. Then he fled into another restaurant, walked through the kitchen and exited through the backdoor.

The next day, this was headline news in the Hong Kong newspapers.

Through the RTHK spokesperson, Chu stated that the woman was a friend and they had met together with a male friend of the woman.

July 6: Since Chu was officially on leave, he asked the RTHK spokesperson to say that Chu was attending a private function (dinner/karaoke) with a large group of people (including both men and women). But as he stepped out into the street, he was spotted by reporters covering another event. Due to the chaos and the fact that he had too much to drink, he "reacted inappropriately" and "out of character." Mrs. Chu claimed that her husband does not know that woman.

(Sing Tao) At a meeting of senior management at RTHK, there was a big debate about whether RTHK should act as spokesperson for Chu Pui-hing on this affair. The opposide believed that this was a private batter, but if RTHK spoke on his behalf and he was later shown to be morally defective, RTHK will be dragged into mess. On that day, Chu Pui-hing indicated that he did not feel well and wanted to take time off. So the RTHK decided reluctantly to speak to the public on his behalf.

July 7: The press disclosed that the woman Coco came from Chongqing (Sichuan). Two years ago, she was a night club dancer in Sydney's Men's Gallery. Less than a year ago, she came to Hong Kong and she is working at the Must Kara club. She does not have right of abode in Hong Kong and she would be violating the terms of her stay if she were working. In turn, Must Kara club may also be violating the law by hiring illegal workers and even profiteering from prostitution activities.

A newspaper report said that Chu Pui-hing and friends were drinking and having fun at Must Kara. Each man had a female companion on his side. Then Coco came into the room and danced on the table. She received HK$3,000. Afterwards, Coco did not leave but chatted up Chu Pui-hing instead. In less than 10 minutes, Chu got up and left the girl beside him to go out with Coco. "Another person paid HK$4,000 and then Chu left with Coco." The Independent Commission Against Corruption has stepped in to investigate whether there is any bribery of a public service employee.

July 9: Through the RTHK spokesperson, Chu categorically denied that anyone paid any money on his behalf. But he declined to indicate whether he had paid Coco out of his own pocket on the grounds of privacy. One newspaper found eyewitness(es) that said that Chu paid Coco HK$5,000 himself. Since the price was more than generous, the news spread quickly around the club. This was not the first time that Chu picked Coco to go out. Another newspaper reports that Coco has been paid to leave Hong Kong and not talk to anyone.

(Ming Pao) On this afternoon, Chu Pui-hing said that he has informed the government of his desire to retire earlier than scheduled. He also apologized for the inconvenience caused by the affair.

Next up ... will Next Weekly make Coco an offer? Actually, EastWeek got there first on July 10th.
On May 28, former Ganyu county (Jiangsu province) electricity supply bureau deputy director Liang Jiping was taken away by the Ganyu county procuratorate. On June 1, Liang was pronounced dead. On June 4, Liang's family was informed that the Jiangsu provincial public security bureau was conducting an autopsy. On July 8, 2007, at a conference room of the Ganyu hotel, the deputy secretary Wang of the Ganyu county political law committee announced the autopsy findings: repeated application of blunt force caused large areas of soft tissue injuries that led to shock.

Liang's wife said: "The leader from the Lianyungang city procuratorate apologized to us with a bow. I cannot remember what he said because I kept crying ... I asked him, When the procuratorate breaks the law and kills someone during the process of law enforcement, will they have to pay with their lives?" Nobody from the Ganyu procuratorate was present. The case has been referred to an outside jurisdiction (namely, the Nanjing procuratorate) for investigation/prosecution.

There is a computer in the Liang home. Previous to this, Liang's wife does not know how to operate a computer at all. She got a relative to teach her how to use the computer. On June 20, she began the "Pearly Tears
珍珠眼泪" blog. In her blog, she writes letters to her late husband about the progress of the case. She did so because she cannot eliminate her personal pain "and I want to talk to my husband."
[027] More Action At The Hong Kong Television and Entertainment Licensing Authority (07/09/2007) (
蔚藍的天空 Brilliant Blue Sky blog: 只許州官畫陽具 不許百姓露兩點, also in Apple Daily)
... This writer found some computer animations on a government website and lodged a complaint with the Television and Entertainment Licensing Authority to demand their removal. Perhaps TELA did not want to embarrass the government or because they were sexually impotent and therefore unaroused by the animations, they informed me recently: "We have investigated and according to the standards of the Obscene Articles Tribunal, we believe that the animations that you complained against are neither obscene nor indecent."

But based upon previous decisions by the Obscene Articles Tribunal and the Television and Entertainment Licensing Authority, this response was unsatisfactory to me.

... The two animations were the e-greeting cards from the Hong Kong Family Planning Association (see Card 1 and Card 2). In one of the Christmas cards, an erect Penis pointing upwards went hopping and bouncing into Vagina's house ... in the animation, Penis even kissed Vagina. The reasons why I thought that these two animations were 'indecent material' are based upon the standards of the Television and Entertainment Licensing Authority/Obscene Articles Tribunal. First, in the case of the Statue of David, the penis was just a small part and it had be covered up because of indecency. In the animation, Penis was the main character and occupied much of the visual space. It was also a highly realistic 3D animation. So how can it not be indecent? Secondly, a vertical Penis is like an erect penis. If the drooping penis of the Statue of David was indecent, then why should a bouncing erect Penis not be indecent? Thirdly, the erect Penis went bouncing and hopping to the home of Vagina, where they encountered a problem of "being unable to enter." Why does that mean? If this animation were to be shown in an elementary school classroom, it would surely draw lots of laughter from the imaginative young students.

From any angle, the two Family Planning Association animations went further than either the Statue of David or the Chinese University Student Press, or even the masked nipples of the female British soldier in the February 27, 2007 issue of Wen Wei Po. Based upon the previous standards of the Television and Entertainment Authority and the Obscene Articles Tribunal, these two animations are not just indecent, but obscene. But since the logo of the Family Planning Association is present, they used a different set of standards. The Television and Entertainment Licensing Authority did not even need to refer the greeting cards to the Obscene Articles Tribunal for classification. Instead, they just replied to me that there was no problem based upon some vague "standards of the Obscene Articles Tribunal." Does this mean that Hong Kong has become a sexless international city in which "government officials are allowed to draw penises, but citizens cannot show nipples"?
After the scandal of child labor at the Shanxi illegal brick kilns was exposed, it became the focus of the Chinese people as well as world media. I paid special attention to the angry condemnations of the kiln owners and local officials even as most many people expressed "firm support" of the central government and the top leaders. A Southern Weekend commentator wrote: "This was a subversion of the legal system of the nation." He used the term "rebellion" to describe the slave child labor case. He wrote: "Due to the strong intercession by the central government, the state apparatus carried out their duties. The liberation and the investigation began. Since this was a rebellion, the pacification required the state to use force to destroy all the illegal kilns! All the foremen, shareholders and owners of the illegal kilns must be suppressed!"

Similar comments appear on the Chinese Internet. Some scholars believe that these scandals arose because local governments were too powerful and they were able to deceive the central government. They pointed out that the central government is good and the local governments ae bad. The central government was only temporarily blinded. Once they wake up, they will turn things around and avenge the people.

This is the traditional Chinese thinking that "they only oppose corrupt officials but never the Emperor." With kind of this thinking, people even recommended the concentration of more power at the central government. If the central government is stronger, their policies will carry through and justice will be served.

I disagree with this kind of inverted thinking and I disagree with these wary and watchful critical strategies. In my view, the central government was not the liberator of the Shanxi slave child laborers and the victims and their families do not need to be grateful towards the CCP and Wen Jiabao. On the contrary, the one-party dictatorship and the centralization of power are the source of the human rights fiasco in China. The illegal brick kiln scandal was not a rebellion. It was tacitly approved or even encouraged by the central government. The central government and the local officials divided up the political spoils. The system of spies and internal reference reports is the most efficient intelligence-collecting system in the world and so there was no way that Hu Jintao and Wen Jiabao could have been hoodwinked by local officials.

We cannot depend on the central government to supervise and punish the local governments because they share the same interests. Their interests stand opposite to those of the people. Those people who hope to use the power of the state apparatus to "suppress" the foremen, shareholders and owners of the illegal brick kilns are passionate but irrational. It shows how certain Chinese intellectuals are weak in their understanding of the rule of law. The state apparatus of the Chinese Communists only knows how to drive tanks and armed solders to suppress patriotic democratic proponents, and they will not smash the thousands of illegal brick kilns and illegal coal mines. These foremen, shareholders and owners of illegal brick kilns ought to be punished by the law as opposed to the "suppression" by the state apparatus. When public intellectuals make social criticisms, they must avoid using "party language" derived from the pollution of "party culture."

While it is important to support the victims, it is more important to prescribe the right antidote. To protect the basic human rights of the Chinese citizens, we cannot concentrate more power in the central government. We cannot count on the top rulers to find their conscience, and we cannot believe in the tears of Wen Jiabao. We must implement the process of political democratization, realize freedom of press and terminate one-party rule.

(Xiao Shu's blog)

The Internet commentary on the Shanxi illegal brick kilns formed a huge pressure force that impelled the progress towards the solution of the problem.

But I despise a certain kind of commentary. These are commentaries from certain celebrities who provide a few politically correct but totally vacuous slogans without offering any substance or help. I don't think that they are really interested in helping the kiln slaves. They only want to put on a show. They seemed progressive, but they never given up any opportunity to insult others while winning political points for themselves.

I am talking about the post above. This celebrity always wants to go as far as possible and talk as tough as possible, but there is never any effect. He offers no actual help for solving the problem. He doesn't care because he only wants to gain more fame.

Of course he is entitled to do that, but there is nothing admirable about that. He has a protective umbrella on the other side of the Pacific Ocean, but that is just a dependency. To chant a few slogans under the protection of the umbrella provided by outside sources does not represent courage. A person like Guo Feixiong who practices what he says is a true hero. So how come this particular person wants to boycott Guo Feixiong?

This person accuses people for any flimsy excuse, just like the CCP but with a different language system. Instead of a Red Guard, he is a White Guard. He claims that only he is the true revolutionary, but he has never asked whether he is qualified. He has not assumed power yet and he already behaves like this. If he ever assumes power, he would be running the great cleansings, the great reversals and the great trials. Fortunately, history will never give him a chance.

Everybody knows the truth and he has no moral superiority. But he insists on judging everybody else with a solemn and sanctimonious attitude. He has no idea that the more solemn and sanctimonious that he sounds, the more hilarious and ridiculous he is.

This is very entertaining.

Related Link: The Aftermath of the White House Meeting May 23, 2006.
[025] More Useless Statistics From China (07/08/2007)
(China Daily) Some 19,000 Chinese students died from unnatural causes in 2006, a survey has said. Released on Wednesday at the inaugural Campus Safety and Risk Management Forum, the report was produced by the China Insurance Regulatory Commission (CIRC), which also sponsored the event. It said the death toll comprised some 16,000 primary and secondary school students and about 3,000 college kids.

(Southern Daily) In the recently released <Investigative report on children deaths from drowning, 2000-2005, about 30,000 children age 0-14 die on the average by drowning each year.

Granted that the first study is for 2006 and the second study is for 2000-2005, are the two numbers compatible with each other?
... The review hearing began with the magistrate and four adjudicators. As soon as the tribunal magistrate Ng See-hin sat down, he said to the students' legal representative Erik Shum Sze-man: "Why were your testimony handed in late? As a matter of manners, shouldn't you have notified me?" Shu replied in an extremely polite, slow and friendly voice: "Yes. I solemnly apologize to the court." Then he explained the reason why he was late. Ng seemed satisfied and almost got up to pat Shum on his head and say "Good boy." The courthouse is a very solemn place.

So things finally started. Shum used his extremely polite, slow and friendly tone to bring up a legal point that questioned the legality of this review. Shum said that the Obscene Articles Tribune only published its initial classification without providing any explanation. So he wrote to the Obscene Articles Tribunal, which repolied that any language that contains explicit depiction of sexual activity that has an erotic effect is indecent. Previously, everybody had thought that Chinese University Student Press was found obscene because of the drawings and the questionnaire that referred to bestiality and incest. The Chinese University Student Press student editors and legal representatives had researched expert opinions on those aspects. But when they exchanged documents with the Legal Department, they discovered that the "indecent" elements were another question about "When is a dirty story dirty enough" plus the fact that the questionnaire offered condoms as incentive.

Shum pointed out that the Obscene Articles Tribunal did not clearly indicate which parts of the publication were "indecent." He stated that this was against the requirements of the relevant regulations. Therefore, the initial classification was improper. Shum requested that the results from the initial classication be voided.

Although Shum was detailed and patient, the magistrate Ng seemed was clearly surprised. Shum said that the Obscene Articles Tribunal did not say which parts were "indecent" but Ng failed to understand. This was not because Ng did not understand the legal procedure or his legal experience was insufficient. Rather, it was his life experience and moral judgment were different.

Ng believed that the all the problematic parts were very "clear." He used the example of the "story" in the erotic section of the Chinese University Student Press in which there is this sentence: "As usual, I put both hands on my vagina with one finger twirling around the clitoris ..." When Ng reached this point, he said that he could not read any further as if he was a shy young girl. He implied that this explicit description of a sex act must be "indecent," right? ... The people in the public and press gallery exclaimed "wow" lightly and swallowed their laughter. After all, laughing at the judge is contempt of court, right?

... Shum made several more efforts to explain again. Ng lost his patience and said directly: "What do you want me to do? Do you want to declare my own court anti-constitutional?" If this were in the streets, I think Shum might have said: "Fuck your mother. I've fucking told you so many times and you still don't fucking understand." But since we were in a court, Shum had to be solemn. He politely said again: "I'm here to help the court to solve the problem. I did not say that the court violated the constitution. I fully respect the magistrate ..." Shum continued to say if the court does not nullify the initial clasification, he would seek a judicial review to overturn the decision. He believes that the review tribunal is empowered to review the initial classification and "review" includes the power to overturn the initial result.

TELA senior counsel Athena Pang Po-kam disagreed because she beleived that the judicial review can only be made at the High Court. Ng became afraid because he did not seem to know what he could do. Shum then asked Ng for a court recess so that he can confer with Pang. Before recess, Shum said that even though he practiced law, he was unclear about how the Obscene Articles Tribunal. Therefore, Shum wanted to see the meeting minutes of the preliminary hearing. Ng quickly responded: "Barrister Shum, I can tell you that there are no meeting minutes. I cannot help you." Shum replied calmly and lightly: "That is sufficient."

So there was no documentation for a court decision.

After recess was over, the magristrate announced that the review meeting would be adjourned indefinitely pending the result of the judicial review by the High Court.

For comparison, see Student journal to launch challenge by Winnie Chong at The Standard.
[023] Why Did Bush Aid Libby? (07/08/2007) Phoenix TV's Rose Luqiu Luwei blogs on Why Bush Aided Libby by eliminating the jail sentence. The background was that Bush had received more than 150 letters of petition from people such as former Secretary of Defense Donald Rumsfeld and the former World Bank president Paul Wolfowitz. Here are the reasons. First, it is Bush's personality that he will do what he thinks is right. Therefore, when he thought that the sentence was too severe, he will act. Second, Bush thinks that no matter what he does, he will be criticized anyway. Since Bush's public opinion support has reached rock bottom already, he no longer has any pressure. Third, and most importantly, the conservative Republicans are watching what he will do. This is his base and his most dedicated supporters. If Bush did not act, it would damage the confidence and support of these people.
Eleanor Clift has a different interpretation at Newsweek:

Looking back at the trial, it was as inevitable as night following day that President Bush would find a way to get Libby off the hook. The fix was in when Libby's high-priced legal team mounted a curiously passive defense. After pointing to Vice President Cheney as an instigator in the Plame naming, hinting they might even call the veep to testify, they abruptly backed off, slow-walking Libby toward conviction with no alibi for his lies other than that he didn't remember. As legal eagles, they didn't impress, but they did preserve the pardon option.

Libby did not seek a pardon because he didn't have to. Bush and Cheney knew what they had to do—keep Libby out of jail, lest he be tempted to give away sensitive information in exchange for his freedom. Bush settled on a commutation, leaving open the possibility, even the likelihood, of a full pardon before he leaves office. It is a distinction without a difference. Not challenging the $250,000 fine and the loss of Libby's legal license maintains the illusion that Bush respects the rule of law, and is just acting in this one instance because he thinks the sentence of 30 months is excessive. The fact is that a quarter of a million dollars is chump change to the friends in high places who rallied around Libby, and while he can't practice law, these same friends will ensure a lucrative livelihood for Libby and his family. He's their hero.
[022] The RTHK Director's Apologies (07/08/2007) (Apple Daily) The saga of RTHK director Chu Pui-hing has faded somewhat as he only got half the front page today (as the top half half went to the father who threw his seven-year-old daughter down the street before jumping himself).


Here are the summary of the apologies:

Singer Kenny B has apologized for the incident. He was holding a function in Causeway Bay and the entertainment reporters clustered on the street to wait to interview him. By chance, Chu Pui-hing came out of the building with the woman and was recognized by the reporters. Therefore, Kenny B apologized for causing the misfortune.

Chu Pui-hing issued an apology through the RTHK communications spokesperson. The theme of the statement was that the private lives of public service employees are not the concern of the government. In terms of public relations, this was a mistake. By using a RTHK spokesperson to make that statement, RTHK has just been wrapped around the affair.

Chu Pui-hing owes an apology to his female companion of that evening. The immediate presumption is that she was a working girl. There were stories about the '123' girls at Must Kara (explanation: they cost HK$1,000 for companionship at the facility; HK$2,000 for a short session outside; HK$3,000 for all night outside).


Meanwhile, the newspapers are tracking down everything about the woman known as Coco. She is supposed to be either 21 or 23 years old; she hails from Sichuan; she is a regular at the Must Kara club and she claims to be making more than HK$100,000 per month there.

The story was that on that evening, Chu Pui-hing and friends were drinking and having fun at Must Kara. Each man had a female companion on his side. Then Coco came into the room with a brown wig and did exotic dancing. She received HK$3,000. Afterwards, Coco did not leave but chatted up Chu Pui-hing instead. In less than 10 minutes, Chu got up and left the girl beside him to go out with Coco. "Another person paid HK$4,000 and then Chu left with Coco." After the chase scene in the street, Coco went back up to the Must Kara club. She was upset that her wig was missing (note: that was the item that Chu Ping-hui was holding in his hand).

Nobody feels the need to apologize to Must Kara, where business has been decimated. On the next evening, paparazzis gathered outside the entrance to the special elevator. Clients and girls turned around and walked away when they saw the cluster of photographers. Previously, Must Kara is considered an "iron nest (
鐵竇)" in the sense that the police can never take it down. First of all, this is a members-only private club and all visitors are scrutinized very carefully. Secondly, when the police show up for inspections, all the girls know to say that they are clients. The police had no cause to do anything.
[021] They've Gone Crazy in Taiwan (07/07/2007) (Apple Daily)


In Taiwan, the limited edition of the Anya Hindmarch's "I'm NOT A Plastic Bag" handbags went on sale. These bags sell for only NT$500 but can fetch as much as NT$15,000 at Internet auction sites. At the Light Wind Plaza in Taipei, more than six hundred potential buyers sprinted towards the counter as soon as the doors opened at 11am. Among the screams, people tripped, fell or lost their shoes. The counter girls were terrified and refused to open the door. The crowd pounded on the door and yelled, "Open up! Open up!"




Accoding to a sociologist, this incident showed that there is a group of "irrational brandname consumers" in Taiwan. In an M-shaped society, many people do not have the money to buy the products from the top brands, but they adore the aura of those brands. The Anya Hindmarch handbags are used by movie star Karen Mok and model Lin Chiling. Therefore, they used labor-intensive methods to queue up to obtain brandname products on special occasions.

(Apple Daily) Meanwhile, in Hong Kong, 2,000 people showed up at the Harvey Nichols store in Exchange Square. To avoid the chaos, the store issued coupons to the early comers until they were gone. Those lucky persons who received the coupons can come back next week to exchange for the bandbags. However, this did not stop people from showing up. When the store told these people that the coupons have all been given out, they refused to dispers. When the store apologized, they booed and called the store spokesperson a liar. The crowd left behind lots of garbage, which is ironic for an environment-friendly handbag. P.S. When the bags were picked up the next week, people found out that they came out wrapped with three plastic bags. The store said that one of the three plastic bags is bio-degradable.

[020] Chinese University Student Press Hearing (07/07/2007) (Ming Pao) Previously the Chinese University Student Press had been classified by the Hong Kong Obscene Articles Tribunal as Category II: Indecent material. The student editors were entitled to an appeal for another review. Yesterday was supposed to have been the review, which was to be held openly.

The barrister representing the student editorial committee pointed out that according to Articles 14 and 15 of the <Obscene and indecent materials control regulations>, the Obscene Articles Tribunal has the duty of "pointing the sections of the material that is obscene or indecent" during both the preliminary and review classifications. But in the past, the Obscene Articles Tribunal has never indicated in ANY of the preliminary classifications which detailed portions were obscene/indecent. In this case, the magistrate kept no written records about how he and two adjudicators came to that classification. As a result, the barrister said that he plans to gave a judicial review by the High Court on this issue and therefore the planned review yesterday was postponed until the review has been completed. The students do not have the money themselves for a judicial review, so they will have to apply for legal aid.

If the High Court rules that the Obscene Articles Tribunal has failed to follow the regulations, then it is possible that ALL previous classifications by the Obscene Articles Tribunal will be vacated and their future behavior must be altered.
[019] RTHK Director Apologizes (or Maybe Not) (07/07/2007) (The Standard) Director of Broadcasting Chu Pui-hing has apologized for behaving "out of character" when cornered by the media this week after he was seen holding hands with a woman, believed to be a mainlander.

Chu's statement was released through Radio and Television Hong Kong. Chu himself was not available Friday and a RTHK spokeswoman said he was on leave and would not be back at work until the middle of next week. Chu was spotted about 10pm Thursday emerging from a building after a private dinner with some friends. He was accompanied by an unknown woman that some reporters said could have been a mainlander mainly because of her accent.

The reporters had gone to the scene to interview pop singer Kenny B and spotted Chu by chance. Chu tried to hide from the press, first by shielding his face then ducking behind the woman. When he realized they were not working, the two separated - Chu dashing toward a toilet and the woman fleeing into a restaurant.


(Apple Daily) This is the front page story. According to the Chu Pui-hing's explanation as relayed through the RTHK public relations specialist, Chu was attending a private function (dinner/karaoke) with a large group of people (including both men and women). Chu left the party at around 10pm. But as he stepped out into the street, he was spotted by reporters covering another event. Due to the chaos and the fact that he had too much to drink, he "reacted inappropriately." If he had just stood still and let the photographers film him, it would have been nothing.


(The Sun) This is the front page story. The Sun's headline says: "Chu Pui-hing refuses to respond; having fun behind his wife's back" while Oriental Daily's headline was: "Chu Pui-hing goes on leave in order to cover up scandal." The Sun reporter went to his apartment in the Mid Levels and knocked on the door. Chu opened the door and was surprised. He closed the door quickly. Several minutes later, he came out and told the reporter: "No comment. I'm going out now." He was absent-minded as he entered an up elevator instead of the down elevator. When asked whether he took a karaoke girl out, he said: "I won't respond ... my colleague has made the reply already." The reporter also interviewed Chu's wife. As for the girl, Mrs. Chu said, "My husband does not know her, so how would I know her?" The reporter also interviewed the deputy RTHK director about Chu going hand in hand with the girl. "Do you know that he put his hand in, or she put her hand in?"

(The Sun) (public opinion poll in which 467 Hong Kong persons age 18 or over were interviewed)
Q1. Should Chu Pui-hing personally explain this affair?
Yes: 49%
No: 37%
No opinion: 14%

Q2. Was the behavior of Chu Pui-hing shifty and evasive?
Yes: 64%
No: 13%
No opinion: 23%

Q3. Did the behavior of Chu Pui-hing damage the reputation of RTHK?
Yes, seriously: 37%
Yes, slightly: 36%
No: 22%
No opinion: 5%
The Internet

The case was initially brought to public attention through a post at the Tianya Forum from 400 fathers searching for their missing sons. However, there was little actionable information. Later on, the mainstream media began to file news reports to which the public reaction was huge.

Relevant Link:
Chinese Internet responses to slave children case Jeremy Goldkorn, Danwei

The Mainstream Media News Report and Commentary

Media coverage was not shut down. There were numerous news reports from all types of media.

Relevant Links:
"I Felt It Was A Fairly Small Thing"
(CCTV, Southern Metropolis Daily, Southern Weekend, Henan TV)
How The Reporter Found The Shanxi Brick Kiln Slaves (yWeekend)
The History of the Illegal Brick Kiln in Hongdong (Southern Weekend)
The Story of Chen Chenggong (Yanzhao Metropolis Daily)

The Government
This is the actually the most interesting aspect. Neither the Internet nor the mainstream media could get anything done by themselves. They can only exert pressure on the government. Normally, you never know how the pressure influences the government, if at all. These people do not ordinarily take interviews, least of all by western media. In this case, there is a major Cover-Your-Ass effort at all levels and therefore they are given "mea culpa" interviews left and right to the pre-emininent national newspaper Southern Weekend.

That is why the Southern Weekend report The Shanxi Officials In The Eye Of The Storm is so insightful. The reporter had interviewed officials at various levels. For example, we learned: (1) The 'hero' police officer Li Ding who busted the Caosheng village illegal brick kiln has been charged with dereliction of duty -- he had visited the kiln before, asked questions about the migrant workers but never followed up. (2) The county mayor and the town mayor had no idea what was happening because their underlings did not inform them and they don't read the media (both newspapers and the Internet), and so on.

More generally, the bureacratic hierarchy was designed as a top-down system: state-> province-> city-> county-> town-> village. The Caosheng village illegal brick kiln was a local incident, but it was one instance of a province-wide phenomenon. The immediate superior levels were not informed or they did not take it seriously. So the information had to go from the town/village level through the media/Internet until the amplified public rage reached the national level before coming back down through the hierarchy. If this works here, then it is a model for future actions. You should look for more of this in the future.
[017] The RTHK Director (07/06/2007) (Apple Daily; The Sun) Last evening, a group of entertainment reporters from a number of newspapers were covering an event at a Causeway Bay bar. Suddenly they spotted RTHK Director of Broadcasting Chu Pui-hing walking down the street hand-in-hand with a woman who is not his wife. The woman was wearing 5" high-heels and a skirt that opened up almost up to her crotch. When Chu saw the reporters and their cameras, he immediately ducked behind his companion (see first two photos). The companion was displeased with the filming and asked the reporters in imperfect Cantonese: "
做乜忍(影)相呀 ?"Why are you taking photos?" Chu Pui-hing then ducked into a bar by himself (see third photo in which the mirror on the door showed his face and the wig that he was holding in his hand). He made one more visit to a restaurant at which he entered through the front door, went into the kitchen and exited through the backdoor. The fourth photo is the restaurant restroom stall in which he hid for a while. Afterwards, the woman was observed to enter the Must Kara club through the private elevator. The RTHK spokesperson said that the woman is an ordinary friend and they just had dinner together along with the female's male friend. But the female RTHK spokesperson also said that she was not present at the scene and therefore could not explain why Chu felt the need to hide behind a skirt, literally.



(Those Were The Days blog)
Every newspaper in town will have the story of RTHK director Chu Pui-hing and his mainland Chinese female friend today. RTHK is in a precacious situation with respect to its future, and now its leader is caught in a scandal. On July 1st, RTHK workers and people in the cultural fields were motivated to march to defend RTHK but what are they supposed to think now? How will the phone-in programs deal with this sensitive news story?

As a public servant, the personal life of Chu Pui-hing is not regulated. But this is not just about him personally, because he leads RTHK and any personal mistake will reflect on the organization.

Any member of an organization, from the leader to the base, are held accountable to themselves and the organization to which they belong. When a person commits a civil crime (such as shoplifting), the newspapers report "Company X employee" or "Government employee Y" did such and such.

It is predictable that those who want to kill off RTHK will link Chu's personal scandal with the previous corruption scandals at RTHK and characterize RTHK as an immoral place that needs to be cleansed. Those who support RTHK will separate the two in order to minimize the political damage. Some of them may even claim that this incident was a political conspiracy in order to excuse Chu.

Ultimately, the key lies with public opinion? On one hand, the pro-government leftists will publicize this. On the other hand, the pro-RTHK supporters will find it hard to counter-attack. So how will the citizens think?

How bad was bad? Oriental Daily, The Sun and Sing Tao had Chu Ping-hui on the front page. But the English-language South China Morning Post and The Standard were nowhere to be found. So unless you read the Chinese-language media, you may not realize understand why a public opinion swing might occur with respect to the support of RTHK as an independent entity.
The basic fact is: In Hengyang city (Hunan province), a fire occurred at the largest movie house around 8pm last night.

So how did civilian journalism work out?

Netizen DT4488 arrived at the scene, took photographs with his mobile phone and uploaded them to the Internet.

Netizen chenyaxi: "I was playing at the video game parlor and I heard a loud explosion. I raced out into the street and I was astounded ... the flames were a dozen meters high. The sign of the movie house was burned down to a frame.

Unidentified netizen: "A police man said that there were still more than 20 people in side."

Netizen chenyaxi: "A police car outside the movie house exploded. The transformer outside is also on fire. There are shopping malls, restaurants, stalls and banks up there."

Netizen alblvpeng: "I heard that two burned bodies were taken out."

Netizen LoveYingIng: "There shouldn't be any casualties. The fire started on the advertising sign outside. A movie watcher said that the electricity stopped and the manager said to wait. Then someone came in and said, There's a fire! Let's leave quickly!"

Netizen DT4488: "My friend works there. He said that all the people inside are basically out. There should not be many casualties."

So how many casualties do you think? Zero to two dozen. The newspaper reporter conducted traditional journalism: He called the two local hospitals -- both had dispatched ambulances to the scene. As of 11:40pm, none of the ambulances had taken any casualties back to the hospital. He concluded: The number of casualities cannot be confirmed.

Postcript: There was only one and only one casualty -- the manager of the movie house stayed behind to make sure that everybody was out but he was trapped and perished. As such, he must be considered a hero.
[015] The Last Night of the Proms (07/05/2007) I am asked why I have so many YouTube links to the "Last Night of the Proms" recently (see Jerusalem, Land of Hope and Glory, Rule Britannia). For me, this was relevant in a private discussion about aggressive versus benign patriotism. Examples of aggressive patriotism might be American patriotism (directed against "Islamofascists") or Chinese patriotism (directed against 'Little Japan'). The "Last Night of the Proms" might be considered an example of benign patriotism that is nevertheless rousing and passionate. Let me quote from T. S. Eliot's Four Quartets:
There are three conditions which often look alike
Yet differ completely, flourish in the same hedgerow:
Attachment to self and to things and to persons, detachment
From self and from things and from persons; and, growing between them, indifference
Which resembles the others as death resembles life,
Being between two lives - unflowering, between
The live and the dead nettle. This is the use of memory:
For liberation - not less of love but expanding
Of love beyond desire, and so liberation
From the future as well as the past. Thus, love of a country
Begins as an attachment to our own field of action
And comes to find that action of little importance
Though never indifferent. History may be servitude,
History may be freedom. See, now they vanish,
The faces and places, with the self which, as it could, loved them,
To become renewed, transfigured, in another pattern.
Sin is Behovely, but
All shall be well, and
All manner of thing shall be well.
If I think, again, of this place,
And of people, not wholly commendable,
Of not immediate kin or kindness,
But of some peculiar genius,
All touched by a common genius,
United in the strife which divided them;

Relevant Link: Hong Kong's Self-Knowledge By Chen Guanzhong. [Blogger's comment: In Hong Kong, some people love China and its people and others hate China and/or its people. Then there are those who don't care about China and its people whatsoever. From my point of view, I think of Hong Kong and its people: "not wholly commendable, of not immediate kin or kindness, but of some peculiar genius, all touched by a common genius, united in the strife which divided them." Yet, we have not arrived at the stage where we can all sing 'patriotic songs' like the British could sing <Rule Britiannia>, <Land of Hope and Glory> and <Jerusalem> at the Last Night of the Proms. Instead, we have the battle between <Always With You> versus <Folk Guy's Always With You> (see Comment 200706#094).]
The process is as follows:

First, you are notified by the Television and Entertainment Licensing Authorities that your article has been the subject of one or more complaints and will be referred to the Obscene Articles Tribunal for review.

Secondly, within one week, you will be notified of the preliminary findings of the Obscene Articles Tribunal panel of one magistrate and two randmoly chosen adjudicators out of about 400 of them as to whether your article was Category I: Neither Indecent Nor Obscene; Category II: Indecent; Category III: Obscene. If it was found as either Category II or III, there will be an automatic review by two different randomly chosen adjudicators. In the interim, you are supposed to state that the article was indecent/obscene and ask those under the age of eighteen not to access the article. For an Internet article, this means that there has to be a pop-up message to that effect.

Thirdly, within five days, you will be notified of the final findings of the Obscene Articles Tribunal. If the article is still found to be Category II or III, it will be referred to the police for prosecution.

So much for the procedure. It is more interesting that the Obscene Articles Tribunal does not consider precedents. Thus, if the statue of David was found to be Category II: Indecent by the Obscene Articles Tribunal in 1995 but later overturned by a court, then there is nothing to stop the Obscene Articles Tribunal from classifying the same statue of David as indecent again. These so-called double standards are therefore a function of which two adjudicators were randomly chosen in a particular case. Obviously, you can change the odds by stacking the panel of adjudicators with your kind of people.

Even more interesting is the case of the Chinese University Student Press (see Bestiality and Incest). It turns out that the survey questionnaire in the erotic page may not be the reason why the particular issue was classified as Category II: Indecent. The students were only informed that the February and March issues of Chinese University Student Press were classified as Category II: Indecent. They were not told about which parts of the newspaper were indecent. The Obscene Articles Tribunal made its review behind close doors. Even the decision itself was obtained only after the students' lawyer sent in a letter! The whole logic of the process was: You are guilty, but we don't have to explain what you did wrong!

P.S. The CUSP situation is not necessarily inconsistent with the fact that Ming Pao's discussion of the survey questionnaire was also found to be Category II: Indecent by the Obscene Articles Tribunal. That is because the two decisions were rendered by different teams of Obscene Articles Tribunal adjudicators.
I very much agree with Chief Executive Donald Tsang's desire to increase the population size of Hong Kong from 7 million to 10 million. The only question is about the type of new people that we want here. Personally, I want most of all to see the youth editions of Li Ka-shing and Jimmy Lai, those who had three 'nothings' when they came here. Three 'nothings'? When Li Ka-shing and Jimmy Lai came here, they were broke, they had little education and they had no idea what they wanted to do. Therefore, they are said to have three 'nothings' -- no money, no educational degree and no direction.

But they had something very important: hunger. They were very hungry. They were very hungry about seizing any opportunity, they were very hungry about gaining knowledge and they were very hungry about moving upwards in society. If we could have a million such immigrants, we will create a new legend for Hong Kong. If the government wants to find such types of immigrants, they can restore the old "Touch Base policy
抵壘政策."

The "Touch Base" policy from the British colonial era was simple. If you have the intelligence and/or physical power, you can go around the barriers set up by the government and arrive inside the city boundary. Once you touch base, you can get a ID and blend into society. The "Touch Base" policy was the "immigrant test" that the Hong Kong government administered to all those who wanted to live and work in Hong Kong -- you can take the test 24 hours a day and as many times as you like.

Today, there are two mainstream immigration proposals: the "investment immigrants" and the "technology immigrants." If you need a few million dollars in assets before you are allow to come, then the impoverished young editions of Li Ka-shing and Jimmy Lai won't get here. So anyone who supports "investment immigrants" is stupid.

There are those who said if "low education" and "low skilled" people are attracted to come here, they will cost government social welfare expenditure to soar. But last week, the "high education" and "high skilled" doctors and social workers were marching in the streets to demand pay increases. Therefore, even high skills can become useless. If it were up to the youth editions of Li Ka-shing and Jimmy Lai, they would have observed that the pay was too low, acquired a new skill and gotten a new job that pays higher already!

Also, if the government policies in the 1960's and 1970's were based upon a points system that attracted "high skilled" immigrants, then Hong Kong would have the world's best plastic flower workers. There would a functional constituency in the Legislative Council to represent the plastic flower industry. The plastic flower federation would be very "patriotic" and demand daily for more government aid to the dying plastic flower industry. Therefore, we are better off supporting "hungry immigrants" than "technology immigrants."

Recently, the Hong Kong SAR government introduced a "special talent" immigration plan. Before you arrive here, you must have a job first. Will the youth editions of Li Ka-shing and Jimmy Lai get jobs here before they arrive? Why not give a chance to people who have friends and relatives and who do not need to live off of our hard-earned money? Why not give them some time to learn the environment and not interfere with their job choices? By contrast, the "special talent" plan brings people in with a job already in place, in which resources may be misallocated and may be a waste of everybody's time.

Actually, we can use economics to design an manmade "Touch Base policy." We do not even have to make people dance with sharks in order for us to select the "very hungry" immigrants.
[012] Hong Kong By The Numbers (07/04/2007) (HKUPOP) (575 participants in the July 1st march were interviewed by a combined team of Hong Kong University, Chinese University of Hong Kong and City University of Hong Kong researchers) Here are the partial results (bearing in mind that this is a sample only of the participants (estimated by Hong Kong University researchers to total around 32,000 out of a general popluation of 7 million)).
How important are the following factors to your participation in today's march? (Very important/somewhat important)
Obtaining a schedule for universal suffrage: 80%/10%
Obtaining universal suffrage in 2012: 75%/14%
Opposing the Hong Kong SAR's attitude toward political reform: 61%/23%
Oppsing the central government's attitude towards political reform: 62%/21%
Expressing your discontent towards the Hong Kong SAR government: 45%/26%
Expressing the demands of your organization: 25%/14%
To ensure that the march numbers are big: 41%/18%
Some reason other than those listed above: 28%/16%

Do you agree with the following statements about demonstrations/elections? (Strongly agree/somewhat agree)
Demonstration is more effective in making the government pay attention than voting: 47%/26%
Demonstration expresses my voice more clearly than voting: 50%/27%
Demosntration is an effective way of breaking the limits within the political system: 52%/26%
Demonstration gives a feeling of concentrating forces: 65%/23%
Demonstrating citizens have higher sense of social morality: 45%/30%
Spontaneous demonstrations are more politically effective than organized demonstrations: 46%/26%
The number of demonstrators does not reflect the preponderance of public opinion: 22%/18%
The number of demonstrators is an important factor in making the Hong Kong SAR government listen to public opinion: 37%/28%
I feel that the direct election of the Chief Executive in 2012 is unlikely: 31%/23%
I believe that the citizens can control the fate of Hong Kong: 43%/21%
The annual July 1st march has lost its effectiveness: 7%/14%

Do you support ... ? (average score on a scale of 0 to 100)
HK SAR Chief Executive Donald Tsang: 46
PROC Premier Wen Jiabao: 54
Hong Kong SAR government:44
Central government: 38

How strong is your sense of belonging to ...? (average score on a scale of 0 to 10)
Hong Kong: 7.2
China: 5.0

Before coming to the march, what is your estimate of the number of participants?
Did not estimate: 17%
Less than 10,000%: 1%
10,000 to 20,000: 8%
20,000 to 50,000: 34%
50,000 to 100,000: 27%
More than 100,000: 8%
Don't know/hard to tell: 5%

Which is your most frequently read newspaper?
Apple Daily: 55%
Ming Pao: 18%
Oriental Daily: 6%
Hong Kong Economic Times: 4%
Hong Kong Economic Journal: 3%
South China Morning Post: 2%
The Sun: 2%
Sing Tao: 1%
Metro Daily: 1%
am730: 1%
Headline News: 1%
Hong Kong Commercial Daily: 1%
Sing Pao: 0.2%
Tai Kung Pao: 0.2%
Other: 5%

How important were the following in terms of getting you to march this time? (Very important/somewhat important)
Newspaper editorial: 18%/17%
Newspaper column: 17%/15%
Newspaper reports: 18%/17%
Radio phone-in program: 19%/13%
Radio news reports: 16%/15%
Internet (including email): 15%/13%
Television news reports: 16%/17%
Television information programs: 16%/16%
Family: 19%/12%
Friends, colleagues, fellow students: 19%/21%
Political parties: 14%/15%
Famous social personalities: 15%/16%
Organization of which you are a member: 11%/13%
[in translation]

This year's July 1st march was so-so. A friend complained about this march from the confusion over the themes to the deficiencies of the mainstream democrats. He said that his friend decided not to march on account of his dissatisfaction with these issues. I agree and disagree with these points. We had a discussion and I was enlightened about some aspects and experiences about the July 1st march.

Undeniably, the NGO organizers and the mainstream democratic parties had shortcomings. Their internal squabbles made everybody uneasy. I feel that they were just deriving political advantages for the sake of exposure and election benefits. But at a deeper level, does the July 1st march belong to them? Did all those citizens who were willing to come out in the hot and humid weather on July 1st to walk from Causeway Bay to Central respond to the call of the Civil Human Rights Front and the mainstream democratic parties?

The July 1st march does not belong to any organization or party. It belongs to the people of Hong Kong! The organizing unit only served the role of applying for the venue and providing various services during the march on behalf of the citizens who want to express their demands. Ultimately, the number of demonstrators and their issues are beyond the control of the organizers. In 2003, the organizing unit insisted that the theme would not be asking for the resignation of Tung Chee-hwa, but which of the 500,000 present did not ask for Tung to resign!

Once you realize that the July 1st march belongs to the people of Hong Kong and not any organization or political party, then the July 1st march becomes simple to understand: Are you willing to spend an afternoon to walk from Victoria Park to Central in order to express your belief, irregardless of the sponsoring organization? You march on July 1st solely to express your opinions. Even if this act is insignificant and inconsequential, you have done your best and you have lived up to your conscience.

Yesterday, a colleague said that many of the July 1st marchers were hoping to win double universal suffrage even though they were despondent of ever succeeding. So why did they march even though they did not think it will change reality? I believe that in a situation when universal suffrage is not here and the political parties cannot represent them, the citizens' march on the streets is the most primitive even if ineffective (and also the most sincere and direct) action. For these citizens, marching on July 1st is their only option. They do so because they love Hong Kong, and who cares about the squabbles among the democratic factions?

Yesterday, I personally saw many marched silently along with the procession. I don't think that they completely agree with the Civil Human Rights Front. I don't think they completely support the mainstream democrats. They are only faithful to their own beliefs and they do what they need and must do. That is all. I believe that most of the people who participated yesterday in the July 1st march are such people. Comparing these determined and straightforward people against those others who are concerned about the internal squabbles among the democrats and therefore refuse to march, it should be clear that who is better or worse ...

I hope that more people will understand the July 1st march does not belong to any person, organization or political party. It belongs to the every person who resides in Hong Kong.

Democratic movements are also led by the people, not by any organizations. Do not worry about to which organization the aura of the movement belongs to. The true aura belongs to the people of Hong Kong.
[010] More Disharmony in China (07/03/2007) (Apple Daily) On the afternoon of June 28, two first-year middle school students in Zhongduo district, Youyang county, Chongqing city had an argument. One of them found three companions and together they assaulted the other student, stabbling him in the waist with a knife. The injured student laid in front of the school gate for 30 minutes without the school or pedestrians doing anything. The student died from bleeding eventually. The four murderers were arrested but released since they were only 13 or 14 years old and cannot be charged under the law.

The next morning, 60 family members including the mother came to protest at the school entrance and demanded an explanation from the school. More than 30 public security bureau officers arrived to evict the family. The mother was hauled away by half a dozen policemen. When the 9-year-old sister of the deceased boy came to help her mother, she was hit in the face and knocked down. Another aunt was clubbed in the head and passed out. The spectators were enraged and surrounded the police, who fled the scene. In the afternoon, there was a spontaneously organized demonstration of more than 10,000 persons who marched from the school towards the Youyang county government building. The government officials refused to come out and meet with them. More and more people were arriving at the scene. At 9pm, one police car was vandalized. The authorities sent out the police to disperse the crowd.

Here are the Internet photographs:

(School gate banner says: Raise the people's level of awareness of security, promote civilized safety practice)

(The badge numbers of the two police officers who assaulted the mother were 222229, 222224)



("Militia police assaulted people")






[009] The PLA in Hong Kong (07/03/2007) For background, you should start by reading: How the PLA began to flirt with Hong Kong Beijing Newspeak.

What follows next is one person's explanation of how that happened. The person is Rita Fan, the chairperson of the Hong Kong Legislative Council. She was interviewed in the July 2007 issue of Ming Pao Monthly (no link). This may or may not be the whole story.
Between 1983 and 1992, Rita Fan was a Legislative Councilor who was most often involved in matters of security and education. In 1993, she joined the planning committee for the handover and she was involved in a seemingly trivial but quite significant project: the image of the People's Liberation Army. She expressed her opinion to the PLA general Xu Weizi. She did not disguise her impression of the PLA in Guangzhou: they smoked cigarettes while on duty and their military uniforms were dishevelled (such as having their military caps atilt and rolling up their trousers legs in hot weather). "I told him that the Hong Kong police are always properly dressed. The Hong Kong citizens cannot tolerate the PLA smoking on duty." Rita Fan said that she recommended (1) that the PLA garrison should not be allowed to get out of their military barracks to go into Hong Kong proper and (2) if they must come out, they should wear proper civilian clothes. She even boldly suggested: "If the PLA in Hong Kong are not paid enough, we should give them more money so that they can purchase proper civilian clothes."

General Xu patiently listened to her opinion and said: "The PLA soldiers only has two sets of uniforms." Afterwards, Rita Fan did not know whether her opinion was accepted, but she noted that the PLA in Hong Kong are always well-dressed and well-disciplined. Furthermore, she was also embarrassed to admit that perhaps because of her comments, the PLA soldiers are not allowed to get out of camp when stationed in Hong Kong. Only when they are due to be transferred back to the mainland could they go out shopping in a group. "They seemed to have no freedom and no human rights."

From the same issue of Ming Pao Monthly, there was an interview with Zhou Nan who was on the Chinese side in the negotiations about the handover:

Since national defense would be taken over by China, the military must enter Hong Kong. With respect to this, the British side made all sorts of absurd objections. They mobilized public opinion to say that the people of Hong Kong are afraid of the People's Liberation Army, which really should go there. One time, the Hong Kong media found some of our individual leaders who do not really know about the details of the discussions and asked them whether the soldiers need to be present. Afterwards, they made a big deal in the Hong Kong newspapers that China promised not to send soldiers there.

When Deng Xiaoping heard about that, he was incensed. In a reception for people from Hong Kong, the Hong Kong reporters took photographs and were about to depart. But Deng Xiaoping stopped them: "Don't leave yet. I have something to say." He said: "Why is it that the British could station soldiers in Hong Kong during their colonial rule, but when Hong Kong is returned to China and become part of the homeland, China has no right to station troops? What is the meaning of sovereignty when we cannot station troops within our own territory? No way."

This leads to the next question. Has the ESWN blogger ever seen any PLA soldiers? The answer is YES. There is a military base located near the intersection of Junction Road and Waterloo Road in Kowloon Tong. One morning, I was walking over to the RTHK studio from the Kowloon Tong KCR station and passed by that site. I observed two PLA soldiers making their patrol around the grounds in synchronised steps. This was about as absurdist as it can ever get. Who gives a damn about this site? What is there to spy on? What is there to sabotage? Why is it that this has to be done in twos -- maybe they cannot trust anyone to do patrol by himself?
A while ago, there was a news story about the government office building in Yingquan district, Fuyang city, Anhui province. At a cost of 30 million yuan (=1/3 of the annual revenue), the building looked like the White House. Meanwhile, there is an elementary school next to the White House. In front of the school is a big puddle of muddy water which serves as the sports ground. The school building is decreprit: the windows have no glass, just plastic sheets; the wall paint is peeling; the ground is moist and uneven. The students said: "We were moved here. We used to be over at the White House where we had new desks and blackboards."

Well, nothing came from the above story. Maybe the Internet rage was not strong enough. But now someone has lit a fire underneath. (HKGolden Forum) An elementary school in Yinquan is presently a dangerous building that posed threats to the teachers and students. The district government applied for aid from the Japanese consulate in Shanghai and the Japanese Foreign Ministry decided to provide US$80,000. When the consulate staff went out to Yingquan, he was shocked by the sight of the White House. Such a building would cost enough to re-build a few hundred elementary schools. This person questioned whether any aid should be provided. The Yingquan government explained that these were different budget line items. Eventually the Japanese agreed to provide the aid.

So how will the "angry young people" react on the Chinese Internet about this severe loss of face, especially with respect to "Little Japan"? Will it be enough to blow the Yingquan government out? Apart from that, the publicity from this latest development is going to dampen general donations from overseas Chinese communities.
[007] Odd Facts in the Hong Kong July 1st March (07/02/2007)

(1) The Undercover Policemen

(Ming Pao via Yahoo) During the demonstration, three men who wore white or striped light-colored clothes acted as if they were marshals and urged the reporters to continue moving. After some arguments, the reporters realized that they had no official identification. Upon further questioning, one of the men identified himself as a Hong Kong Island Eastern District civilian relations division officer. When asked to show proof by the reporters, he yanked out his wallet and flashed his police ID for less than one second. This police officer was observed to be talking to two other men also believed to be undercover police officers (see first photo). One of the other men later identified himself to the media as well. The reporters also spotted a senior female police officer in the crowd (see second photo).

(2) Anson Chan's Uninvited Banner




(Apple Daily) Anson Chan selected a white sun hat with red bottom that she bought specifically for this occasion and she wore a pink Jockey Club t-shirt. She was casually dressed this time, without the brand-name handbag that she carried on December 4, 2005. As always, she was surrounded by citizens for photographs and signatures. Some people shouted for her to run for the Chief Executive.

But just as Anson Chan was about to exit Victoria Park, four or five men in white appeared right behind her with a banner that said: "
忽然民主,沽名釣譽" (translation: "Democratic all of a sudden to fish for fame and compliments"). The reporter spoke to one of the men, who claimed that his name was Fung, that he is a driver by profession and that he is a democracy supporter with no political affiliation. Fung said that he was disgusted with Chan's sudden appearance on behalf of democracy and got some friends to make the banner. Anson Chan remarked to the reporters: "問心無愧" (translation: I have a clear conscience).

(3) The Hong Kong Censors' Scissors
There is a blog post by McClatchy's Tim Johnson titled Hong Kong and the censors' scissors. There, the censors' scissors are metaphorical. In Hong Kong, the censors have real scissors. Apple Daily reports that the uniformed police officers in the Tuen Men police district received orders to carry scissors on duty yesterday. President Hu Jintao was traveling from Kowloon to New Territories to inaugurate the new bridge that would link Hong Kong to Shenzhen through the Western Corridor. The police officers were supposed to check the streets that the Hu motorcade would pass through and use the scissors to remove any "sensitive" banners (such as those about universal suffrage, June 4th, etc). The police officers were also instructed to say that the banners constitute a public safety hazard in case anyone should question them. When the newspaper asked the police about the scissors, they did not provide a direct reply but only said that their mission is to make sure that the leader complete the visit successfully without interruptions.
[006] Taiwan By The Numbers (07/02/2007) (China Times) (901 persons interviewed on June 27-29. The political composition are supporters: 30.5% pan-blue; 28.9% pan-green supporters; independent: 37.5%; refused to disclose: 3.1%).

Q1. The KMT will have Ma Ying-jeou and Vincent Siew as their candidates. Who do you think is most suited to be Frank Hsieh's DPP running mate?

Su Tseng-chang: 46%
Yeh Chu-lan: 23%
Tsai Ying-wen: 20%
Other non-political figure: 11%

Q2. If the presidential election were to take place tomorrow, which would you choose between Ma Siew versus Hsieh-Su?
Hsieh-Su: 46%
Ma-Siew: 46%
No opinion: 8%

These polls are raising eyebrows in Taiwan, because it is very different from other poll results. Here is another one:

(TVBS) (920 persons age 20 or over interviewed on June 24. Results are weighted by age and gender. The political composition is DPP 20%; KMT 29%; PFP 2%; TSU 2%; independent 44%)

Q. Who do you support for the presidency?
Ma-Siew: 51%
Frank Hsieh: 21%
Undecided: 29%

The key here is the political composition of the samples. The blue-green ratio is 30.5%-vs-28.9% in the China Times poll, but it is 31%-vs-22% in the TVB poll. The problem here is that there is no fixed universe estimates about those ratios are. If there were fixed universe estimates could be weighted towards them, like age and gender are usually weighted to census figures. Political composition is volatile and can shift dramatically depending on the issues. This same phenomenon is observable for Democrats-vs-Republicans in the United States; for example, the Gallup Poll is often criticized for having the wrong Democrat-vs-Republican ratio in its polls.
The above item is a blog post at the Incoherent Thoughts blog and the link goes to a Google.com.hk search on the subject of "Entertainer"+"YoYo"+"Bare Nipples." This results in the following results:

The links lead to a 7-second mobile phone video of a topless female who looks like a certain actress. The common talk is that this is the mysterious Miss A in a court case last year. In that case, a certain construction worker found a mobile telephone on which was this video clip. Miss A had been filmed in a private setting by her boyfriend Mister B. The construction worker attempted to extort HK$50,000 from Miss A but was arrested by the police and successfully prosecuted. Now this video clip has just surfaced on the Internet. First, this video clip is an invasion of the privacy of Miss A and it may also be sealed under a court order. Anyone who uploads the video on the Internet is in contempt of the court. Second, it is definitely indecent material. Third, it is accessible through Google.com.hk. What is the Television and Entertainment Licensing Authority/Obscene Articles Tribunal waiting for? Google.com.hk is registered in Hong Kong and therefore under the jurisdiction of Hong Kong regardless of where it chooses to place its servers. What gives?

P.S. Is it right for me to display these links to the video of Miss A? Well, you must be f*cking blind! Those links are everywhere at the many Hong Kong discussion forums! If you want to prosecute someone, please prosecute them all!!!

Since this stuff is all over the Internet, the newspapers must be following it, right? It is astonishing that even the pro-Beijing Wen Wei Po and Ta Kung Pao have gotten on the case too!
[004] The July 1st Hong Kong March Estimates (07/02/2007) The July 1st march in Hong Kong is an objective event and yet different organizations come up with different estimates of the number of marchers. The first post in this series -- The Hong Kong 7/1 March 2004: Crowd Size Estimates -- is in fact the basic material in a Hong Kong University journalism course about media reporting biases. The preliminary results early this morning for the 2007 edition are as follows:

(Ming Pao via Yahoo) According to the Hong Kong police, about 20,000 persons departed from Victoria Park to participate in the July 1st march between 2:45pm and 4:30pm.

(Ming Pao via Yahoo) According to the Civil Human Rights Front, the total number of marchers on the July 1st march is 68,000 persons.

(Ming Pao via Yahoo) The Hong Kong University Public Opinoin Programme research team said that the number of marchers was between 29,000 to 35,000. The research team posted obsevers at the pedestrian overpass at Hennessy Road and Arsenal Road and counted a total of 23,834 marchers. This count does not include those who left before this point or joined after this point. Based upon the many random surveys that were conducted last year in July through September, 74.9% of those in the 2006 July 1st march said that they passed through that location. Therefore, the 95% confidence interval implied a multipicative factor of 1.24 and 1.45. The HKU POP therefore estimates with 95% confidence that the 2007 number of marchers is between 23,834 x 1.24 = 29,000 and 23,384 x 1.45 = 35,000. The point estimate is 32,000.

(Sing Tao via Yahoo) Hong Kong University Department of Statistics & Actuarial Science senior lecturer Yip Siu-fei and nine students made counts at Causeway Bay and Admiralty supplemented by street intercepts about the points where people joined the march. Their interval estimate was (28,000, 34,000) with a point estimate of 31,000.
[003] Hong Kong By The Numbers (07/01/2007) (Hong Kong Research Association) (1,076 persons interviewed June 25-27 about their expectations of the third HK SAR government)

Q. Which of the following items do you want the third HK SAR government to focus on?
Economic development: 35%
Improve social welfare: 23%
Promote environmental protection: 15%
Improve quality of population: 11%
Push development of political system: 10%
Other: 3%
No opinion: 3%

Q. With respect to economic policies, what should the government focus on?
Improve business environment: 21%
Develop high-value-added industrie: 21%
Accelerate economic merger with mainland China: 18%
Develop supporting industries: 14%

Q. With respect to social welfare policies, what should the government focus on?
Shrink rich-poor gap: 33%
Reform public health system: 31%
Assist vulnerable social groups: 18%
Improve family relations: 7%

Q. With respect to environment protection policies, which should the government focus on?
Improve air quality: 54%
Help environment protection-related businesses: 19%
Decrease solid waste: 8%
Improve harbor water quality: 7%
Implement environmental protection tax: 5%

Q. With respect to policies that improve the quality of the population, what should the government focus on?
Educational reform: 38%
Increase job training: 23%
Encourage further studies: 21%
Attract talents from outside: 8%

Q. With respect to improving the political ssytem, what should the government focus on?
Nurture political talents: 26%
Universal suffrage of chief executive: 21%
Universal suffrage of Legislative Council: 16%
Implement District Council proposal: 8%
Reform the Executive Council: 6%
[002] Hong Kong By The Numbers (07/01/2007) (Hong Kong Research Association) (1,097 persons interviewed about their ratings of the four major political parties in the Hong Kong Legislative Council. For each party, the rating is on a 1 to 6 scale (6 being the highest)).
Here are the average scores (with the numbers in the parentheses being the results from March 2007):

Liberal Party: 2.94 (3.11)
Civic Party: 2.92 (2.99)
Democratic Party: 2.83 (2.91)
DAB: 2.81 (3.08)

It is currently fashionable to calculate the Ma Lik effect. Previously, the pro-Beijing DAB chairman Ma Lik made some controversial statements in May about the June 4th, 1989 incident at Tiananmen Square (see Ma Lik's Comments on June Fourth). So the Ma Lik effect can be in a simple way as 3.08 - 2.81 = 0.27.

The other Hong Kong political story has been the string of wins by the pro-Beijing side over the pro-democracy side in the district council by-elections, as in 9 victories out of the 10 by-elections. Those elections have everything to do with grassroots activities (as in getting street lamps, bus stops, park benches, etc). The RAHK survey gave the following ratings on local district performance:

DAB: 3.10 (3.31)
Democratic Party: 2.94 (2.85)
Liberal Party: 2.80 (2.92)
Civic Party: 2.72 (2.80)
[001] InMediaHK is Indecent (07/01/2007) Previously, it was noted in A Conversation With A TELA Bureaucrat that a photograph in an article by Oiwan Lam published at the InMediaHK website was the subject of a complaint by a Hong Kong citizen to the Television Entertainment and Licensing Authority. Although TELA usually respond within one week, this time it took more time. In any case, the case was referred to the Obscene Articles Tribunal which has returned a classification of "Category II: Indecent" (case no. OAG0000147/2007).

At this time, Oiwan Lam will face legal consequences. For displaying Category II: Indecent material, she faces a maximum penalty of HK$400,000 in fines and 12 months in jail. In practice, the penalties have been historically quite small (e.g. HK$5,000 and no jail time). She has a number of organizations and individuals who are prepared to provide legal and financial support. Of course, she will not turn away more offers of help. She intends to use this case to bring attention to the public (in Hong Kong and elsewhere) about what has been going on at TELA/OAT. So publicity of the case is perhaps just as important to her. InMediaHK has organized a signature campaign.

The offensive photograph is this one:


(Source: Nude and Captured, by joerror @ flickr)

Will TELA/OAT come after me for displaying a photograph already classified by the OAT as Category II: Indecent? The answer is NO, because this website is registered and hosted in the United States of America. The Hong Kong government does not have jurisdiction over what gets displayed on an overseas website. The original photograph appeared on Yahoo's Flickr service and it appeared as a hyperlinked photograph in the InMediaHK article. Such content would never have raised an eyebrow in the United States. Even though the photograph was not hosted on the InMediaHK website, the mere fact that a hyperlinked photograph was displayed on a Hong Kong-hosted website was enough to trigger the law enforcement agency to take action. The moral of the lesson is that Hong Kong netizens ought to migrate their websites overseas if they think that there is even a remote chance of being drawn into the mess known as Hong Kong laws. Those laws do not live up to international/cosmopolitan standards in the world at large today (as in: two female nipples = indecency automatically). It is up to the people of Hong Kong to say whether they want those laws (or, to be correct, the current interpretations and enforcement of the written laws).
---
Archives